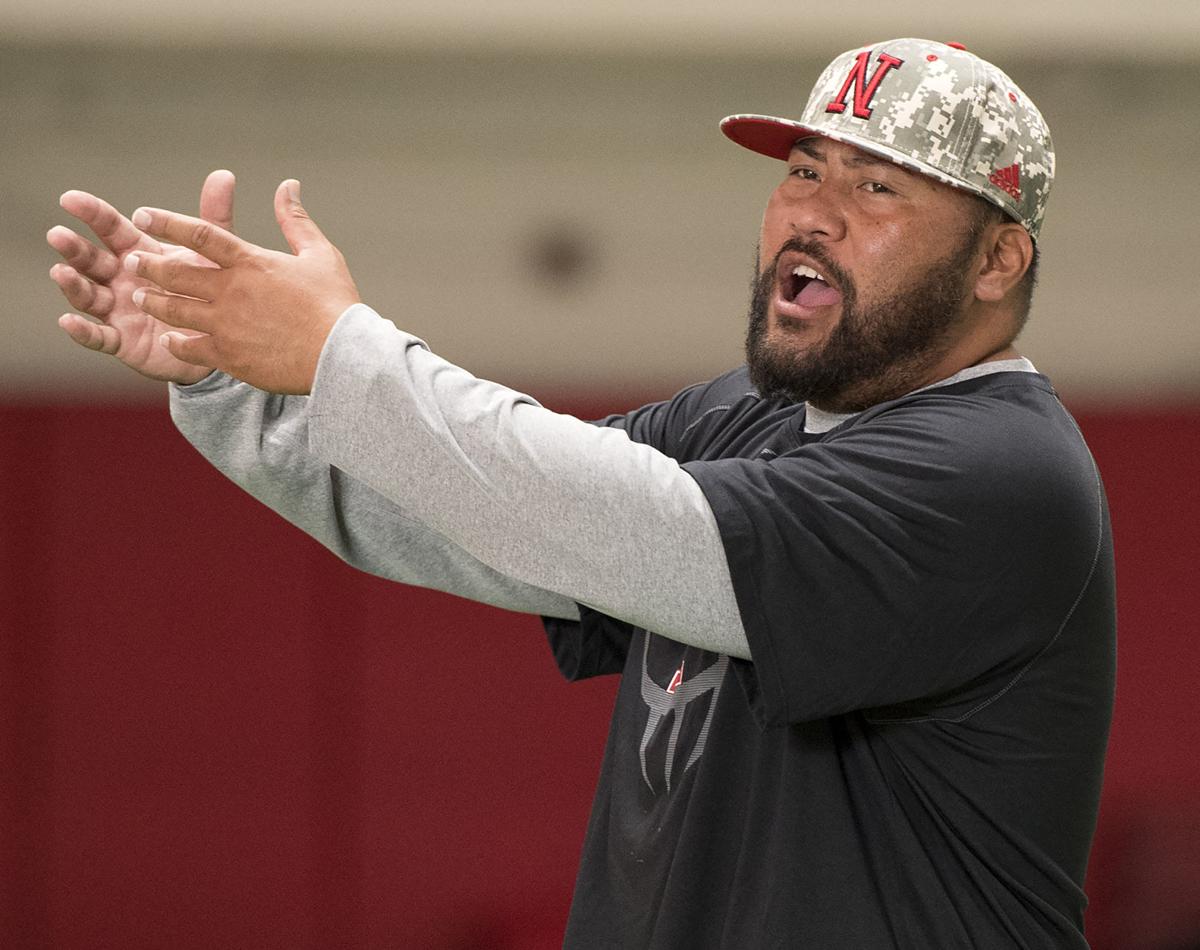 Check out Husker Extra's Recruiting Ticker feature throughout the current contact period to keep up with Nebraska's whereabouts on the recruiting trail as National Signing Day (Dec. 18) draws closer. 
Nebraska on Monday picked up a verbal commitment from a walk-on kicker who will arrive on campus amid some uncertainty at the position. 
Chase Contreraz, a transfer from Iowa Western Community College, announced Monday that he's coming to NU. Contreraz grew up a Husker fan in Western Iowa and took the latest of several unofficial visits Friday for NU's season-ending loss to Iowa. 
Contreraz is a mid-year transfer, so he'll be on campus in January. When he arrives, he'll find a place-kicking situation that became quite murky in 2019. Sophomore Barret Pickering appeared in just four games due to multiple injuries, meaning he can take 2019 as his redshirt season and be a sophomore again in 2020. Pickering played against Iowa, but lost the place-kicking duties to sophomore Matt Waldoch, who joined the team from the club soccer program during the season. 
Waldoch made all four of his field-goal attempts over NU's final two games. 
Nobody has a firm hold on the kickoff duties, which became an increasingly sore spot for Nebraska as the season progressed. 
Essentially, there is plenty of opportunity -- and also a good amount of competition -- waiting for Contreraz at Nebraska. 
Contreraz made 13-of-16 field goals as a redshirt freshman at IWCC -- including a long of 47 yards -- and 40-of-42 extra points. 
A WR to watch: Nebraska offensive coordinator Troy Walters had an in-home visit with 2020 wide receiver prospect Alante Brown on the first day of the contact period, Brown told the Journal Star on Monday morning. 
The 5-foot-10 receiver played his high school ball at Simeon High in Chicago and then took a graduate year at St. Thomas Moore School, a preparatory school in Connecticut. 
Brown signed with Texas Tech last February, but never made it to campus over the summer, instead heading to prep school. Before Texas Tech, he was verbally committed to Michigan State. 
He's been a popular target this fall, earning offers from Indiana, Maryland, Virginia Tech and several others. 
According to his 247Sports profile, he's taken visits to Indiana and MSU and is slated to visit Virginia Tech on the final weekend of the contact period (Dec. 13). But he also told the Journal Star he's working to set up a visit to Lincoln, too. 
You have free articles remaining.
Add him to the several names already on the radar screen at receiver for the Huskers, including Marcus Fleming (Miami), Justin Robinson (McDonough, Georgia), junior college targets Omar Manning (Kilgore Junior College) and Xavier Hutchinson (Blinn College). Also keep an eye on Javian Hester (Tulsa, Oklahoma), a Mizzou pledge who announced via Twitter that he's reopening his recruitment in the wake of Missouri firing head coach Barry Odom. 
Frost in Florida: The Nebraska coaching staff is spending the early portion of the contact period meeting with many of the already committed players of its 2020 class. Head coach Scott Frost on Sunday saw running back Sevion Morrison and quarterback Logan Smothers, while other assistants were out visiting outside linebacker Blaise Gunnerson, offensive lineman Turner Corcoran and others. 
That will likely continue in the early portion of the week. 
Frost will be in Florida, likely stopping to see committed cornerback Tamon Lynum in Orlando to kick things off on Monday. 
Frost was with running backs coach Ryan Held and quarterbacks coach Mario Verduzco in Oklahoma on Sunday and then with Verduzco in Alabama on Sunday night, and will likely be rendezvousing with other assistants in Florida this week. 
Juco latest: Another junior college defensive lineman picked up a scholarship offer from the Huskers on Sunday evening. 
Defensive tackle Jordon Riley of Garden City (Kansas) Community College grabbed his first Power Five offer from the Huskers, tweeting out the offer along with a picture of him and NU defensive line coach Tony Tuioti. 
Riley spent two seasons at North Carolina in 2017 and 2018 — he didn't appear in a game in 2018 — before playing this fall at Garden City, making him a two-year transfer who's already used a redshirt season. 
Riley is listed at 6-foot-5 and 330 pounds and is from Durham, North Carolina. Statistics aren't typically useful for interior defensive linemen, but Riley had 26 tackles and two sacks in nine games for the Broncbusters.
Meanwhile, inside linebackers coach Barrett Ruud began the contact period in California, where he visited linebacker Eteva Mauga-Clements of Diablo Valley College. The Bay Area linebacker is listed at 6-2 and 220 pounds and picked up an offer from the Huskers in November. 
Nothing like the Big 10 making a home visit! From a small island in the Pacific to the stadiums of college football history. No one has worked harder or deserves this more! Just the beginning!! pic.twitter.com/o8x4CvDFz9

— Mike Darr (@DVC_CoachDarr) December 2, 2019
Nixon hosting NU this week: As Nebraska coaches make their around to see committed players and new targets, Walters will be in to see Waco Midway (Texas) standout Will Nixon later this week. 
Nixon had a huge senior year for Midway, rushing for more than 1,500 yards and earning district offensive MVP honors. Nixon projects as a Duck-R for the Huskers, bringing a versatility and range of skills in a similar mold to freshman Wan'Dale Robinson. 
2020 Husker football recruits
| Name | Pos. | Ht. | Wt. | Hometown (School) | Stars |
| --- | --- | --- | --- | --- | --- |
| Zavier Betts | WR | 6-2 | 190 | Omaha (Bellevue West) | **** |
| Marquis Black | DL | 6-4 | 280 | McDonough, Ga. (Eagle's Landing) | *** |
| Alante Brown | WR | 6-0 | 190 | Chicago (Simeon) | **** |
| Jimari Butler | OLB | 6-5 | 215 | Mobile, Ala. (Murphy) | *** |
| Alex Conn | OT | 6-6 | 280 | Derby, Kansas | *** |
| Niko Cooper | OLB | 6-5 | 220 | Memphis, Tenn. (Hutchinson C.C.) | *** |
| Turner Corcoran | OT | 6-6 | 280 | Lawrence, Kan. (Free State) | **** |
| Ronald Delancy III | DB | 5-11 | 190 | Miami (Northwestern) | *** |
| Marcus Fleming | WR | 5-10 | 160 | Miami, Fla. (Northwestern) | **** |
| Jaiden Francois | CB | 6-0 | 185 | Homestead, Fla. | **** |
| Henry Gray | DB | 6-0 | 175 | Miami (Central) | **** |
| Keyshawn Greene | LB | 6-3 | 205 | Crawfordville, Fla. (Wakulla) | **** |
| Blaise Gunnerson | OLB | 6-5 | 250 | Carroll, Iowa (Kuemper) | **** |
| Nash Hutmacher | DT | 6-5 | 305 | Chamberlain, South Dakota | *** |
| Tamon Lynum | DB | 6-2 | 170 | Orlando, Fla. (Evans) | *** |
| Omar Manning | WR | 6-4 | 225 | Lancaster, Texas (Kilgore College) | **** |
| Eteva Mauga-Clements | ILB | 6-2 | 210 | Pleasant Hill, Calif. (Diablo Vall. College) | *** |
| Sevion Morrison | RB | 6-0 | 200 | Tulsa, Oklahoma (Edison) | **** |
| William Nixon | WR | 5-11 | 185 | Waco, Texas (Midway) | *** |
| Pheldarius Payne | DE | 6-3 | 270 | Suffolk, Va. (Lackawanna CC) | *** |
| Jordon Riley | DE | 6-5 | 300 | Durhan, N.C. (Garden City C.C.) | *** |
| Marvin Scott III | RB | 5-9 | 205 | Port Orange, Fla. (Spruce Creek) | *** |
| Logan Smothers | QB | 6-2 | 180 | Muscle Shoals, Ala. | **** |