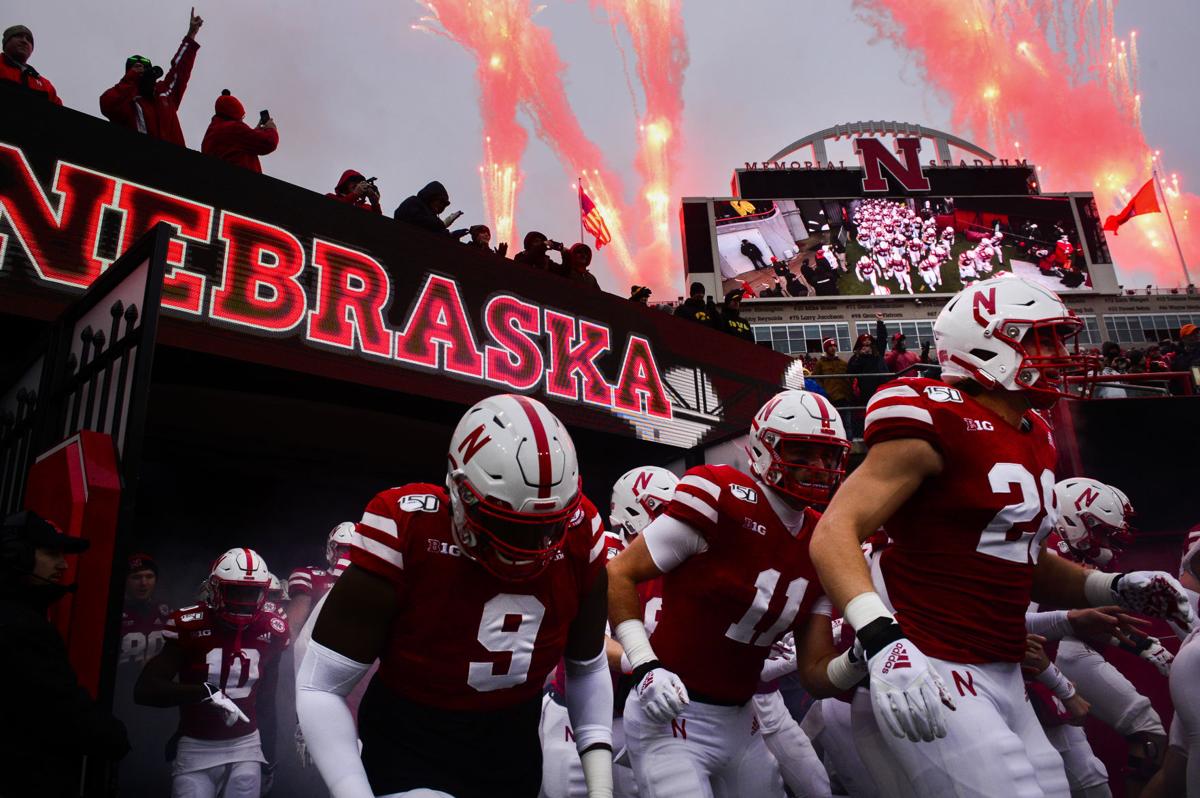 Check out Husker Extra's Recruiting Ticker feature throughout the current contact period to keep up with Nebraska's whereabouts on the recruiting trail as National Signing Day (Dec. 18) draws closer.
Nebraska has an official visitor on campus and more on the way not far behind. 
Today, four-star wide receiver Alante Brown (Chicago) is in for a midweek visit, sandwiched between trips to Maryland last weekend and Virginia Tech this coming weekend. Brown played at Simeon High in Chicago and signed with Texas Tech last year before opting instead to take a postgraduate year at St. Thomas Moore college prep school in Connecticut. 
After Brown, NU's final visit weekend before National Signing Day on Dec. 18 is starting to come together. 
A couple of the expected visitors have been set and previously reported — defensive lineman Tanoa Togiai (Rigby, Idaho) and junior college pass-rusher Niko Cooper (Hutchinson CC) — but NU appears in position to get the final official visit from another pass-rush target. 
That's four-star outside linebacker Keyshawn Greene (Crawfordville, Florida), who said in a brief message to the Journal Star that he plans on visiting NU this weekend. 
Greene was a longtime Florida State pledge who decommitted from the Seminoles last week before Mike Norvell was hired as the head coach. He visited Miami last week and, according to his 247Sports profile, was slated to visit FSU this weekend. If Greene is indeed in Lincoln this weekend, that would be an interesting development. 
Nebraska was in to see Greene last week and likely will be in again this week. Now, can the Huskers secure the visit and make a final pitch to the 6-foot-3, 200-pounder from Wakulla High? Greene ran a blistering 4.49-second 40-yard dash at a combine over the summer and is considered the No. 155 player overall in the country (and No. 11 outside linebacker) by the 247Sports Composite ranking. Rivals ranks him No. 197 and No. 16, respectively, while 247Sports pegs him at No. 119 and No. 9. 
Huskers checking on WRs: While Brown arrives on campus for his official visit, multiple NU assistants also stopped in Tulsa, Oklahoma, on Wednesday to see four-star receiver Javian Hester. Hester is a Missouri commit who is looking around in the midst of a head coaching change. 
The key for Hester will be if he takes his recruitment through the early signing period to February. He hasn't yet used an official visit to Nebraska, but could in January. The 6-4 receiver visited UCLA last weekend. 
Harrison decision Thursday: One target on Nebraska's radar screen set to announce his college decision Thursday afternoon is lineman Alex Harrison (Bountiful, Utah). 
The 6-4, 310-pound Harrison recently announced a final five of Nebraska, Utah, USC, Oregon and Utah State. Recruiting services consider the Utes the favorites for the three-star prospect. 
'Homegrown' event Wednesday: In addition to having Brown on campus and a group of visitors coming in this weekend, Nebraska is hosting its "Homegrown" walk-on event Wednesday night at Memorial Stadium. 
The 2020 walk-on class is already at 18 known members, but NU has used the event in the past as a way to get players in the state to the stadium and extol the virtues of walking on at Nebraska. 
The event makes for an efficient day for Frost, too. Frost will be at the event, will see Brown on his official visit and still had time to get a quick flight down to Tulsa, likely to see Hester, in as well. He'll almost assuredly be back on the road Thursday for a final swing to see key targets. 
This story will be updated. 
| Name | Pos. | Ht. | Wt. | Hometown (School) | Stars |
| --- | --- | --- | --- | --- | --- |
| Zavier Betts | WR | 6-2 | 190 | Omaha (Bellevue West) | **** |
| Marquis Black | DL | 6-4 | 280 | McDonough, Ga. (Eagle's Landing) | *** |
| Alante Brown | WR | 6-0 | 190 | Chicago (Simeon) | **** |
| Jimari Butler | OLB | 6-5 | 215 | Mobile, Ala. (Murphy) | *** |
| Alex Conn | OT | 6-6 | 280 | Derby, Kansas | *** |
| Niko Cooper | OLB | 6-5 | 220 | Memphis, Tenn. (Hutchinson C.C.) | *** |
| Turner Corcoran | OT | 6-6 | 280 | Lawrence, Kan. (Free State) | **** |
| Ronald Delancy III | DB | 5-11 | 190 | Miami (Northwestern) | *** |
| Marcus Fleming | WR | 5-10 | 160 | Miami, Fla. (Northwestern) | **** |
| Jaiden Francois | CB | 6-0 | 185 | Homestead, Fla. | **** |
| Henry Gray | DB | 6-0 | 175 | Miami (Central) | **** |
| Keyshawn Greene | LB | 6-3 | 205 | Crawfordville, Fla. (Wakulla) | **** |
| Blaise Gunnerson | OLB | 6-5 | 250 | Carroll, Iowa (Kuemper) | **** |
| Nash Hutmacher | DT | 6-5 | 305 | Chamberlain, South Dakota | *** |
| Tamon Lynum | DB | 6-2 | 170 | Orlando, Fla. (Evans) | *** |
| Omar Manning | WR | 6-4 | 225 | Lancaster, Texas (Kilgore College) | **** |
| Eteva Mauga-Clements | ILB | 6-2 | 210 | Pleasant Hill, Calif. (Diablo Vall. College) | *** |
| Sevion Morrison | RB | 6-0 | 200 | Tulsa, Oklahoma (Edison) | **** |
| William Nixon | WR | 5-11 | 185 | Waco, Texas (Midway) | *** |
| Pheldarius Payne | DE | 6-3 | 270 | Suffolk, Va. (Lackawanna CC) | *** |
| Jordon Riley | DE | 6-5 | 300 | Durhan, N.C. (Garden City C.C.) | *** |
| Marvin Scott III | RB | 5-9 | 205 | Port Orange, Fla. (Spruce Creek) | *** |
| Logan Smothers | QB | 6-2 | 180 | Muscle Shoals, Ala. | **** |