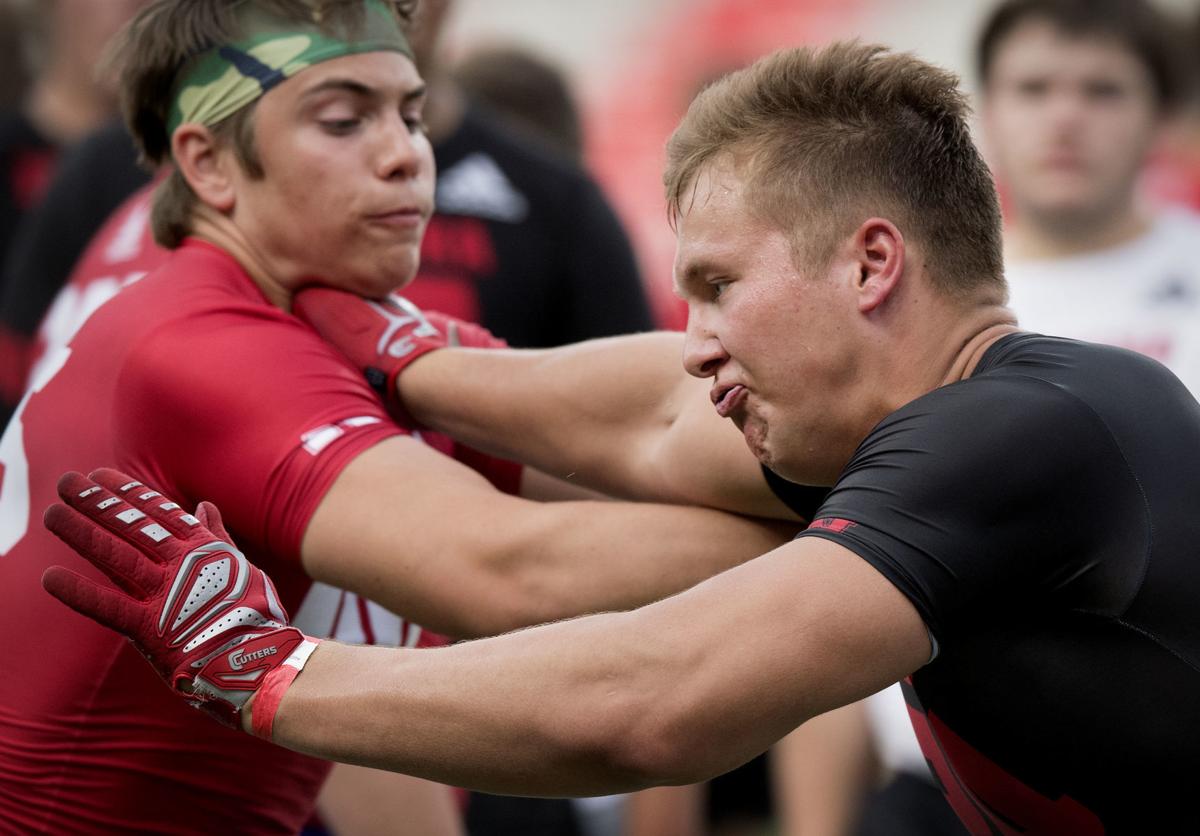 Only two home weekends and two December weekends remain for Nebraska before the December signing period arrives, so it's a natural time to look at the Huskers' 2020 recruiting efforts so far. Following is a position-by-position look at who NU has committed, who's graduating and what might be left at each spot.
The Huskers currently have a 13-man class that ranks No. 32 nationally according to the 247Sports Composite and No. 37 by the Rivals.
Nebraska can take a maximum of 26 new scholarship players in the class, the Journal Star has confirmed, which includes any incoming recruits plus any potential transfers. That number cannot go up. So, here's a look at the first half of the Huskers' class and the work left to be done.
Quarterback
Committed (1): Logan Smothers (Muscle Shoals, Alabama).
Overview: Nebraska is set at quarterback with Smothers, a player Mario Verduzco and company love, and haven't even sniffed around other 2020 prospects in a year. Smothers in the regular season completed 73% of his passes for 1,821 yards and 23 touchdowns and added 651 rushing yards (8.2 per attempt) and 11 scores on the ground. The to-do list here is only to perhaps find a walk-on — NU added in-staters Matt Masker and Brayden Miller the past two classes — and continue working the 2021 class and beyond.
Running back
Committed (2): Sevion Morrison (Tulsa, Oklahoma) and Marvin Scott III (Port Orange, Florida).
Overview: The Huskers are in good shape at running back with Morrison and Scott, but may have to fend off other suitors for both. That and the unknown future status of sophomore Maurice Washington plus injuries to young players such as Ronald Thompkins, make it difficult to totally discount the possibility of NU looking at further 2020 options. At the moment, Dedrick Mills and Rahmir Johnson are the only two true running back options sure to be available beyond 2019.
Wide receiver
Committed (2): Zavier Betts (Omaha) and Will Nixon (Waco, Texas).
Graduating (3): Kanawai Noa, Mike Williams and Jaron Woodyard.
Overview: Nebraska needs a big infusion of talent at wide receiver and then needs development from a young, inexperienced group on top of it. Size is clearly a priority as the Huskers look for 2020 commits to join Betts (6-foot 3, 205 pounds) and Nixon, who is more of a Duck-R and who has had a tremendous senior season in Texas.
NU is looking at junior college options including coveted 6-4 prospect Omar Manning (Kilgore JC) and 6-3 Xavier Hutchinson (Blinn College), has already hosted 6-4 Georgia commit Justin Robinson (McDonough, Georgia) and is set to host 6-0 four-star Lavon Bunkley-Shelton (Gardena, California) this month.
Tight end
Overview: Maybe NU looks at a tight end in a best-player-available situation, but otherwise NU will roll with what it's got on the roster already. Everybody is eligible to return and the Huskers get Rutgers transfer Travis Vokolek eligible after sitting out this fall. The only limbo is Katerian Legrone, who is suspended indefinitely. It's a full room and attrition isn't out of the question.
Offensive line
Committed (2): Turner Corcoran (Lawrence, Kansas) and Alex Conn (Derby, Kansas).
Graduating (1): Christian Gaylord.
You have free articles remaining.
Overview: Nebraska has eight redshirt freshmen and freshmen on its current roster and has two prospects it really likes already in the class. So NU could take one more or roll with its current pair. It has hosted a couple of prospects already, such as Chandler Durham (McDonough, Georgia) and Alex Harrison (Bountiful, Utah), who could play either side, and Florida State commit Zane Herring is set to visit this month. The development model is in full swing here. There's always a chance of offseason attrition, too.
Committed (2): Nash Hutmacher (Chamberlain, South Dakota) and Marquis Black (McDonough, Georgia).
Graduating (5): Khalil and Carlos Davis, Darrion Daniels, DaiShon Neal and Vaha Vainuku.
Overview: NU's added a bunch of young players to the roster over the past two classes to help prepare for replacing a big senior group, but will try to continue past Hutmacher and Black in this class, too. The Huskers are set to host four-star DeShawn Lynch and earlier this fall hosted Nusi Malani. This is a position where the Huskers are starting to ratchet up their junior college efforts, too.
Outside linebacker
Committed (1): Blaise Gunnerson (Carroll, Iowa).
Graduating (2): Tyrin Ferguson and Alex Davis.
Overview: Both linebacker spots are huge needs for the Huskers in this class, with just Gunnerson in the boat so far. NU's hosted no shortage of players — Kaden Johnson, Regen Terry, Tuli Tuipulotu, Jared Ivey and Laterie Kinsler among them — and will certainly host more. That list includes Florida State commit Josh Griffis and rising prospect Jimari Butler this month. With a lack of depth to begin with and a pair of seniors leaving, the Huskers need to find more athleticism on the edge. Jucos could be an option here, too.
If you were making a list of "most important" prospects remaining, Johnson would be a candidate for the top spot.
Inside linebacker
Graduating (1): Mohamed Barry.
Overview: NU had a verbal pledge from Rodney Groce (Pleasant Grove, Alabama) and lost it, though the Huskers remain involved in his recruitment. Several other visitors have committed elsewhere or reaffirmed pledges to other schools. Beyond Groce, a name to keep an eye on might be Devyn Curtis (Brentwood, Tennessee), who's been on campus unofficially but hasn't taken an official and remains uncommitted.
Secondary
Committed (3): Tamon Lynum (Orlando, Florida), Henry Gray (Miami), Ronald Delancy III (Miami).
Graduating (4): Lamar Jackson, Eric Lee, Avery Anderson, Jeremiah Stovall.
Overview: Travis Fisher and the Huskers have three players they really like already pledged to the class, though all three could be targeted by other schools, too, down the stretch. NU has four freshman DBs and a redshirt freshman in Braxton Clark who also have promise, so the situation is far from desperate. Given the level of talent still available, though, the Huskers will continue to look. They've hosted four-star Oregon commit Myles Slusher (Broken Arrow, Oklahoma) and are set to host four-star Darion Green-Warren (Harbor City, Florida) this month. NU has also been talked about in the recruitment of four-star Jalen Harrell (Hialea, Florida), who decommitted from Florida State recently.
If NU makes another in-state offer, it could be to Lincoln Southeast standout Isaac Gifford, who could be either a DB or a linebacker.
Specialists
Overview: The Huskers have looked around at a few place-kickers given their injury trouble this fall, but it's unclear if they'll actually pursue one heavily. Going forward, the ideal scenario for NU is to have place-kicker as the only position that is consistently allocated a scholarship and only carry one at a time. The Huskers appear to be well set there with Barret Pickering, assuming he stays healthy. Walk-on punter Isaac Armstrong is graduating and the competition will be between walk-ons like William Przystup and Grant Detlefsen.