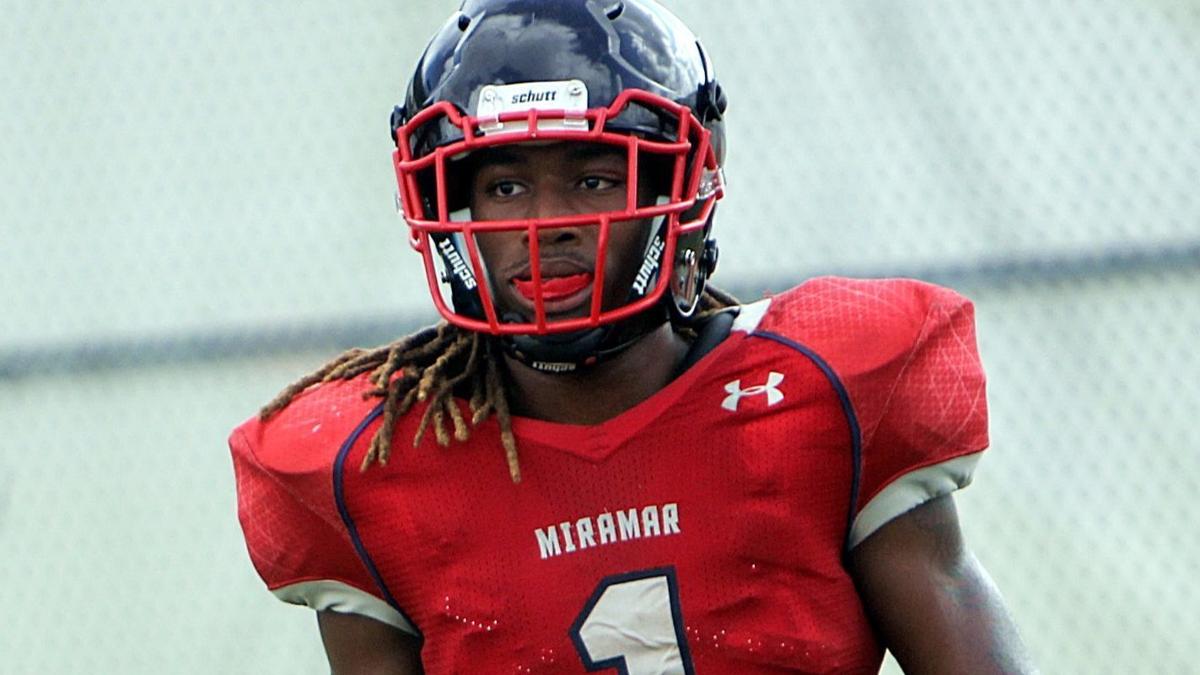 Add a couple more junior college players to the list for Nebraska's big upcoming recruiting weekend, including a familiar face.
Husker 2018 wide receiver signee Dominick Watt (Hollywood, Florida) tweeted Wednesday that he's planning on being on campus along with fellow Florida native and Hutchinson (Kansas) Community College linebacker Jesse Smith.
Watt was in Scott Frost's first recruiting class in February 2018 and Nebraska tried to get him into school well into August before the season started, holding a spot on its 110-man roster for the opening stanza of preseason work, before it became clear that the efforts were not going to pay off.
Watt ended up at Garden City (Kansas) Community College, where he teamed with not only now-Husker running back Dedrick Mills but also fellow 2018 NU offensive lineman signee Willie Canty (Belle Glade, Florida). Canty subsequently transferred to Highland (Kansas) CC and there's no current indication the Huskers intend to recruit him again.
Watt, though, is one of several receivers who will be on campus this weekend. He'll be joined by fellow juco player Omar Manning (Kilgore, Texas, Junior College), Husker verbal commitment Zavier Betts (Bellevue West) and Ajou Ajou (Clearwater, Florida, Academy International). The Huskers also will have in-state receiver/athlete Ty Hahn (Johnson-Brock) in town for the Friday Night Lights camp, though Hahn does not currently have an offer.
Smith, meanwhile, played his freshman year at Arizona Western CC before transferring to Hutchinson, where he took part in spring ball earlier this year. As a freshman, the 6-foot-2, 210-pounder had 12 tackles (two for loss) in a reserve role.
Smith told the Journal Star in a message that outside linebackers coach Jovan Dewitt has been recruiting him and that he does not yet have an offer from the Huskers. 
Growth spurt, work power Conn's recruitment: Before the calendar turned to 2019, Alex Conn was not exactly a big-time recruit.
He's been a good player at Derby High in Kansas for a long time, but Conn played his junior season at just about 6-4, according to coach Brandon Clark. 
When Conn hit something of a growth spurt, so, too, did his recruitment. 
In January, Nebraska became the first school to offer him a scholarship, and several others have since followed suit. Now, Clark says Conn will play his senior season at taller than 6-6 and about 280 pounds. 
"I've known Alex, coached him in camps and watched him play since the second grade, and he's a kid that's always got better every year and, honestly, the jump that I think he's made from his junior year to right now is the biggest jump I've ever seen him make," Clark said.  
"He's physically maturing now, too. He's getting a lot of definition now, he's standing more upright, his core is a lot better. His strength for a 6-6 guy is phenomenal for a high school kid and when he goes to college it'll be a lot better. He's always been a hard worker, but he's finally seeing some big-time gains right now." 
As Conn prepares to return to Lincoln this weekend as a key part of a sizable recruiting event, he's still considering the Huskers, Kansas and Oklahoma State.
At this point, it's not surprising to learn that NU running backs coach Ryan Held has multiple connections in Derby, and head coach Scott Frost does, too.  
"Ever since Ryan's been at Nebraska, he's recruited Derby," Clark said. "There's not too many recruiters out there that are like him. He's genuine, which is awesome. ... I know him and Alex had a big bond when he came down here.
"We've had two guys on our staff that played for Ryan Held in junior college, so they know him and just listening to them speak about him is awesome. Then our defensive coordinator last year (Mitch Pontious) coached with Frost at Kansas State when Scott was a graduate assistant and he was a student coach. He said there's not a more genuine guy he's met in his life than Scott Frost."