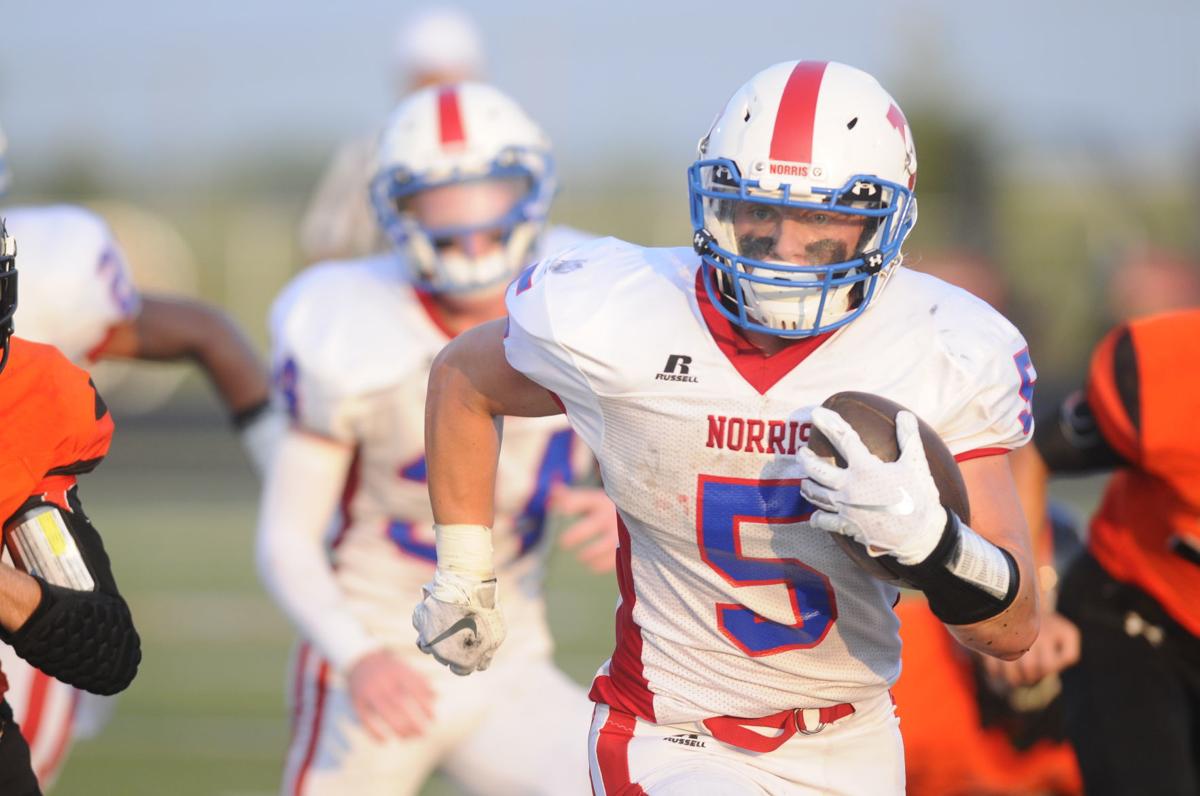 Ashton Hausmann woke up Friday morning thinking of Friday Night Lights.
It's always been his dream to play football at Nebraska, and this was another chance to impress the Husker football coaches.
"To go out and ball out," Hausmann said.
Head coach Scott Frost called Hausmann to his office in the middle of the team's recruiting barbecue Friday, hours before Friday Night Lights. He told the Norris standout that the Huskers wanted him playing in Lincoln.
"I told him that I wanted to go there and I committed on the spot," said Hausmann, who accepted a preferred walk-on spot in the 2020 class.
Not a bad Friday afternoon for the 6-foot, 200-pound speedster from Norris, who enjoyed some brisket and ribs in the afternoon, and spent the rest of the day on cloud nine.
You have free articles remaining.
It comes at a time when Hausmann's recruiting was starting to pick up. He received a scholarship offer from Incarnate Word right after track season and also was receiving interest from Wyoming, South Dakota State and North Dakota State. He also had a preferred walk-on offer from Virginia Tech.
"I was just hoping that I was going to get a (Nebraska) offer at some point, whether that was a scholarship or a walk-on (offer), because playing at Nebraska has been my dream school since I was a little kid.
"I just feel at home. I've been to Memorial Stadium hundreds of times, too, it feels like."
Hausmann's father played at Nebraska, as did his uncles Matt and Adam Ickes.
"They just wanted me to be a part of that because they know it's something special playing there," said Hausmann, who rushed for 991 yards and 31 touchdowns as a junior before injuries slowed him down.
Hausmann plays linebacker and defensive back, too. He said the Huskers envision him possibly at safety with his speed.
The all-stater is among the state's fastest players, and he flashed that speed at the state track and field meet, winning the Class B 100-meter gold in 10.84 seconds. He also ran the anchor leg on the Titans' winning 400 relay team.
Hausmann owns school records in the 100 (:10.79) and 200 (:21.99).
WR Ajou Ajou, 6-3, 215, Clearwater (Florida) Academy International
Ajou is one of the fastest-rising recruits in the country and has offers from the likes of Clemson, Alabama, Oregon, Texas A&M, Florida, Miami and a host of others. He's originally from Canada and only moved to Florida to play at CAI in February, but NU knew about him even before he moved. 
"When you see him in person, he's really tall, but his arms are really long, he's filled out really well," CAI coach Jesse Chinchar told the Journal Star this week. When you hear 215 at receiver, initially a lot of people are like, 'Well, it sounds like he's going to grow into being a linebacker.' But he's lean, he's long, he really kind of has that receiver body."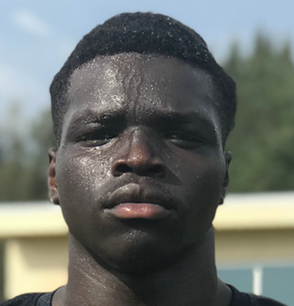 Ajou is a three-star prospect by 247Sports and Rivals, but his list of suitors is about as strong as it gets. 
WR Omar Manning, 6-4, 220, Kilgore (Tex.) Junior College
Manning originally signed with TCU and redshirted there but left the school after an injury-hampered freshman year and ended up at Kilgore. Now, he's one of the more sought-after junior college receivers in the country. 
Manning is ranked the No. 8 juco player overall and the No. 2 WR by 247Sports Composite and was originally a four-star (No. 149 overall in the country) by Rivals when he came out of high school. 
RB Sevion Morrison, 6-0, 195, Tulsa, Oklahoma
Morrison has been on Nebraska's radar screen for a long time and he put up a prodigious junior season in which he ran for more than 2,600 yards and totaled 37 touchdowns at Edison High.
The Huskers have also hosted running back Marvin Scott III earlier this month, so it would seem the action in Ryan Held's group could pick up sooner rather than later for the 2020 cycle. 
Morrison is a consensus three-star prospect. 
LB Malik Reed, 6-2, 220, Chandler, Arizona
Reed is taking what is likely to be his final official visit, having already seen UCLA last month, Wisconsin last week and Arizona earlier this week. 
After taking three players out of Arizona last year, NU would love to pull another this cycle in Reed. 
Reed is a consensus three-star prospect.
LB Choe Bryant-Strother, 6-2, 230, Norcross, Georgia
Bryant-Strother is another player who's been on Nebraska's radar screen for a long time. The Greater Atlanta Christian School standout has a strong offer list that includes Miami, Texas A&M, Ole Miss and many others. 
Bryant-Strother picked up an offer from NU back in December and his recruitment has been on an upward track for months. 
Brynt-Strother is a consensus three-star. 
DB Tamon Lynum, 6-2, 170, Orlando, Florida
Lynum has flown relatively under the radar so far in his recruitment, but NU defensive backs coach Travis Fisher knows Orlando really well, so it's perhaps not surprising the Huskers are higher than others on the Evans High product. 
Lynum has visited East Carolina and Kansas so far, making Lincoln his third official visit. 
He is a consensus three-star prospect.
DB Joshuah Moten, 5-11, 170, Fort Washington, Maryland
The most recent addition to the list, Moten confirmed to the Journal Star on Friday morning that he is indeed taking an official visit to Nebraska this weekend. 
Moten decommitted from Penn State earlier this month and will undoubtedly have his fair share of suitors. Moten visited Texas A&M last week. 
Moten is a three-star by 247Sports and a four-star by the 247Sports composite rankings and Rivals. Rivals has him pegged as the No. 223 player overall in the nation.
OT Alex Conn, 6-6, 280, Derby, Kansas
Conn is visiting Lincoln unofficially and has said he's considering making a decision sooner rather than later. His three finalists are Oklahoma State, Kansas and NU. 
Conn visited for the spring game and Nebraska would love to make him the second offensive lineman in the class along side fellow Kansas native Turner Corcoran. 
OLB Blaise Gunnerson, 6-5, 255, Carroll, Iowa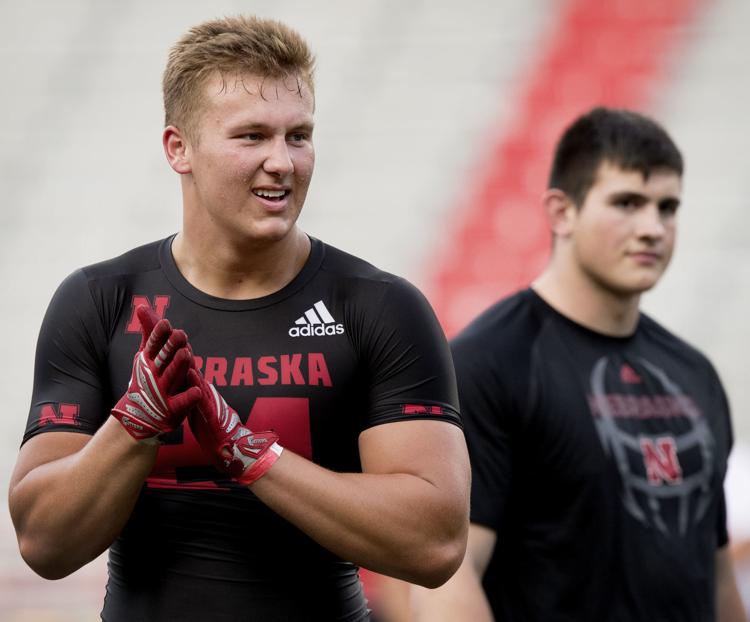 The last two are prospects to keep an eye on because they're visiting other places. 
Gunnerson, the coveted pass-rusher, is visiting Iowa State on an official and some think he'll make a final decision between the Huskers and Cyclones after it's done. Gunnerson doesn't have to be in a rush, of course. 
WR Xavier Watts, 6-0, 180, Omaha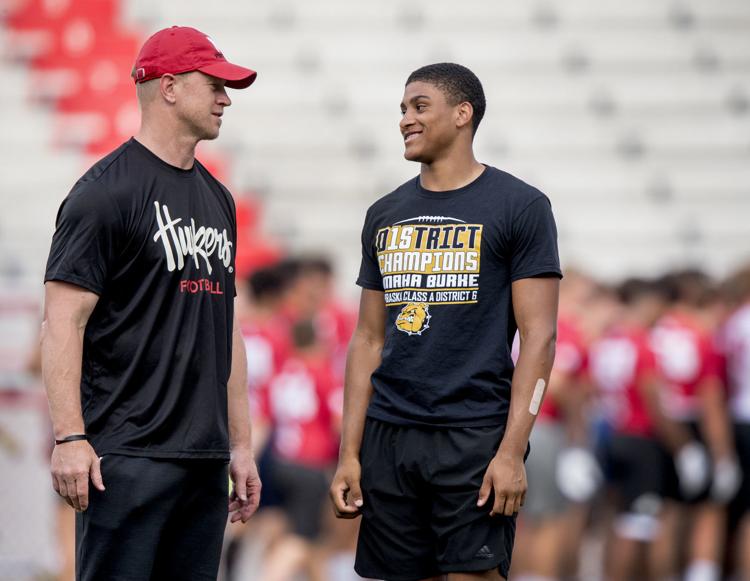 The Omaha Burke standout is in the same boat as Gunnerson as a prime NU target visiting elsewhere this week. Watts is at Notre Dame this weekend, which is considered a strong challenger in his recruitment. 
There is plenty more going on, from juco visitors like NU 2018 signee WR Dominick Watt (Garden City C.C.) to a pair of 2021 QBs in Peter Costelli (Mission Viejo, California) and Santino Marucci (Jupiter, Florida) to the return of top in-state 2021 prospects OT Teddy Prochazka (Elkhorn South) and DB Avante Dickerson (Omaha Westside).