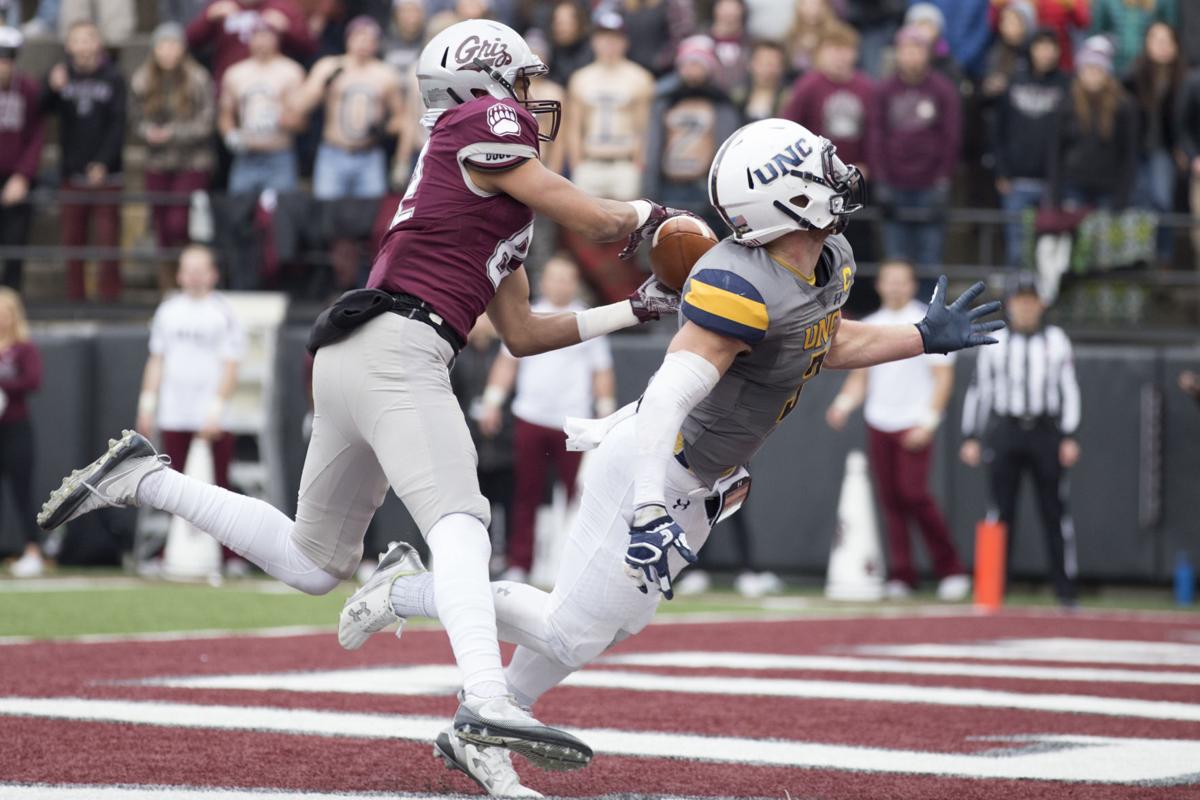 When Samori Toure first decided to leave Montana and try to land at a Football Bowl Subdivision program back in November, he put his name in the NCAA's transfer portal and was almost immediately overwhelmed by the response.
The 6-foot-3, 190-pound wide receiver was coming off a junior season in 2019 during which he put up dominating numbers in one of the FCS' best conferences in 2019, catching 87 passes for 1,495 yards and 13 touchdowns.
Within an hour, he had heard from Florida State, Miami, home-state Oregon and many more.
"I was really happy to see that other people recognize that I can play at that level," Toure told the Journal Star on Monday. "I was really grateful to have all those schools reach out to me."
Eventually, after surges and lulls in contact from schools around the county, Toure on Monday announced that he's going to play his final college season at Nebraska.
"Honestly, it's the opportunity that's there for me," Toure said. "Going into this process, I just knew I needed to go somewhere that's a good fit, mutual fit and that needs me. Here at Nebraska, the opportunity is there. They have some good receivers, but receiver is a position where they needed a guy who could make an immediate impact, so that was a big thing.
"Then, the history of the program. It's a historically good, legendary program. I just wanted to be a part of that."
The Big Sky Conference didn't play in the fall and is going to try to go in the spring, but Toure decided he wanted to try to play for a power conference team instead after catching 155 passes for 2,488 yards and 20 TDs in three seasons in Missoula.
As a junior for the Grizzlies, Toure had six games with 129 or more receiving yards and a pair of three-touchdown games. He set a Montana single-game record in a playoff victory over Southeast Louisiana on Dec. 7, 2019, with 303 receiving yards and three touchdowns on 12 catches.
Toure was the only player in the Big Sky named to the Senior Bowl's 2021 Top-250 watchlist, meaning he's squarely on the radar of professional evaluators. He was named a first-team FCS All-American by STATS after the 2019 season.
Nebraska first reached out to Toure a couple of weeks after he entered the portal and has been recruiting him steadily ever since. He said he's heard from recruiting staffer Sean Dillon, offensive quality control coach Steve Cooper — a Portland State graduate — and more recently offensive coordinator Matt Lubick and head coach Scott Frost.
"It was a weird time because schools didn't really know who's leaving, who's staying, who's transferring, stuff like that," Toure said. "Most recently, over the last week, I've been talking to Coach Frost."
He finished classwork at UM in November and has been working out in Portland since Thanksgiving. Now, things are going to move fast. He was talking with NU's academic staff Monday afternoon and is set to arrive on campus sometime this weekend ahead of winter conditioning and as classes getting rolling.
"A lot of people, my mentors, were telling me it's going to happen fast like that," Toure said.
That's another reason Toure said he liked the Huskers over some other schools: He wants to get to work right away.
"This really couldn't have gone any better for me, and I'm super happy," Toure said. "Some schools, like Miami for example, they were talking about, 'Hey, we want to get you out here in May.' That wasn't really appealing to me because I want to get there ASAP. I want to be part of the team, I want to get into winter conditioning and spring ball.
"All that stuff is important to having a winning product in the fall."
Nebraska football scholarship chart
| Position | 2021 Freshman | 2020 Freshman | RS Freshman | Sophomore | Junior | Senior |
| --- | --- | --- | --- | --- | --- | --- |
| QB (3) | Heinrich Haarberg | Logan Smothers | | | Adrian Martinez | |
| RB (6) | Gabe Ervin | Sevion Morrison | Rahmir Johnson* | Markese Stepp*^ | | |
| | | Marvin Scott III | Ronald Thompkins* | | | |
| TE (5) | Thomas Fidone | | | | Austin Allen* | |
| | James Carnie | | | | Travis Vokolek* | |
| | AJ Rollins | | | | | |
| WR (11) | Latrell Neville | Zavier Betts | Jamie Nance* | | Omar Manning* | Samori Toure*^ |
| | Shawn Hardy | Alante Brown | De'Mariyon Houston* | | | |
| | Kamonte Grimes | Will Nixon | Chris Hickman* | | | |
| T (8) | Teddy Prochazka | Turner Corcoran | Bryce Benhart* | | Broc Bando* | |
| | Branson Yager | Alex Conn | Brant Banks* | | | |
| | | | Jimmy Fritzsche* | | | |
| G (5) | Henry Lutovsky | | Ethan Piper* | | Trent Hixson* | |
| | | | Michael Lynn* | | Matt Sichterman* | |
| C (1) | | | | Cameron Jurgens* | | |
| DE (10) | Ru'Quan Buckley | | Ty Robinson* | Tate Wildeman* | Deontre Thomas* | Ben Stille* |
| | Jailen Weaver | | Mosai Newsom* | Casey Rogers* | Chris Walker* | |
| | | | Jamin Graham* | | | |
| DT (4) | | Nash Hutmacher | | | Damion Daniels* | |
| | | Marquis Black | | | Jordon Riley | |
| OLB (9) | Wynden Ho'ohuli | Blaise Gunnerson | | Garrett Nelson | Caleb Tannor | JoJo Domann* |
| | | Jimari Butler | | David Alston* | Pheldarius Payne | |
| | | | | | Damian Jackson* | |
| ILB (10) | Randolph Kpai | | Nick Henrich* | Luke Reimer | Eteva Mauga-Clements | Will Honas* |
| | Mikai Gbayor | | Garrett Snodgrass* | | Chris Kolarevic*^ | |
| | Seth Malcom | | Jackson Hannah* | | | |
| S (7) | Koby Bretz | Isaac Gifford | Myles Farmer* | | | Marquel Dismuke* |
| | | | Noa Pola-Gates* | | | Deontai Williams* |
| | | | Javin Wright* | | | |
| CB (7) | Marques Buford | Tamon Lynum | | Braxton Clark* | Cam Taylor-Britt | |
| | Malik Williams | | | Quinton Newsome | | |
| | | | | Nadab Joseph* | | |
| ST (1) | | Daniel Cerni (P) | | | | |
| Class Total | 20 | 15 | 19 | 10 | 17 | 6 |
| Overall Total: | 87 | | | | | |
| *Player has used redshirt | | | | | | |
| ^New transfer | | | | | | |
| Note: 2021 & 2020 have 5 years eligibility | | | | | | |