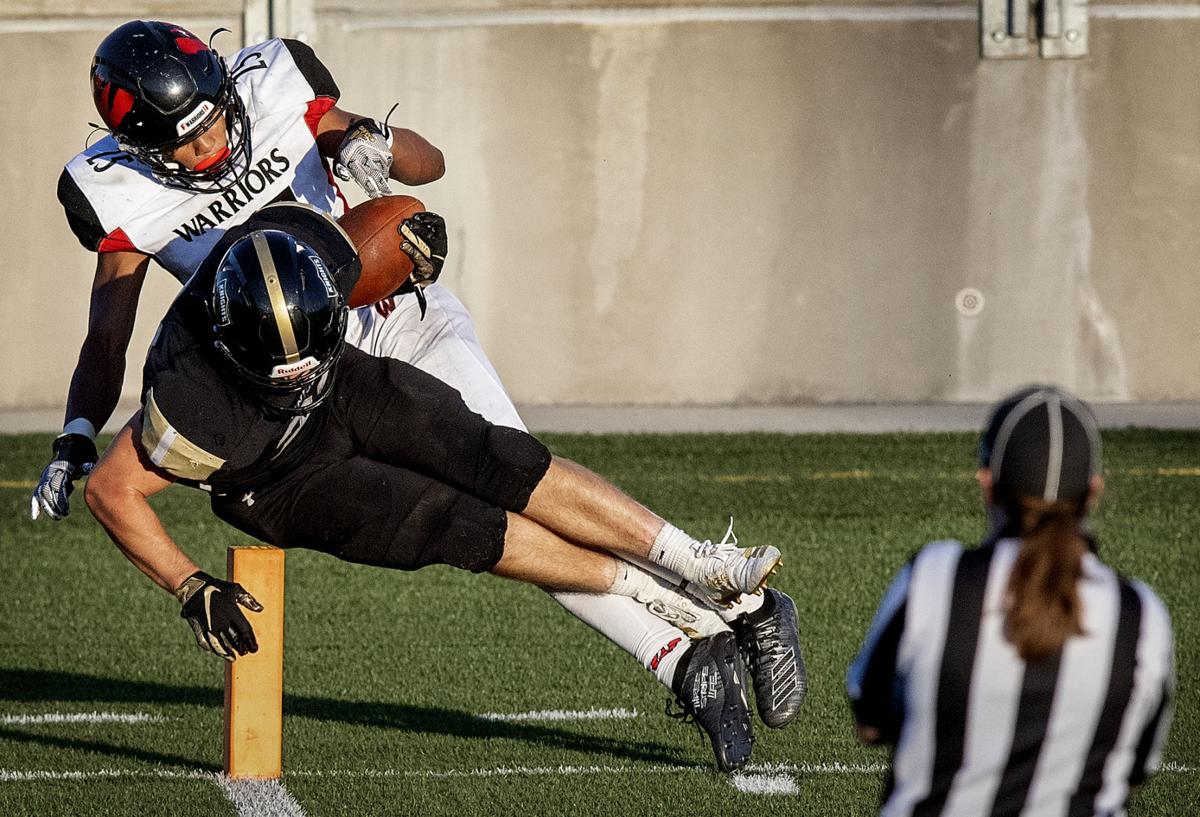 Koby Bretz won't be going far in order to play college football.
Bretz grew up cheering for the Huskers and took the weekend to soak it in, but he knew what was coming next. 
"As soon as they offered me I had to take that chance because I couldn't miss that opportunity," Bretz told the Journal Star. 
On Sunday night, he called up Nebraska coach Scott Frost and made it official. 
"It still felt like a dream," Bretz said. 
Bretz is considered one of the best athletes in the state. Former Nebraska defensive lineman Steve Warren has been around Bretz extensively since November when Bretz started playing on the Warren Academy's 7-on-7 team.
"I was like, there's a kid and I just can't figure out why nobody's offered this kid yet. Honestly, and I've told everybody this, he's probably easily one of the top athletes we've ever had come through the Academy in 15 years of doing this," Warren said. "And that includes guys like (Denver Broncos tight end) Noah Fant. He is an outrageous athlete. All of our coaches on the staff were just blown away by his athleticism.
"(Omaha Westside coach Brett) Froendt and those guys deserve a lot of credit. We didn't really do much except maybe pour some confidence into him."
Froendt has seen Bretz develop on and off the field. A talented diver, Bretz eventually decided that he wanted to dedicate his focus to football. By that time, though, he had dug himself something of a hole academically. In the time since, he's climbed out of it and turned himself into a promising football prospect, too.
"He's worked really hard to get to the point where he's recruitable, and I think early on that was keeping a few schools away that contacted us because we've had a lot of schools contact us about him. A great number, actually," Froendt said. "… Some decided to move on and some stuck with him and Nebraska stuck with him."
The athletic ability is not in question.
"If we need the ball in somebody's hands to make a big play, it's Koby Bretz," Froendt said. "There's no question, you throw the ball in his area and he's one of the best high-point ball-catchers we've had in a long time. His athleticism is ridiculous. We haven't seen anything like it around our place, the things he can do to contort his body to get in position both offensively and defensively to make plays.
"And he consistently makes them, game after game, no question."
Warren said he likes Bretz as a JoJo Domann-type hybrid safety and outside linebacker in college depending on how much weight he puts on. Froendt said he sees a future member of Travis Fisher's secondary.
"I love him as a safety; I really do," Froendt said. "Could he do both? Absolutely. He just needs to work on his speed. He's fast, but he needs to work on his speed to be on the high end in that regard. We've got him in the 4.6-second (40-yard dash) area, and he's never really worked hard on his speed, so he can get there.
"But as a safety, he has an innate ability to read the field, read the quarterback and judge the ball. He can go up and high point a ball better than everybody we've ever had, and he times things very well. He's a very good cover guy. … He covers a lot of ground and he has a good football IQ in terms of running our defense."
Nebraska has three other defensive backs committed in Marques Buford (Cedar Hill, Texas), Lardarius Webb (Jackson, Mississippi) and Malik Williams (Buford, Georgia). The Huskers also have one outside linebacker in Patrick Payton (Miami).
| Name | Position | Hometown (School) | Stars |
| --- | --- | --- | --- |
| Marques Buford | DB | Oakdale, Conn. (St. Thomas More) | *** |
| Koby Bretz | DB | Omaha (Westside) | *** |
| James Carnie | TE | Norris | *** |
| Gabe Ervin | RB | Buford, Ga. | *** |
| Thomas Fidone | TE | Council Bluffs, Iowa (Lewis Central) | **** |
| Mikai Gbayor | LB | Irvington, New Jersey | *** |
| Kamonte Grimes | WR | Naples, Fa. (Palmetto Ridge) | *** |
| Heinrich Haarberg | QB | Kearney (Catholic) | *** |
| Shawn Hardy II | WR | Kingsland, Ga. (Camden County) | *** |
| Wynden Ho'ohuli | OLB | Mililani, Hawaii. | **** |
| Randolph Kpai | ILB | Sioux Falls, S.D. (Washington) | **** |
| Chris Kolarevic | LB | Traverse City, Mich. (Northern Iowa) | |
| Henry Lutovsky | OL | Mt. Pleasant, Iowa | *** |
| Seth Malcom | ILB | Tabor, Iowa (Fremont-Mills) | *** |
| Latrell Neville | WR | Missouri City, Texas (Hightower) | **** |
| Teddy Prochazka | OT | Elkhorn (South) | **** |
| A.J. Rollins | TE | Creighton Prep | *** |
| Markese Stepp | RB | Indianapolis (Cathedral) | |
| Samori Toure | WR | Portland (Oregon Westview) | ** |
| Jailen Weaver | DE | Antioch, Calif. | *** |
| Malik Williams | DB | Buford, Ga. | *** |
| Branson Yager | OT | Grantsville, Utah | *** |