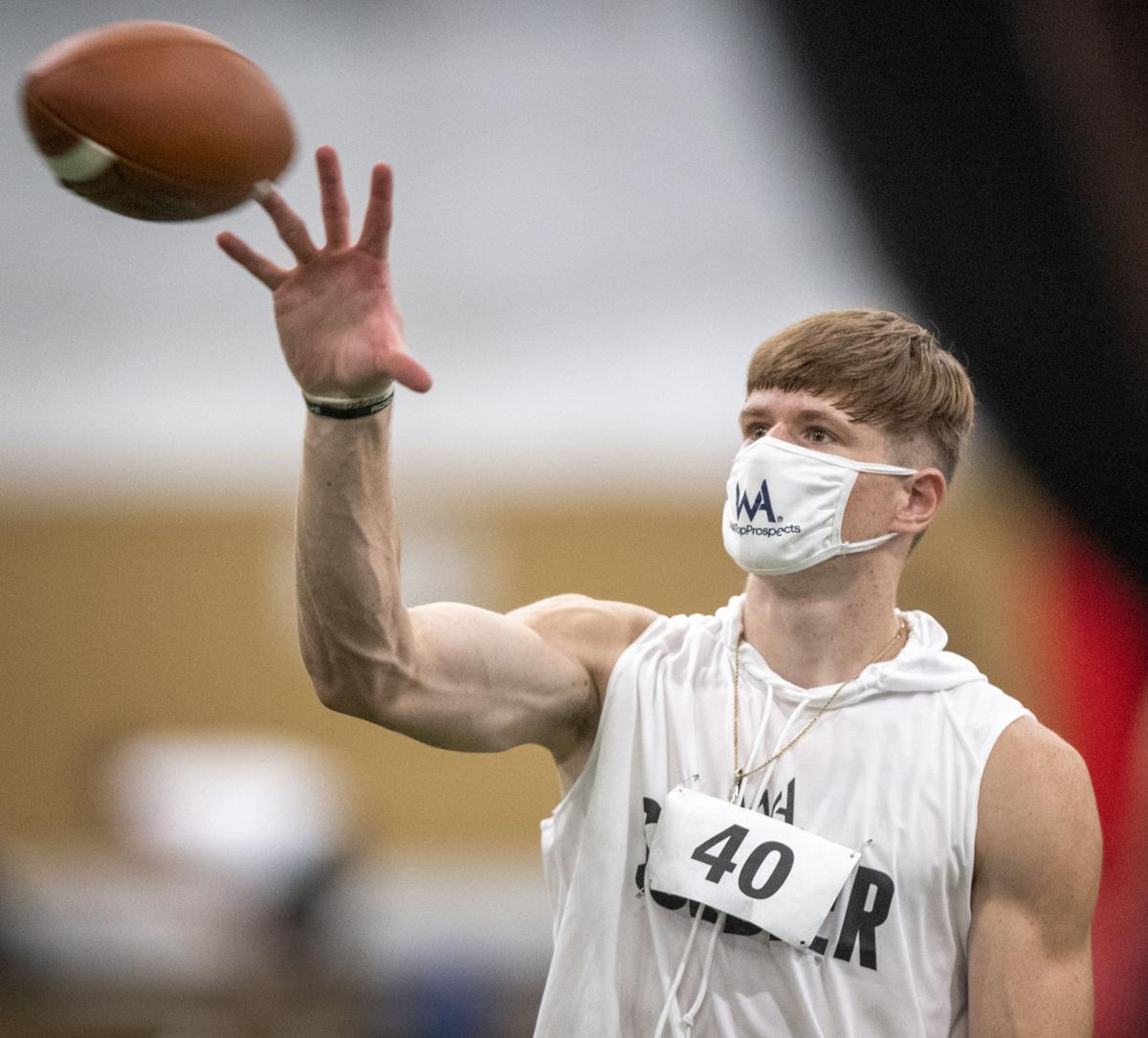 COUNCIL BLUFFS, Ia. — Thomas Fidone got a good feel for what life on the field is like as the top-rated high school tight end in the country Friday night. 
Fidone, listed at 6-foot-5 and 220 pounds, got free on an early third-and-9 over the middle and then ran away from, and also through, the St. Albert defense on his way to the end zone. From then on, though, the Falcons bracket covered him, putting at least one extra man over the top for consistent double — and sometimes triple — coverage. 
"That was definitely nice," Fidone said of the touchdown grab. "After that I think they were trying to test the waters and see what I was all about. ... We just decided to throw the ball elsewhere."
That helped free up Lewis Central's run game and provided other receivers (including Omaha Burke transfer Brayden Loftin) ample opportunity in a dominating 28-3 win. 
"It's definitely frustrating but you can also take it in a good way, as a sign of respect," Fidone said. 
At one point, with Lewis Central on the goal line and threatening to score, St. Albert had three players well outside the tackle box paying attention to Fidone, who was split out by himself to the right. 
One of the St. Albert players said to his teammates, "Don't be on the highlight reel," which essentially summed up how the Falcons treated Fidone the final three quarters. 
In that way and others, Fidone's impact on the game was clear. He at one point cleared out the entire middle of the field just by running a crossing route, paving a wide path for quarterback Jonah Pomrenke to run for a big gain on a quarterback draw. Fidone also recovered a fumble and tracked down a St. Albert fumble return almost 60 yards down the field. He had been out for a pass and had to turn on the jets down the sideline to prevent a touchdown on the return just before half, and Lewis Central's defense didn't allow points on the ensuing possession, making it a big play in the game. 
"I feel like I'm the fastest kid in this class and obviously, I'm going to do my best to make the plays that I can," Fidone said. I just wanted to take the kid down."
One interesting note from a usage standpoint: On Fidone's first-quarter touchdown, he lined up attached to the formation with his hand in the dirt. He got a clean release past an attempted re-route and simply couldn't be covered over the middle. That was rare, though. Mostly, Fidone was split out, often wide to the right side where he drew extra defenders but didn't see the ball much. 
Deyo impressive: Lewis Central Class of 2022 lineman Hunter Deyo was impressive on both sides of the ball. 
The four-star prospect played in the middle of the Titans' defensive line and manned the left tackle spot on offense. A standout wrestler, Deyo has a big frame at 6-3 and 270 pounds. Just a high school junior, Deyo will be able to put on significantly more weight once he's in college, particularly if he gets any taller. As it is, he's a good-looking prospect with early offers from Iowa, Iowa State and Kansas State. 
247Sports has him listed as the No. 219 player nationally in 2022 and Rivals also considers him a four-star prospect. Both have him pegged as the early No. 3 player in Iowa for the class. 
One other standout: Lewis Central has a bunch of solid underclassmen, particularly on defense. One to keep an eye on: Sophomore Jonathan Humpal. The 2023 recruit started both ways for the Titans, playing running back and corner. 
Humpal took a screen 80 yards for a touchdown in the second quarter, jumped a slant route that should have been an interception on defense, and consistently made plays both ways.