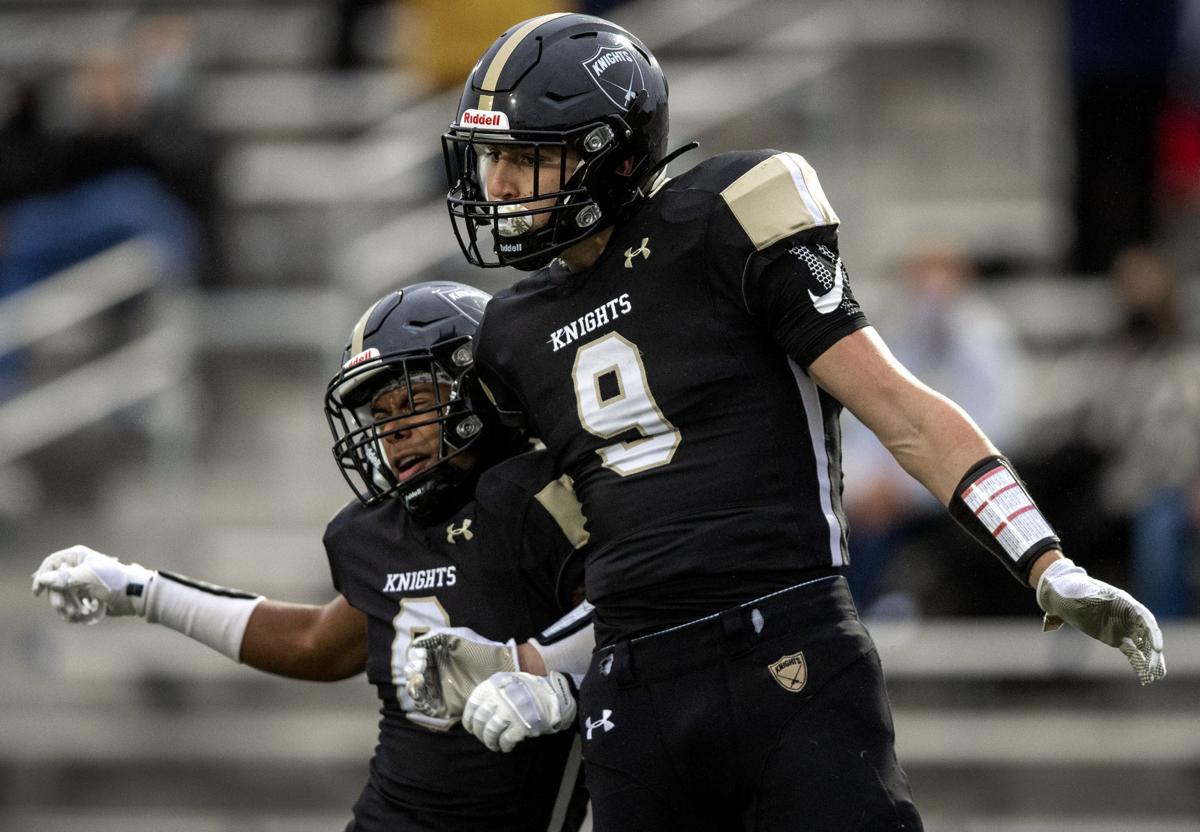 Jake Appleget has been waiting for more than a year to show college football coaches what he can do in person.
He made quite an impression on literally the first day he was allowed to.
The Lincoln Southeast standout and first-team Super-State selection by the Journal Star in 2020 performed well enough in a private workout in front of Nebraska coaches Tuesday — the first day of a quiet period after a 14½-month dead period caused by the coronavirus pandemic — that head coach Scott Frost offered him a scholarship on the spot.
"Frost said if this COVID thing never had happened, they probably would have had me on campus a couple of times already the past couple months and I would have been offered a few months back," Appleget said. "But with COVID setting everything back, they wanted to make sure they had the right guy and Frost said after the testing and the first few drills that it was unanimous from all the coaches there that they were going to offer me that day. …
"It was a surreal moment." 
"I'm not real surprised," Southeast head coach Ryan Gottula said Tuesday. "I just know Jake, I know he's going to be a guy that's going to test extremely well. He's a great player, high character, very strong academics. He checks a lot of boxes. I'm just really happy for him and his family to get another offer."
The 6-foot-5, 210-pounder compiled 67 tackles and three interceptions on defense in 2020 for the Knights. He also caught 17 passes for 280 yards and five scores. In college, he's primarily viewed as linebacker — one that could end up either in the middle of the field or on the edge — but he could also end up at tight end.
The Nebraska coaching staff has been telling Appleget for months that they like his film and that they're excited about his future, but that they also wanted to see him in person. That became possible for the first time on Tuesday thanks to an NCAA rule adjustment that allows unofficial visitors to campuses to work out for up to an hour in front of coaches.
"I walked through the front doors and met (director of player development) Sean Dillon and (inside linebackers coach) Barrett Ruud, they took me through some height and weight stuff and went right into testing," Appleget said. "Got a vertical jump, then warmed up and did some 40-yard dashes and drill work. 
"I performed really well in all the testing and drill work. After that, just took a shower and then took a tour of the facilities and the school. When all that was done, I had a meeting with (head coach Scott) Frost, (defensive coordinator) Erik Chinander and my dad, and that's when they offered me." 
Appleget was the first of many to go through the workout in Lincoln, and he came away with an offer. When the workout first started, Appleget admitted he felt a bit of pressure, knowing what was on the line. 
"When I first walked onto the field, there were five coaches standing there watching me and a camera crew filming me, so that was a little nerve-wracking," Appleget said. "But once I ran my first 40, all the nerves were gone and I was just out there doing my thing. After I got in my groove, all the thoughts and everything went away and I was just playing ball." 
Nebraska likes Appleget's potential on either side of the ball, though his impression coming out of the Tuesday workout was that if he ends up a Husker, he would likely begin at outside linebacker rather than tight end. He told the staff he's willing to play either and doesn't have a preference. 
It's his first offer from a Power Five school, though he's got other offers from places like Northern Illinois and several FCS teams.
"For the 2022 kids, it's certainly been pretty rough circumstances for them just in terms of the contact that they haven't been able to have throughout the spring, so I'm just really excited for him and all of those 2022 kids to have the opportunity to show what they can do," Gottlua said. "Jake, I knew he was going to do extremely well when he got the opportunity to work out and go through the testing for schools."
By the time Appleget chatted with the Journal Star on Tuesday evening, he was already in Minneapolis, where he's slated to meet the Minnesota coaching staff Wednesday and take part in a camp there. Then, he's off to Lindenwood in Missouri for the megacamp there Friday. Next week, he's seeing Iowa State, Kansas State and maybe Northwestern. 
Suffice it to say, though, Appleget is off to a good start. 
"June, once the announced that the dead period was going to be lifted, the work was really just starting for June 1," he said. "I've been training and preparing for this month and to start it off like that was pretty amazing."