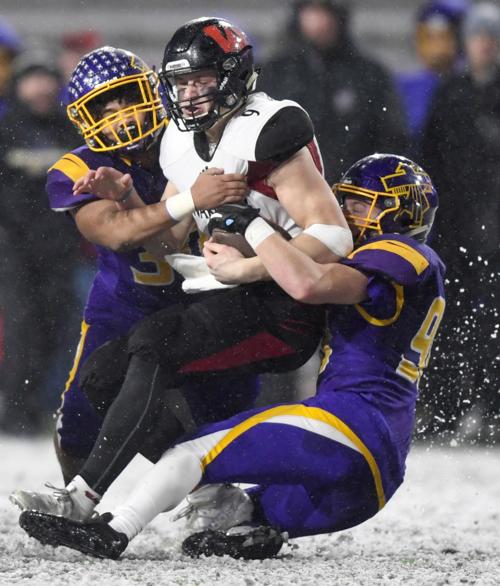 OMAHA — Once Omaha Westside got rolling Thursday night, there was no slowing down. 
The Warriors trounced Creighton Prep 42-0 at Westside High. Each side had a considerable amount of talent and the game featured several players whom University of Nebraska football fans should be interested in. 
Here are some quick notes on those guys: 
* Nebraska landed a verbal commitment earlier in the week from Westside defensive back and wide receiver Koby Bretz. He profiles as a defender at the college level — some think he'll end up at safety and some like him more as an outside linebacker — but the athleticism is hard to miss. 
Bretz wasn't challenged much down the field, but he shows a willingness to come up and hit. In the second quarter, he made a nice play on a third-down throw to the sideline, covering some ground to knock down a pass to force a punt. 
Later in the game, he made a circus play on offense where he tipped an errant pass to himself and then stayed with it and hauled it in for a modest gain. 
The physical traits are clearly there and Westside coach Brett Froendt said earlier in the week that he trusts Bretz to run the defense from his safety spot. One of the keys going forward, Froendt said, is for Bretz to play with consistency over the course of an entire game. 
His work (and the work of the Westside starters) on Thursday night was pretty much done before the third quarter was over. 
* Westside quarterback Cole Payton made a strong case as the best player on the field, and it wasn't only as a passer. Payton, a North Dakota State quarterback commit, passed for a touchdown, rushed for one and hauled one in as a receiver, too. 
Payton is a big kid at 6-foot-3 and 220 pounds. He shows accuracy and velocity as a thrower and is a powerful runner, too. Not only that, but he made a natural catch on a good throw from Kolby Brown, son of former NU kicker Kris Brown, for a 47-yard touchdown in the third quarter. 
Payton rushed for 74 yards and threw for 96. 
The Bison have a strong track record of identifying and developing quarterbacks. Payton is likely still to draw interest from other schools as the fall goes on, including Nebraska. He could conceivably earn more offers as a quarterback, a tight end or a linebacker. One thing is certain: He's fun to watch. 
* Creighton Prep tight end A.J. Rollins had a quiet night overall. He played on both offense and defense, though wasn't quite a full-time player either way. 
The 6-6, 220-pound Nebraska pledge who verbally committed to NU on Friday, on offense played attached quite a bit and showed a willingness to block. The Prep offense just never got it going, though, and Rollins had perhaps just one target over the first three quarters in the pass game. 
Dickerson hauled in a long touchdown from Payton in the second quarter — the QB had his choice of Dickerson from the left slot or Bretz up the right sideline — and didn't give up anything on defense. He did drop what looked like it might have been a pick-six, but he'll have more chances. 
Dickerson had three catches for 88 yards and Bretz had three for 27. 
* A couple of other impressive players to keep an eye on over the course of the fall: Westside defensive lineman Cade Haberman was a disruptive force throughout the evening. Haberman is listed at 6-3 and 280 pounds, and he verbally pledged to Northern Illinois in April. Prep receiver/defensive back Alex Bullock picked up his first offer from South Dakota State earlier this month and is a good athlete at 6-2 and 190.
Be the first to know
Get local news delivered to your inbox!