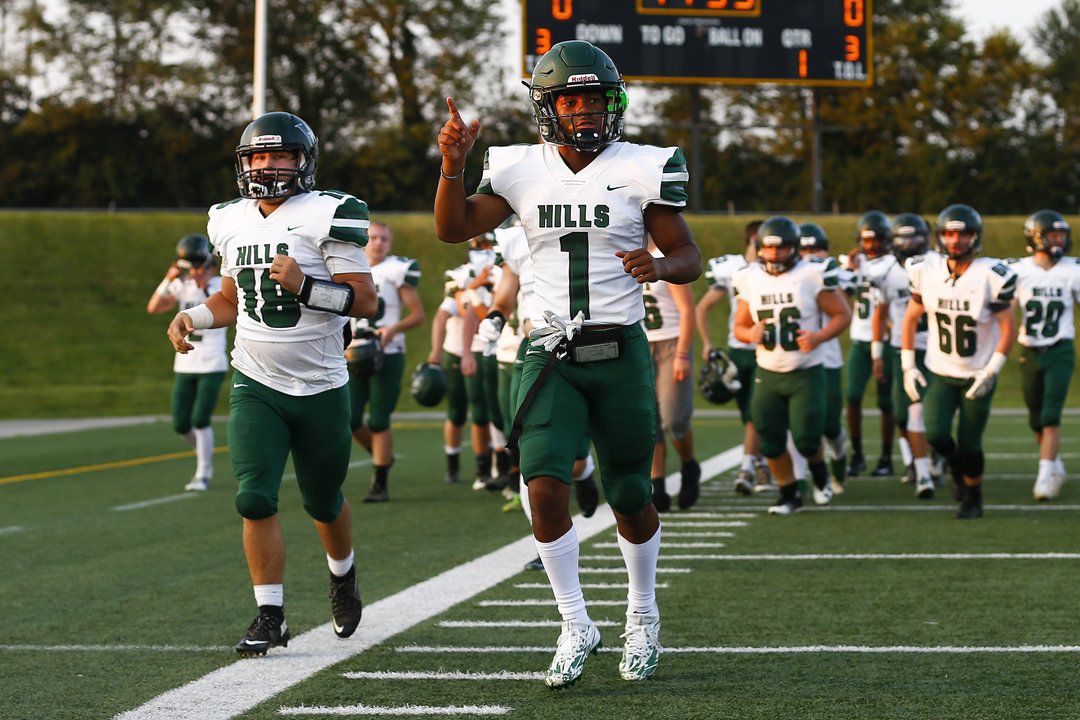 Wandale Robinson on Sunday was named Mr. Football in Kentucky by the high school football coaches in the Bluegrass State. Because college coaches can be on the road recruiting this time of year, one of Robinson's future coaches happened to be in Frankfort, Kentucky, to celebrate with the heralded all-purpose back and his family.
It was not, however, a coach from the University of Kentucky.
It was Nebraska offensive coordinator Troy Walters.
Robinson, the prolific Frankfort native, wasn't going to slip through the Huskers' grasp so easily when he verbally committed to the home-state Wildcats on Nov. 1 after previously having told the Nebraska staff he would play his college ball in Lincoln.
Nebraska kept Robinson right where he'd been all along -- central in its recruiting efforts -- for the same reasons he had been all along: Because the Huskers believe he's a perfect fit in coach Scott Frost's offense.
And Robinson made the effort pay off Wednesday when he announced he was flipping his commitment from UK to Nebraska.
"Throughout this whole recruiting process I've always been told, 'Do what's best for you. You have to live your life for you and nobody else. Just follow your heart,'" Robinson tweeted. "Those words of advice got away from me as my verbal commitment date neared."
Robinson, in his tweet, said he felt pressure to stay home and commit to Kentucky.
"Staying home is something I would have loved to do, but unfortunately my heart just isn't there," he said. 
The 5-foot-9, 180-pound back will sign his National Letter of Intent on Dec. 19 and enroll early, meaning he's expected to be on campus in Lincoln in January. Anything can happen, of course -- Robinson's recruitment is a perfect example of just that -- but the Huskers appear to have come out on top after it looked for a while like they had suffered a stinging defeat.
You have free articles remaining.
Robinson visited NU officially on Sept. 1, and shortly thereafter appeared to be a lock to join the Huskers. He committed, silently, to the coaching staff and set his announcement date for Nov. 1. But the night before the ceremony at Western Hills High, Robinson had a change of heart after conversations with his trainer and others. UK recruiting coordinator and former Husker assistant Vince Marrow was front and center in helping convince the local product to stay home and he decided to do just that.
NU, for its part, did not throw in the towel. Instead, running backs coach Ryan Held visited early in the current contact period. Walters followed up this weekend. Frost will conduct his in-home sometime between now and Dec. 19. Then, a few weeks later, Robinson will be enrolled at UNL and jumping headlong into winter conditioning with the Huskers.
All of the recruiting drama over recent weeks shouldn't obfuscate Robinson's incredible high school football career, either.
Robinson rushed for 1,973 yards (9.6 per carry) and 30 touchdowns as a senior and added 31 catches for 725 yards and 11 more scores in 11 games. He also led Western Hills with 119 tackles (12 for loss) and logged three interceptions.
According to the Louisville Courier Journal, Robinson in his final high school game, a playoff loss to Lawrence County, had 129 rushing yards (13 carries) and nine catches for 232 yards along with four total touchdowns.
Just before that game, Western Hills coach Don Miller told the Journal Star that he loved the fact that Robinson's favorite play of the season was an interception.
"(Lexington Catholic was) coming in to score down in the red zone and he broke on a play, hit the kid, ball popped up," Miller said. "He still made the interception and still took it back about 90 yards. That just shows you right there. I was so proud of him because he said that was his favorite play of the year and it was a defensive one."
For his career, Robinson rushed for 6,795 yards (11.1 per carry), added 1,787 receiving yards and tallied 118 touchdowns.
He was committed to Nebraska, then Kentucky, now Nebraska again. Nothing's official until the NLI is in, but January is coming fast. At this rate, Frost, Walters and company appear to have a new weapon to add to the mix for spring ball and beyond.
It's a prospect that excited Robinson when he visited campus back in September and has all through the time NU's been recruiting him. 
"(Frost) has a history with D'Anthony Thomas, LaMichael James, Kenjon Barner and he preached that to me every time I talk to him that that's the way his offense goes when he's got guys like me," Robinson told the Journal Star around the time of his official visit. ... "Before I even went out there, it was like I had known them for like four years. It was like they'd been recruiting me from my freshman year."