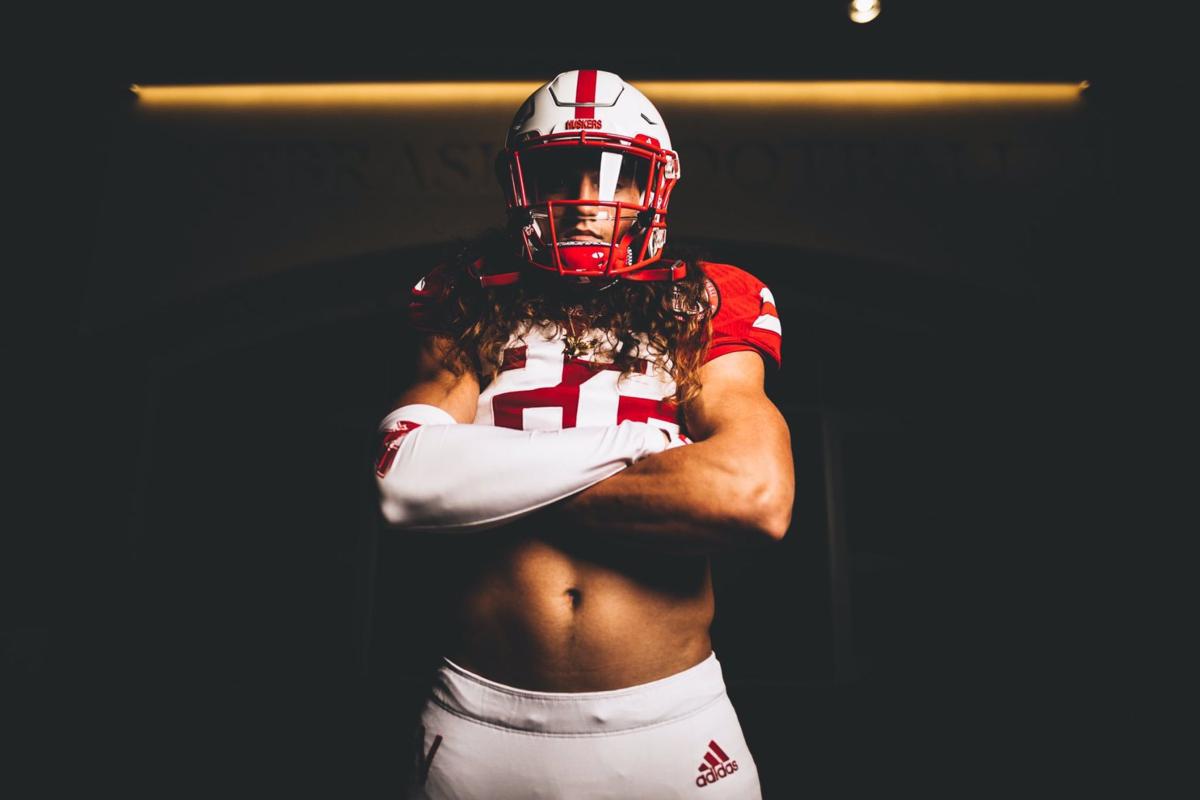 Eteva Mauga-Clements' journey to major college football first took him from American Samoa to California's Bay Area, where he found success in junior college at Diablo Valley College.
Mauga-Clements verbally pledged to Nebraska on Tuesday night, giving the Huskers a fast, athletic inside linebacker in their 2020 class.
Diablo Valley College coach Mike Darr confirmed to the Journal Star on Wednesday morning that Mauga-Clements had given his verbal commitment to the Husker staff, saying he didn't think his star linebacker was the type to announce on social media, the way most recruits do. 
Mauga-Clements began his junior college career as a 165-pound safety, but played his second season for Darr at about 210 pounds. His coach thinks he'll be up around 230 in no time once he arrives on campus in January.
"He's already put on all that weight and it's been a struggle, but the struggle is just this: He has so much respect, the culture he grew up in and just the kind of young man he is, that he has two little stepsisters here with his father and his stepmother here, and he won't take food off the table until they've eaten," Darr said. "He just thinks it's disrespectful. That's the kind of kid he is.
"He'll get there in January and by the time he comes back and visits me I probably won't even recognize him."
Mauga-Clements, Darr said, had received interest from No. 1-ranked LSU recently and had offers from most of the Pac-12 over recent months.
"His effort and his leadership and he has just a ferocious motor. He never, ever stops," Darr said. "He just shows up and it doesn't matter what the score is or if it's a Tuesday practice. He's every coach's dream. He's exactly what you want."
Mauga-Clements by midweek had informed other teams that he had shut down his recruitment and was set to pick the Huskers, his father, Derek Clements, told the Journal Star. 
It started last week when inside linebackers coach Barrett Ruud came by the Clements' house and visited. Then, when the family switched planes in Denver for the last leg of the trip into Lincoln, they realized what they were in for. 
A man on the plane asked Clements where they were from and they said California. He mentioned he was a football coach and, not surprisingly, the visit came up. 
"Right away, he goes, 'Oh, we need linebackers. We're lacking depth there. We're pretty good at the quarterback position, but could use a few wide receivers, we need linebackers for sure,'" Clements said. "Then this lady in the other aisle and one row behind me said, 'You're from California? That's who it is. I knew we were recruiting somebody out there.' … It was just mind-blowing because these people knew what was going on." 
On-campus highlights included meeting with academic adviser Dennis LeBlanc and performance nutrition director Dave Ellis. 
"It was mind-blowing and for me as a dad and a football coach, I literally jumped out of my chair when we finalized the numbers and I was screaming," Clements said of the meeting with Ellis, which includes measurements and projections about how much a player can grow, what his ideal weight and body fat look like and much more. "I literally used profanity. I was like, 'You're going to be a f-ing freak.' He was right around the 5-10 mark coming out of high school and he continued to grow. … My son has like one hair on his chin." 
Mauga-Clements used the gains so far to wreak havoc as a sophomore at DVC, racking up 23 tackles for loss in earning Bay 6 Conference defensive most valuable player honors. 
He has not had an easy road, which Darr said makes his 3.8 grade-point average and status as a December graduate and midyear transfer all the more impressive.
"He is absolutely unreal, and I have absolutely no doubt that he's going to play on Sundays," Darr said. "As the head coach, he makes it really easy to point to the local kids (on our team) that are going home to mom and daddy and grew up here on the mainland, when they tell me how hard school is. I say, 'OK, well, he grew up on a little island in the middle of the Pacific, came here and he's got a 3.8 and he's leaving midyear. So tell me again what's hard.'"
Clements had high marks all around for NU, but particularly for the support and plan LeBlanc and company have for Mauga-Clements in terms of academics. 
"That was huge, because not only is he going to get his degree, but he's going to get to work on his master's, too. It's foolproof," Clements said. 
Mauga-Clements is the 15th known verbal pledge for Nebraska in its 2020 class and is the first of what is expected to be several dominoes to fall in the coming days before National Signing Day on Dec. 18. 
2020 Husker football recruits
| Name | Pos. | Ht. | Wt. | Hometown (School) | Stars |
| --- | --- | --- | --- | --- | --- |
| Zavier Betts | WR | 6-2 | 190 | Omaha (Bellevue West) | **** |
| Marquis Black | DL | 6-4 | 280 | McDonough, Ga. (Eagle's Landing) | *** |
| Alante Brown | WR | 6-0 | 190 | Chicago (Simeon) | **** |
| Jimari Butler | OLB | 6-5 | 215 | Mobile, Ala. (Murphy) | *** |
| Alex Conn | OT | 6-6 | 280 | Derby, Kansas | *** |
| Niko Cooper | OLB | 6-5 | 220 | Memphis, Tenn. (Hutchinson C.C.) | *** |
| Turner Corcoran | OT | 6-6 | 280 | Lawrence, Kan. (Free State) | **** |
| Ronald Delancy III | DB | 5-11 | 190 | Miami (Northwestern) | *** |
| Marcus Fleming | WR | 5-10 | 160 | Miami, Fla. (Northwestern) | **** |
| Jaiden Francois | CB | 6-0 | 185 | Homestead, Fla. | **** |
| Henry Gray | DB | 6-0 | 175 | Miami (Central) | **** |
| Keyshawn Greene | LB | 6-3 | 205 | Crawfordville, Fla. (Wakulla) | **** |
| Blaise Gunnerson | OLB | 6-5 | 250 | Carroll, Iowa (Kuemper) | **** |
| Nash Hutmacher | DT | 6-5 | 305 | Chamberlain, South Dakota | *** |
| Tamon Lynum | DB | 6-2 | 170 | Orlando, Fla. (Evans) | *** |
| Omar Manning | WR | 6-4 | 225 | Lancaster, Texas (Kilgore College) | **** |
| Eteva Mauga-Clements | ILB | 6-2 | 210 | Pleasant Hill, Calif. (Diablo Vall. College) | *** |
| Sevion Morrison | RB | 6-0 | 200 | Tulsa, Oklahoma (Edison) | **** |
| William Nixon | WR | 5-11 | 185 | Waco, Texas (Midway) | *** |
| Pheldarius Payne | DE | 6-3 | 270 | Suffolk, Va. (Lackawanna CC) | *** |
| Jordon Riley | DE | 6-5 | 300 | Durhan, N.C. (Garden City C.C.) | *** |
| Marvin Scott III | RB | 5-9 | 205 | Port Orange, Fla. (Spruce Creek) | *** |
| Logan Smothers | QB | 6-2 | 180 | Muscle Shoals, Ala. | **** |