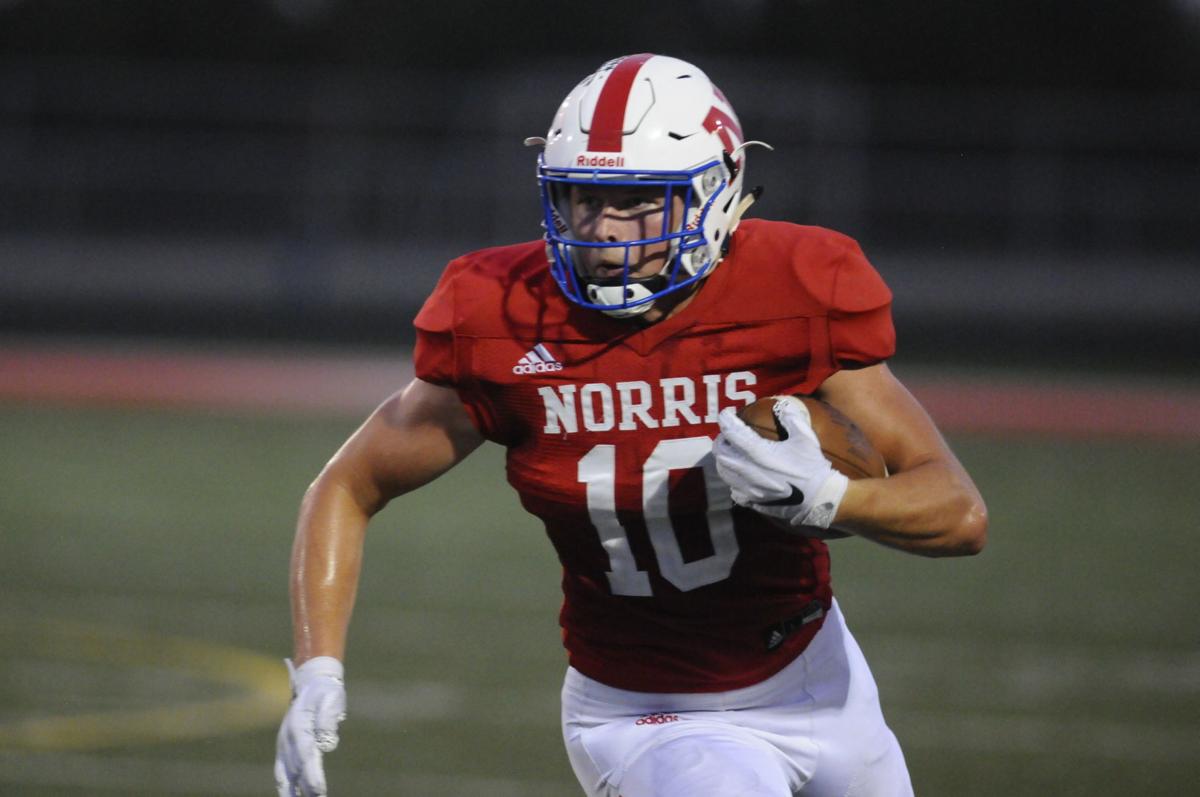 James Carnie has been a Nebraska football fan his entire life.
Now he's going to be a Nebraska football player.
The Class of 2021 Norris tight end verbally committed to his childhood dream school Monday afternoon, one week after he picked up a scholarship offer from head coach Scott Frost, capping a recruitment that at the same time felt like a long time coming and also developed rapidly in recent weeks.
Frost called Carnie on Sunday last week and said, "What do you want to do?" 
Carnie wasted little time calling Frost back.
"It didn't take too long," Carnie said. "About 30 minutes later I gave him a ring back. Done deal." 
Carnie, listed at 6-foot-5 and 220 pounds, spent the winter and then the early months of the coronavirus pandemic packing on 30 pounds. He then began his senior season with a bang, turning widespread interest from Power Five programs into a handful of scholarship offers from Iowa, Kansas State, Pitt and, most recently, Nebraska.
On Sunday, it all hit Carnie at once. 
"I'd say probably at the 15-minute mark (between the calls)," Carnie said, "I walked upstairs from my basement and I got a little bit emotional. All of the hard work, it finally paid off." 
All of those offers may have come sooner if not for the odd summer, during which nobody was able to play seven-on-seven football or get out and make the camp circuit. Carnie, though, stayed the course, showed good athleticism at a showcase event at the Warren Academy in Omaha in late July, and then stacked several weeks of quality film onto his résumé early in Norris' season.
"That's the thing, being able to see James throughout the summer and that transformation that he's made, you just knew he was going to have quite the opportunity this fall," Norris head football coach Ty Twarling told the Journal Star. "Just his physicality and even increasing his speed the way he did, that was probably the thing I was most impressed with. Being able to add that much weight but yet keep that speed, that to me was the X-factor. That's what's going to get him what he wants."
Carnie had been in touch with the NU coaching staff for months. He's built a strong relationship with tight ends coach Sean Beckton, Frost, inside linebackers coach Barrett Ruud and director of player development Sean Dillon. Clearly, the staff liked what it saw from Carnie as Norris has got off to a 5-1 start.
Among them, according to Twarling: He's playing with an increased physicality as a senior.
"He's getting there. That's one thing him and I talk about a lot," Twarling said. "I think playing defense has really helped him this year. I know he feels more comfortable. Last year we moved him to defensive end and this year he's really embraced it. Just having that weight and that strength just gives him that much more confidence. I think that's something Nebraska, Iowa, Kansas State, Pitt, all those teams that now have offered him, were wondering about and had question marks and I feel like he's really answered those."
Make no mistake, though, Carnie wants to play tight end in college and told the Journal Star that Frost made it clear that's what the Huskers want, too.
He said he managed to keep the decision a pretty good secret for most of the week, but Monday after school, it was time to let everybody else in. 
"We had the volleyball team, cross country, softball and then the football team come into the auditorium, and we all watched (the commitment video) together, so there were probably 100 people," Carnie said. "And right as I said, 'I'll be attending Nebraska,' everybody cheered and it was awesome. They're all excited about it." 
Nebraska's 19-man class now ranks No. 16 in the country and No. 4 in the Big Ten according to Rivals and checks in No. No. 21 and No. 4, respectively, according to 247Sports. 
2021 Nebraska recruiting class 
| Name | Position | Hometown (School) | Stars |
| --- | --- | --- | --- |
| Marques Buford | DB | Oakdale, Conn. (St. Thomas More) | *** |
| Koby Bretz | DB | Omaha (Westside) | *** |
| James Carnie | TE | Norris | *** |
| Gabe Ervin | RB | Buford, Ga. | *** |
| Thomas Fidone | TE | Council Bluffs, Iowa (Lewis Central) | **** |
| Mikai Gbayor | LB | Irvington, New Jersey | *** |
| Kamonte Grimes | WR | Naples, Fa. (Palmetto Ridge) | *** |
| Heinrich Haarberg | QB | Kearney (Catholic) | *** |
| Shawn Hardy II | WR | Kingsland, Ga. (Camden County) | *** |
| Wynden Ho'ohuli | OLB | Mililani, Hawaii. | **** |
| Randolph Kpai | ILB | Sioux Falls, S.D. (Washington) | **** |
| Chris Kolarevic | LB | Traverse City, Mich. (Northern Iowa) | |
| Henry Lutovsky | OL | Mt. Pleasant, Iowa | *** |
| Seth Malcom | ILB | Tabor, Iowa (Fremont-Mills) | *** |
| Latrell Neville | WR | Missouri City, Texas (Hightower) | **** |
| Teddy Prochazka | OT | Elkhorn (South) | **** |
| A.J. Rollins | TE | Creighton Prep | *** |
| Markese Stepp | RB | Indianapolis (Cathedral) | |
| Samori Toure | WR | Portland (Oregon Westview) | ** |
| Jailen Weaver | DE | Antioch, Calif. | *** |
| Malik Williams | DB | Buford, Ga. | *** |
| Branson Yager | OT | Grantsville, Utah | *** |