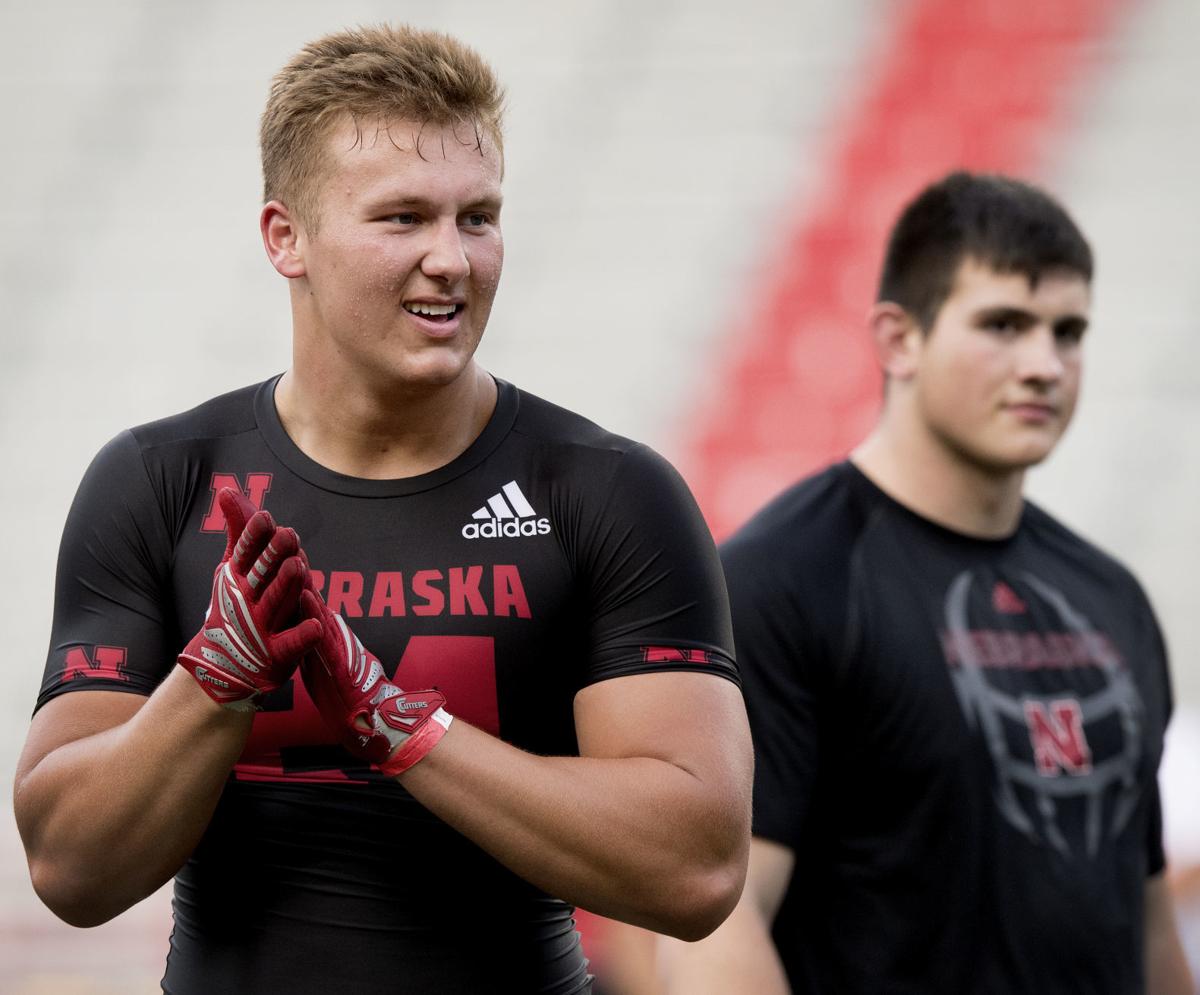 Blaise Gunnerson has had a running bit with Turner Corcoran about their prospects as future college teammates.
"We've had this joke running for a few months now saying how we're going to be doing one-on-ones soon, playing at Nebraska and going against each other in one-on-ones," explained Corcoran, the third member of Nebraska's 2020 recruiting class.
Well, it's not a joke any longer.
Gunnerson announced his verbal commitment to NU Tuesday afternoon on Twitter, becoming the seventh in the Huskers' class and joining his friend Corcoran as those among the first wave of what is already shaping up to be a decorated group.
Gunnerson is listed at 6-foot-5 and 250 pounds, and is likely capable of playing either outside linebacker spot in Erik Chinander's defense. Rest assured, Nebraska's defensive coordinator is just happy to have the Kuemper (Carroll, Iowa) Catholic athlete on board. Chinander, himself an Iowa native, has been high on Gunnerson for more than a year and has committed to recruiting the best that Iowa has to offer despite heavy in-state competition from Iowa and Iowa State. The Cyclones were seen as the primary competition for Gunnerson's services.
You have free articles remaining.
Gunnerson missed his entire junior season due to a hip injury but showed enough during his sophomore campaign to draw extensive Power Five interest.
"He's pretty stocky," Corcoran said. "He got really big after his injury and he said he's been doing straight chest and arm work for like six months. I was like, 'Oh, my God.' He's a great kid."
Gunnerson's most recent of four trips to NU in the past year came June 14-16, when he dominated a Friday Night Lights camp and then had his official visit. On the field during the FNL camp and then another camp the next day, Gunnerson talked with coaches and current Husker players and exchanged plenty of hugs and smiles.
Among the crowd on that Friday: 2020 standout receiver Xavier Watts (Omaha Burke), an unofficial visitor at the FNL camp who has formed a recruiting friendship with Gunnerson and Corcoran after being on campus with both several times.
Now two of the three are on board. Watts won't be an easy get, as he's narrowed his choices to Nebraska, Wisconsin, Michigan, Notre Dame, Tennessee and Iowa State.
"Those are two really important guys headed into the future of the Huskers that we feel like we can get, obviously, and that are going to be program-changers right way," Corcoran said. "This isn't recruiting talk. These guys can straight-up play."
| Name | Pos. | Ht. | Wt. | Hometown (School) | Stars |
| --- | --- | --- | --- | --- | --- |
| Zavier Betts | WR | 6-2 | 190 | Omaha (Bellevue West) | **** |
| Marquis Black | DL | 6-4 | 280 | McDonough, Ga. (Eagle's Landing) | *** |
| Alante Brown | WR | 6-0 | 190 | Chicago (Simeon) | **** |
| Jimari Butler | OLB | 6-5 | 215 | Mobile, Ala. (Murphy) | *** |
| Alex Conn | OT | 6-6 | 280 | Derby, Kansas | *** |
| Niko Cooper | OLB | 6-5 | 220 | Memphis, Tenn. (Hutchinson C.C.) | *** |
| Turner Corcoran | OT | 6-6 | 280 | Lawrence, Kan. (Free State) | **** |
| Ronald Delancy III | DB | 5-11 | 190 | Miami (Northwestern) | *** |
| Marcus Fleming | WR | 5-10 | 160 | Miami, Fla. (Northwestern) | **** |
| Jaiden Francois | CB | 6-0 | 185 | Homestead, Fla. | **** |
| Henry Gray | DB | 6-0 | 175 | Miami (Central) | **** |
| Keyshawn Greene | LB | 6-3 | 205 | Crawfordville, Fla. (Wakulla) | **** |
| Blaise Gunnerson | OLB | 6-5 | 250 | Carroll, Iowa (Kuemper) | **** |
| Nash Hutmacher | DT | 6-5 | 305 | Chamberlain, South Dakota | *** |
| Tamon Lynum | DB | 6-2 | 170 | Orlando, Fla. (Evans) | *** |
| Omar Manning | WR | 6-4 | 225 | Lancaster, Texas (Kilgore College) | **** |
| Eteva Mauga-Clements | ILB | 6-2 | 210 | Pleasant Hill, Calif. (Diablo Vall. College) | *** |
| Sevion Morrison | RB | 6-0 | 200 | Tulsa, Oklahoma (Edison) | **** |
| William Nixon | WR | 5-11 | 185 | Waco, Texas (Midway) | *** |
| Pheldarius Payne | DE | 6-3 | 270 | Suffolk, Va. (Lackawanna CC) | *** |
| Jordon Riley | DE | 6-5 | 300 | Durhan, N.C. (Garden City C.C.) | *** |
| Marvin Scott III | RB | 5-9 | 205 | Port Orange, Fla. (Spruce Creek) | *** |
| Logan Smothers | QB | 6-2 | 180 | Muscle Shoals, Ala. | **** |