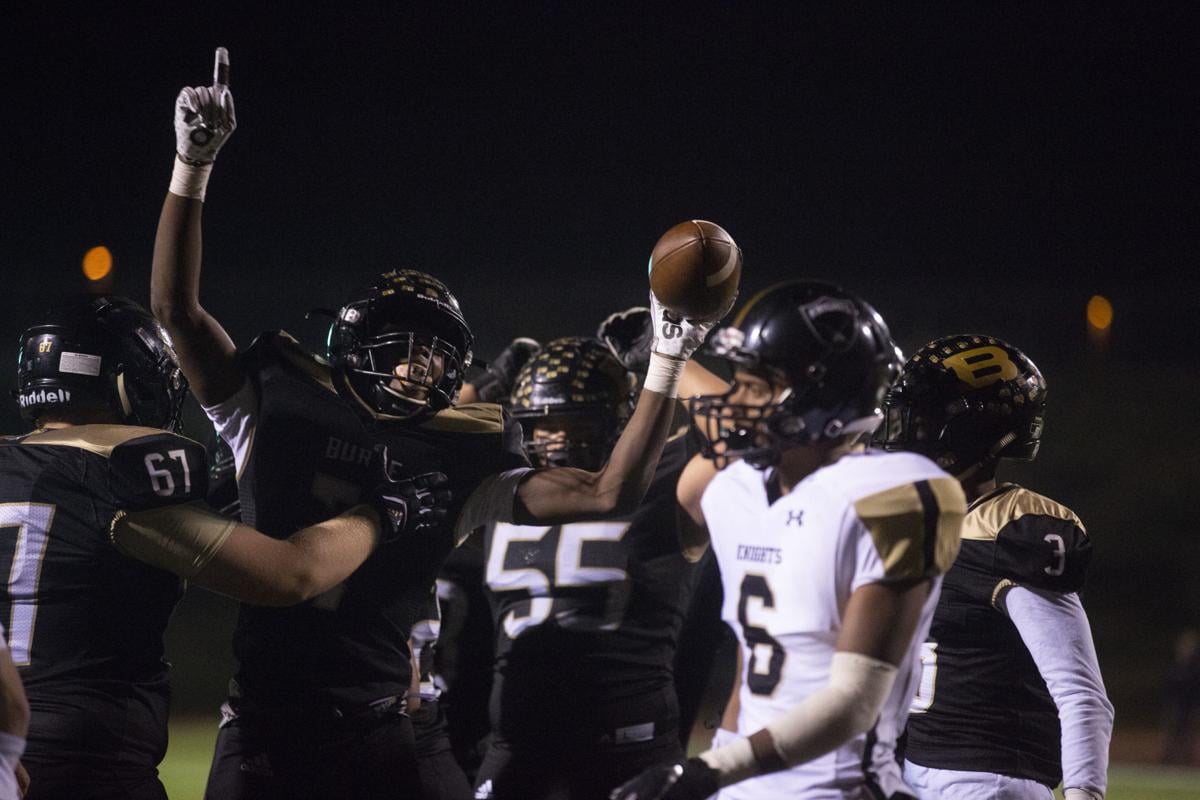 Jaylon Roussell will likely find himself in the spotlight often for Omaha Burke this fall.
He's trying to make sure colleges already know who he is by that time.
Roussell, a Class of 2020 prospect, played well sharing carries with Bulldogs standout and captain James Burks last year and now will likely be Paul Limongi's featured back this fall.
In the meantime, though, he's turned heads on the camp circuit through the spring and summer and aims to do so again at Memorial Stadium during the first of two Friday Night Lights camps put on by Nebraska.
"I want to go there and run a great time, at least a 4.5 in my 40-yard dash, because that's what most colleges are looking for," he said. "They've seen I can do the other things, but they want to see how fast I can run. … Then if we do 1-on-1s, I just want to go there and do the best I can."
Roussell (6-foot, 180 pounds) has Division II offers currently but said he's heard from several Power Five schools in at least some capacity in recent weeks and months. He knows camp season is only one part of the evaluation and is confident that he'll further improve his stock with a big senior season, but also believes he can compete at the highest level in college.
"During the season, every rep I got, I just took advantage of that, and I think that opened up a lot of eyes," said Roussell, who added that Iowa State, Wyoming and South Dakota State have shown recent interest. "When I've (gone) to camps, that just gave them more interest in me because they've seen that I can both run the ball and come out of the backfield. …
"I do believe I can play at the next level and I just need to work in the areas where I'm not as good right now, and that's what I'm focusing on."
NU, of course, has offered a pair of in-state players for the 2020 cycle — Roussell's Burke teammate Xavier Watts and Bellevue West wide receiver Zavier Betts, now a Husker verbal commit — and may not make another at all. If Nebraska does make another offer, it may well come much later in the cycle.
You have free articles remaining.
Roussell, though, is one of a large, talented group of in-state seniors who will try to force NU's hand. Also in that conversation: Johnson-Brock athlete Ty Hahn, who played well in a 7-on-7 tournament in front of Husker coaches last week and will be back for FNL No. 2 on June 21 but is attending a University of Iowa camp this weekend, Lincoln Southeast's Isaac Gifford, Kearney's Miko Maessner, Bellevue West's Jeyvon Ducker, Papillion-La Vista South tight end Will Swanson and others.
Recruitments can change quickly. Swanson, for example, picked up offers from Kansas State, Wyoming, Kent State, South Dakota State and others after a standout camp performance in Missouri recently. Can anyone impress the Huskers enough to move the needle in Lincoln? It's one of the things to keep an eye on over the next seven days, which feature two FNL sessions and Saturday's national "Pipeline" lineman camp (11-2 p.m.).
All three camps are open to the public.
Gunnerson set to visit: Blaise Gunnerson is plenty familiar with Nebraska by this point.
The three-star pass-rusher from Kuemper Catholic High in Iowa has been to campus several times and returns this weekend for his official visit.
First, though, he'll take part in the Friday Night Lights Camp at Memorial Stadium.
The Huskers already know they want the 6-5, 250-pound defender, a longtime target of NU defensive coordinator and fellow Iowa native Erik Chinander, but they'll get to see him in action on the field anyhow. Gunnerson missed his entire junior season due to an injury, but is healthy and primed for a big senior year.
Before that, though, Gunnerson will continue on the track toward making his college choice. He's set to visit Iowa State officially next weekend and is thought to be down to considering those two schools.
Over the course of his previous visits, Gunnerson has become friends with Husker verbal commit and four-star tackle Turner Corcoran and another priority 2020 recruiting target in three-star receiver Xavier Watts (Omaha Burke).
"He's pretty stocky," Corcoran said of Gunnerson. "He got really big after his injury, and he said he's been doing straight chest and arm work for like six months. I was like, 'Oh my god.'