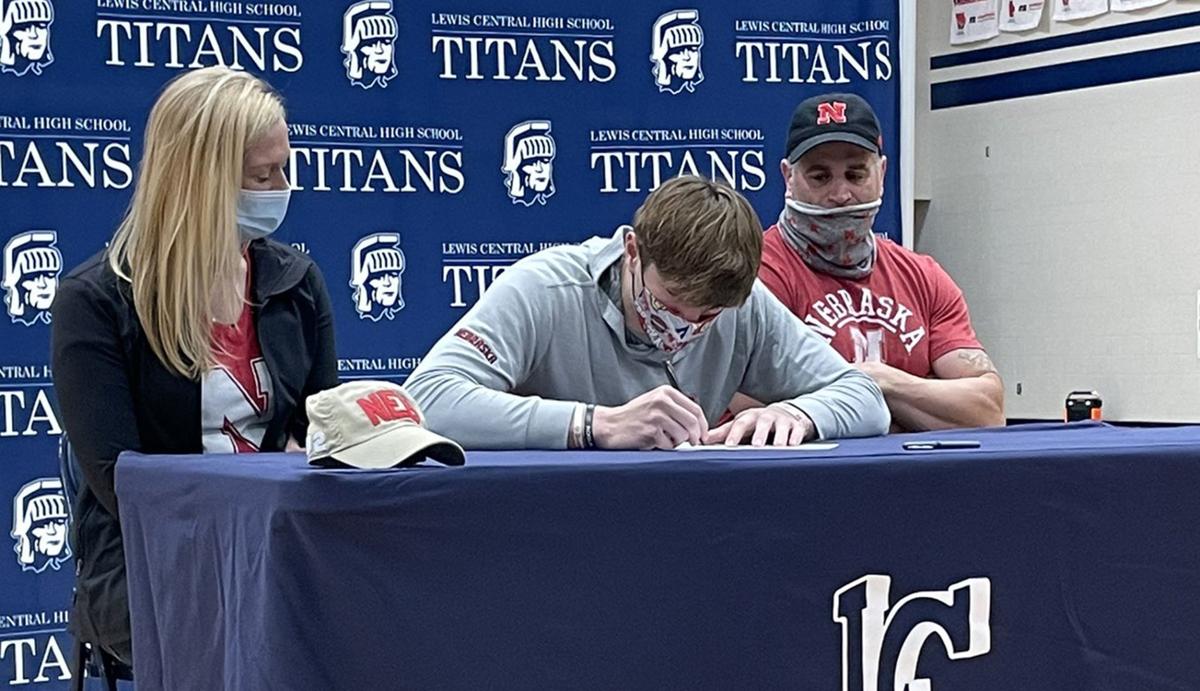 COUNCIL BLUFFS, Iowa — With a quiet high school gym as the backdrop, Thomas Fidone signed his national letter of intent Wednesday to play football at Nebraska.
Amid COVID-19 restrictions, the gathering was small. Fidone's parents and his grandparents were there, as were coaches and a handful of media members. About 20 of Fidone's teammates at Lewis Central High School arrived, too.
But make no mistake, many more eyes are on the standout tight end from across the Missouri River. Nebraska coaches and a fan base starving for some electricity in the program have been watching Fidone closely, eagerly waiting for the top-rated recruit in Nebraska's 2021 class to put pen to paper.
He did just that Wednesday, with his parents by his side, and then did a quick FaceTime with his future head coach.
"I'm ready to get things turned around there when I head up there," Fidone said. "The 2021 class is excited. We have a lot of confidence in what we do (and) we see a lot of progress."
Fidone will arrive in Lincoln in January, but he's already working ahead. The Nebraska coaches got him the playbook, and he's been flipping through it.
The 6-foot-5, 225-pound Fidone is ranked the No. 1 tight end recruit in the country by 247 Sports, and he has some big goals in mind when he gets to NU. He's hoping to make an immediate impact. Maybe earn All-America freshman honors, he says.
"I want to be the best tight end to ever go through Nebraska," Fidone said.
Fidone is not shying away another goal of his, which is helping Nebraska become a factor in the Big Ten. He repeatedly talked about helping with the turnaround while speaking to reporters Wednesday morning. Those are conversations he has with coach Scott Frost and tight ends coach Sean Beckton.
"They're obviously … just disappointed that sometimes they're not winning the games they should be winning, but they know the progress, they see the progress," Fidone said. "They know what they're doing better from when they started, so I'm excited."
Fidone's intentions became pretty clear when he committed to Nebraska on Aug. 20, doing so on live television.
But, yes, he continued to hear from schools. They would text him, "Are you sure you want to go to Nebraska?" as the Huskers struggled to a 2-5 start.
"He never wavered in any of that," Lewis Central football coach Justin Kammrad said. "I think that's a tribute to a lot of him and what his family has instilled to him as that loyalty and that commitment to once you give someone your word that you're going to honor that and live through it."
Fidone has had Husker red in his bloodlines for a long time. His father grew up a Husker fan living in Omaha, and Fidone took a liking to Big Red, too, growing up with a youth Husker uniform.
On Wednesday, donning red shorts, a gray Husker shirt and a Husker face covering, Fidone added another page to his Husker upbringing with a signature.
"It (was) a huge dream as a little kid," he said. "Now that I accomplished that, I'm extremely blessed and excited to get over there and make a difference."