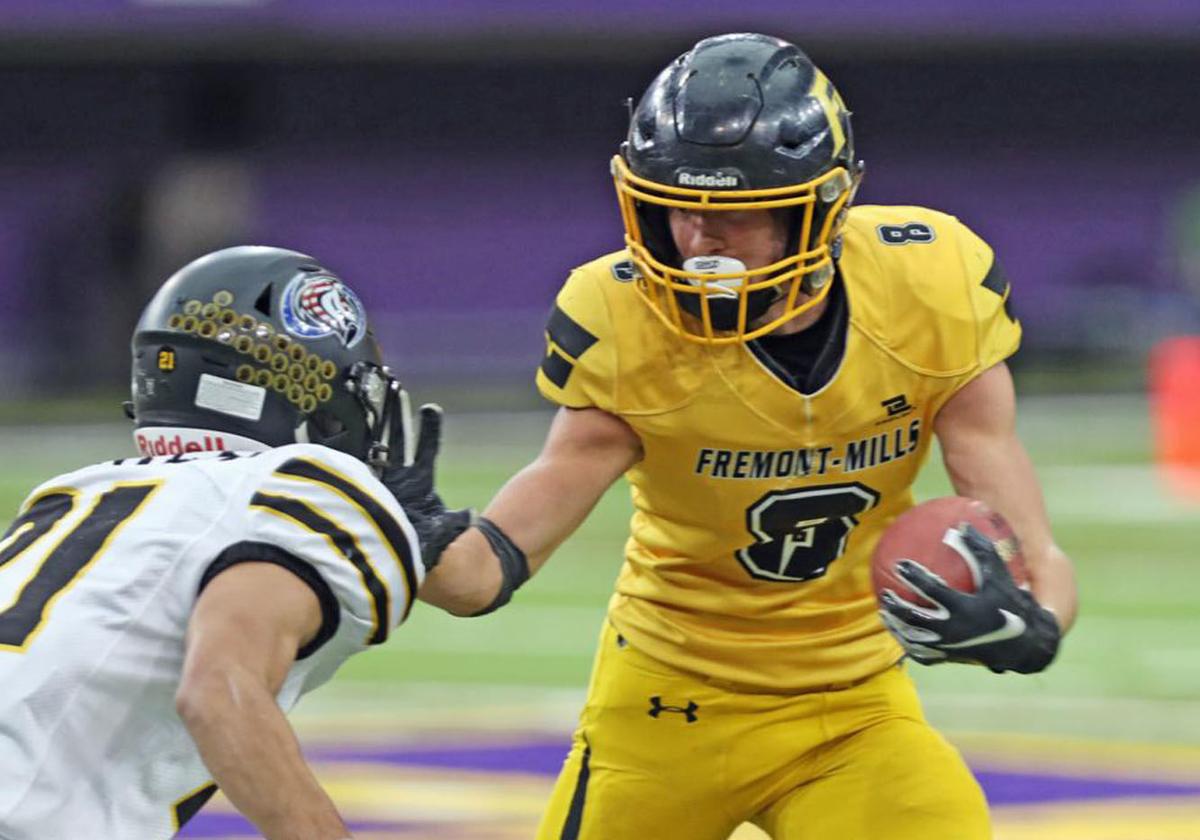 Seth Malcom isn't a high school football player from an eight-man team in Nebraska, but he was an eight-man football player all the same.
And Nebraska football fans certainly love those stories, when a player from a small-town, eight-man school makes it with the Huskers.
Malcom became a Husker on Wednesday when he signed his national letter of intent as a scholarship player in Nebraska's 2021 recruiting class. He comes from Fremont-Mills High School in Tabor, Iowa, only about 10 miles from the Nebraska-Iowa border. Malcom (6-foot-3, 205 pounds) plans to play inside linebacker for the Huskers.
While several players from eight-man programs have joined the Huskers as walk-ons, Malcom may be the first eight-man player to sign with Nebraska as a scholarship player out of high school in about 18 years. Andrew Shanle from St. Edward signed with Huskers in 2002 and became a starter in his final season.
Years ago, Malcom couldn't have imagined playing at the NCAA Division I level.
"From a young age I never thought I could get to that level," Malcom said. "I love football, though, from when I first started playing. I just never kind of realized my potential until after my sophomore season when colleges finally started looking at me, and then I realized that I was able to do that, and perform at that level."
Malcom is the first football player from his high school to sign with a Division I football program since 2012, when Nate Meier signed with Iowa.
"I feel like it's a huge accomplishment, coming from a town of about 1,000 people, it's very unlikely to even get to check out those programs, so it's really a blessing, and I'm glad to have the coaches that I've had throughout my career," Malcom said.
In Iowa, there is one division for eight-player teams with 68 teams. There isn't six-man football in Iowa.
There were 24 players out for football at Fremont-Mills this season. Malcom loved it.
"You have to be an athlete, and able to be put in any position at any time on offense, defense and special teams, just in case someone gets hurt and you need to fill that position," Malcom said.
Malcom played linebacker, running back, tight end and even a little quarterback in the wildcat formation this season.
Of the top 20 senior recruits in Iowa this year, according to Rivals.com, only Malcom comes from a school that plays eight-man football.
Malcom's scholarship to a major program isn't unchartered waters. Fremont-Mills coach Jeremy Christiansen points out that in 2015 the Iowa football team had three starters on its defensive line who played eight-player football in high school — Drew Ott (Giltner), Nathan Bazata (Howells) and Meier.
"I think at some point, a football player is a football player," Christiansen said. "It just takes the right type of group to find them."
What might Nebraska fans end up loving about Malcom during his college career?
"No. 1, he's going to work hard," Christiansen said. "He's very instinctual and aggressive on the football field, so when you play defense, that's one of the common attributes of a good defender is you got to be extremely physical. He's in the top of our class academically, so I think all of those things put together I think will be many of the reasons they'll love him."
Malcom got to play the past three years with his brother, Jake, who was the starting quarterback this season as a junior.
During his first two years of high school, he wrestled one year and played basketball one year. He also did track and baseball in high school. But this year he's graduating from high school early and beginning his college career in January.
"I'm hoping to get a jump on it," said Malcom of coming early. "Just trying to get my weight up and focus on the 11-man game more, and just get the X's and O's part of it. And just hoping to show I belong."
Malcom earned all-state honors as a linebacker his final three seasons and will leave Fremont-Mills as the career leader in tackles and rushing yards. Malcom had 20 tackles in one game this year. He scored 24 touchdowns.
"We liked (Malcom) from the first time we watched his tape," said Nebraska coach Scott Frost.
Malcom's team reached the state semifinals three times, and was state runner-up this season.