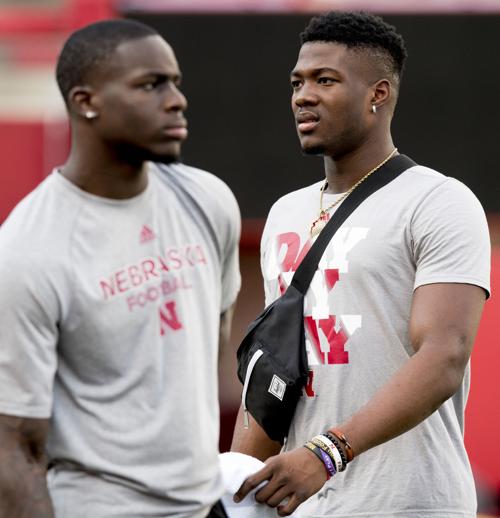 Check out Husker Extra's Recruiting Ticker feature throughout the current contact period to keep up with Nebraska's whereabouts on the recruiting trail as National Signing Day (Wednesday) draws closer.
Nebraska head coach Scott Frost and running backs coach Ryan Held went to Texas on Friday morning and solidified a major piece of the Huskers' 2020 recruiting class. 
There, they met with Kilgore College wide receiver Omar Manning, a top-of-the-board recruit for several months for the Huskers, and within hours of the coaches leaving town Manning made his verbal commitment to NU public. 
First off I would like to thank God for every opportunity, with him anything is possible! Thank you to all those I consider family! With prayer and guidance.. I will be Committing to The University Of Nebraska‼️🌽 #GBR pic.twitter.com/ZVVFzJH4IY

— "𝐁𝐎𝐎𝐁𝐈𝐄" (@TheOmarManning) December 14, 2019
Manning has been very quiet during his recruitment ever since he originally took an official visit to Lincoln back in June, but his play for Kilgore was plenty loud this fall. Manning missed two games this fall and wasn't targeted in one, but in the other seven  he rolled up 725 receiving yards and seven touchdowns and averaged 20.8 yards per catch, earning second-team juco All-America honors in the process. 
"He's an NFL talent, for sure," Kilgore offensive coordinator Peter Hopkins told the Journal Star earlier this month. "He's one of the better players I've ever been around."
At a physically imposing 6-foot-4 and 225 pounds, Manning brings to NU a body type and skill set that it sorely missed during the 2019 season. He will have two seasons of eligibility remaining. 
Manning is considered the No. 2 overall juco player in the nation and the top receiver by the 247Sports Composite and the No. 3 juco player overall by Rivals. NU's recruiting class is now ranked No. 23 nationally by both major recruiting services. 
What looked on the surface like a pretty smooth recruitment for Nebraska took some turns in recent days, from Manning receiving an offer from Texas A&M and spending last weekend on TCU's campus, to reports that perhaps he would sign in February instead of December. 
In the end, though, he made his pledge to the Huskers public and, while that only means so much until he signs on the dotted line, it is still a major win for Nebraska. 
"I never thought he was going anywhere else," said Hopkins, who added that defensive coordinator Erik Chinander was on the visit with Frost and Held. "When you're the No. 1 receiver in the country and you only take one visit, that's clear that this is where you feel comfortable and this is where you want to finish your college career yet." 
All along, sources told the Journal Star that they had hope that Manning would sign in December rather than waiting until February. A public commitment is certainly a step in the right direction. Once Manning is signed, he will have to earn his associate degree from Kilgore, and he likely will not be on campus until May or sometime over the summer.
Hopkins said Manning not only dominates on the field, but he's a leader off of it, too. 
"When it's 100 degrees in the summer, he runs his 110-yard gasser and then makes sure he goes behind and makes sure he supports the big guys who do the blocking and keeps those guys motivated," Hopkins said. "It's hard to find a kid that makes every rep count and wins every rep but also is a water boy for everybody else and is picking them up. That's what he's going to bring. ... 
"It's no offense to Scott Frost and his staff, but the Scott Frost era is about to begin with what Cornhuskers fans have been waiting on," Hopkins said. 
Manning is the 16th known verbal pledge for Nebraska's 2020 class and the second juco player to commit this week, joining inside linebacker Eteva Mauga-Clements. 
Will Johnson sign in December?: When Frost visited Manning on Friday, it was clear NU thought he was going to sign in December, because head coaches can only visit a player once between this month and January. 
A similar situation to watch along is if Frost also goes to Minnesota to see four-star outside linebacker Kaden Johnson (St. Paul). 
Johnson hasn't talked much about his recruitment recently, and it's unclear if he's planning to sign in December or February. He's used three of his five official visits — to Nebraska, Wisconsin and Oregon State — and NU has been to see him during the current contact period, but Frost hasn't. 
So if that happens — and it could theoretically be an out-and-back on Saturday — perhaps a decision is close at hand. If not, perhaps Johnson's recruitment will continue on through January. 
Official visitors: The last batch of official visitors set to visit Nebraska before the early signing date are all defensive front-seven types. Let's take a look at the group.
Four-star linebacker Keyshawn Greene (Crawfordville, Florida): Greene is an explosive player from Wakulla High near Tallahassee who was committed to Florida State for more than a year, but opened his recruitment recently and is considering NU and Miami. 
Greene visited Miami last weekend and now travels to Lincoln this weekend. He could play either inside or outside and would pair nicely with juco recruit Eteva Mauga-Clements as a fast, athletic inside pair for the class. This would be a heck of a pull from Florida if the Huskers land Greene. 
Defensive end Tanoa Togiai (Rigby, Idaho): Togiai is a physically impressive player at 6-foot-7 and 295 pounds, and he dominated competition at Rigby High in Idaho. 
Nebraska is competing with the likes of nearby Utah and Kansas State, where Togiai's father, Jerry, played. 
Rigby coach Armando Salazar told the Journal Star recently that Togiai is planning on signing in February because he has more visits to take and it's difficult to fit them in around his basketball season. 
Outside linebacker Niko Cooper (Memphis, Tennessee): Cooper has had NU visit each of the past two weeks, including Frost, and now takes his official. The Hutchinson (Kansas) CC linebacker is listed at 6-5 and 220 pounds. 
Cooper redshirted in 2018, played this fall and has three years of eligibility remaining after he graduates from Hutchinson in May, he told the Journal Star. 
Wednesday decisions loom: Nebraska could potentially see several targets announce their college decisions on National Signing Day. 
That will include four-star wide receiver Alante Brown, who said on Twitter that he will announce his college choice in his hometown of Chicago at 8 p.m. Wednesday. 
Brown, who spent the past year at St. Thomas Moore prep school in Connecticut, visited Nebraska in the middle of this week. He'll spend the weekend at Ole Miss with new head coach Lane Kiffin rather than at his originally scheduled stop of Virginia Tech. 
Similarly, Broken Bow, Oklahoma defensive back Myles Slusher, an All-American Bowl invitee, said he will be signing at a 2 p.m. ceremony at his high school. 
Slusher has been committed to Oregon, but had NU coaches for an in-home visit this week and was on campus at least twice, once for an official visit, this fall. 
| Name | Pos. | Ht. | Wt. | Hometown (School) | Stars |
| --- | --- | --- | --- | --- | --- |
| Zavier Betts | WR | 6-2 | 190 | Omaha (Bellevue West) | **** |
| Marquis Black | DL | 6-4 | 280 | McDonough, Ga. (Eagle's Landing) | *** |
| Alante Brown | WR | 6-0 | 190 | Chicago (Simeon) | **** |
| Jimari Butler | OLB | 6-5 | 215 | Mobile, Ala. (Murphy) | *** |
| Alex Conn | OT | 6-6 | 280 | Derby, Kansas | *** |
| Niko Cooper | OLB | 6-5 | 220 | Memphis, Tenn. (Hutchinson C.C.) | *** |
| Turner Corcoran | OT | 6-6 | 280 | Lawrence, Kan. (Free State) | **** |
| Ronald Delancy III | DB | 5-11 | 190 | Miami (Northwestern) | *** |
| Marcus Fleming | WR | 5-10 | 160 | Miami, Fla. (Northwestern) | **** |
| Jaiden Francois | CB | 6-0 | 185 | Homestead, Fla. | **** |
| Henry Gray | DB | 6-0 | 175 | Miami (Central) | **** |
| Keyshawn Greene | LB | 6-3 | 205 | Crawfordville, Fla. (Wakulla) | **** |
| Blaise Gunnerson | OLB | 6-5 | 250 | Carroll, Iowa (Kuemper) | **** |
| Nash Hutmacher | DT | 6-5 | 305 | Chamberlain, South Dakota | *** |
| Tamon Lynum | DB | 6-2 | 170 | Orlando, Fla. (Evans) | *** |
| Omar Manning | WR | 6-4 | 225 | Lancaster, Texas (Kilgore College) | **** |
| Eteva Mauga-Clements | ILB | 6-2 | 210 | Pleasant Hill, Calif. (Diablo Vall. College) | *** |
| Sevion Morrison | RB | 6-0 | 200 | Tulsa, Oklahoma (Edison) | **** |
| William Nixon | WR | 5-11 | 185 | Waco, Texas (Midway) | *** |
| Pheldarius Payne | DE | 6-3 | 270 | Suffolk, Va. (Lackawanna CC) | *** |
| Jordon Riley | DE | 6-5 | 300 | Durhan, N.C. (Garden City C.C.) | *** |
| Marvin Scott III | RB | 5-9 | 205 | Port Orange, Fla. (Spruce Creek) | *** |
| Logan Smothers | QB | 6-2 | 180 | Muscle Shoals, Ala. | **** |