Nebraska needs help on the defensive front seven for its 2020 class, and the Huskers landed a double-shot from the junior college ranks on Tuesday evening. 
Outside linebacker/defensive end Junior Aho (New Mexico Military Institute) announced his verbal commitment via Twitter, jumping on board with the Huskers less than three weeks after he initially picked up a scholarship offer. Then, only 20 minutes later, the Huskers reeled in Jamoi Hodge out of Independence (Kansas) Community College. 
Aho just wrapped up his freshman season at New Mexico Military Institute and is originally from Nice, France. NMMI recruits Europe heavily thanks to a connection with a former player and former Florida State All-American Bjoern Werner.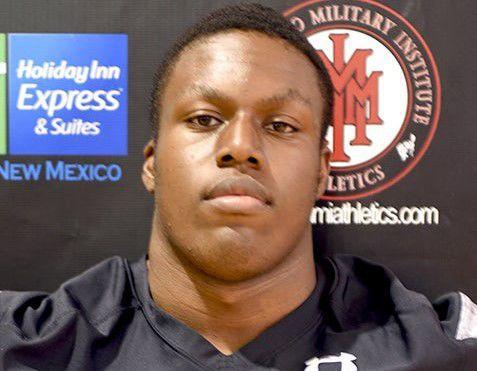 Once Aho arrived on campus, he immediately impressed head coach Joe Forchtner and the Broncos staff. 
"He looks like a Greek god, man, it's crazy," said Forchtner, who grew up in Nebraska, is an Elkhorn High graduate and said he's known NU running backs coach Ryan Held since Held was the head coach at Peru State in 2001. 
In Aho's first collegiate season, he finished with 37 tackles and 3½ sacks for the Broncos. 
"I texted Coach Held and I said, 'Hey, I've got a player for you,'" Forchtner said. 
Defensive coordinator Erik Chinander made the trip down to NMMI in the past month or so, Forchtner said, and Aho is slated to take an official visit to Lincoln in mid-January. 
At the moment, Aho is lined up to graduate from NMMI in May, which would allow him to be on campus in Lincoln in time for summer conditioning. He's only used one year of eligibility, so he would have three years remaining and four years to play them. 
"He's improved a ton, but he's still a pup," Forchtner said. "He's got a long way to go and he can improve a ton. And he will. …
"He's got a size/speed combo that's pretty rare. He ran a low 4.6-second (range) on the laser (in the 40-yard dash), so that's his strong point," Forchtner said. 
Hodge, a 6-foot-2, 225-pounder who played the 2018 season at Independence Community College in Kansas, also has a long time left in the college game. He's a full academic qualifier and just finished his freshman season, meaning he can sign in December and be on campus this winter and will have four years to play three instead of the typical 3-for-2 or 2-for-2 setup most kids have coming out of a juco.
Hodge, too, can potentially play either inside or outside for the Huskers. That could ultimately depend on several factors, including who else Nebraska lands in its 2020 recruiting class (it is still in on several outside linebackers but hasn't been able to land any so far beyond standout Blaise Gunnerson of Carroll, Iowa), how a promising group of young inside linebackers already on the roster develops over the winter and spring, and if the Huskers have any internal candidates in mind to move outside.
In seven games as a freshman at Independence, Hodge logged 32 tackles (two for loss) and a sack.
NU's coaches, including his primary recruiters in inside linebackers coach Barrett Ruud and running backs coach Ryan Held, think he can play either.
"They like that I can cover one-on-one and I can play outside the box and inside the box, and like that I'm fast and athletic," Hodge told the Journal Star recently.
He took an official visit for Nebraska's Nov. 16 home game against Wisconsin and came away impressed.
"I liked it a lot," he said. "They have a lot to offer and Nebraska shocked me (because) I didn't know it was that big. And I didn't know (that) they are getting new facilities."
Most juco players would come and go before NU finishes its new $155 million football operations center, but Hodge would still be around to enjoy them given his status as a qualifier.
Hodge visited Arizona officially the weekend of Nov. 24, but ultimately settled on the Huskers as his next school.
"They said that I can come in and play right away and make a big impact; they said they need more speed," he said.
Aho and Hodge make 15 verbal commits for the Huskers' 2020 class. Nebraska is still working on several others, including a pair of coveted receivers who have already visited in Omar Manning (Kilgore JC) and Xavier Hutchinson (Blinn College), and a pair of pass-rushers with visits on the books in defensive lineman Julius Coates (East Mississippi CC) and outside linebacker Maureese Wren (Tyler JC). The Huskers have offered several other defenders who could still visit between now and Dec. 14, too.
NU's recruiting class is now ranked No. 28 nationally and No. 6 in the Big Ten, according to the 247Sports Composite rankings. 
| Name | Pos. | Ht. | Wt. | Hometown (School) | Stars |
| --- | --- | --- | --- | --- | --- |
| Zavier Betts | WR | 6-2 | 190 | Omaha (Bellevue West) | **** |
| Marquis Black | DL | 6-4 | 280 | McDonough, Ga. (Eagle's Landing) | *** |
| Alante Brown | WR | 6-0 | 190 | Chicago (Simeon) | **** |
| Jimari Butler | OLB | 6-5 | 215 | Mobile, Ala. (Murphy) | *** |
| Alex Conn | OT | 6-6 | 280 | Derby, Kansas | *** |
| Niko Cooper | OLB | 6-5 | 220 | Memphis, Tenn. (Hutchinson C.C.) | *** |
| Turner Corcoran | OT | 6-6 | 280 | Lawrence, Kan. (Free State) | **** |
| Ronald Delancy III | DB | 5-11 | 190 | Miami (Northwestern) | *** |
| Marcus Fleming | WR | 5-10 | 160 | Miami, Fla. (Northwestern) | **** |
| Jaiden Francois | CB | 6-0 | 185 | Homestead, Fla. | **** |
| Henry Gray | DB | 6-0 | 175 | Miami (Central) | **** |
| Keyshawn Greene | LB | 6-3 | 205 | Crawfordville, Fla. (Wakulla) | **** |
| Blaise Gunnerson | OLB | 6-5 | 250 | Carroll, Iowa (Kuemper) | **** |
| Nash Hutmacher | DT | 6-5 | 305 | Chamberlain, South Dakota | *** |
| Tamon Lynum | DB | 6-2 | 170 | Orlando, Fla. (Evans) | *** |
| Omar Manning | WR | 6-4 | 225 | Lancaster, Texas (Kilgore College) | **** |
| Eteva Mauga-Clements | ILB | 6-2 | 210 | Pleasant Hill, Calif. (Diablo Vall. College) | *** |
| Sevion Morrison | RB | 6-0 | 200 | Tulsa, Oklahoma (Edison) | **** |
| William Nixon | WR | 5-11 | 185 | Waco, Texas (Midway) | *** |
| Pheldarius Payne | DE | 6-3 | 270 | Suffolk, Va. (Lackawanna CC) | *** |
| Jordon Riley | DE | 6-5 | 300 | Durhan, N.C. (Garden City C.C.) | *** |
| Marvin Scott III | RB | 5-9 | 205 | Port Orange, Fla. (Spruce Creek) | *** |
| Logan Smothers | QB | 6-2 | 180 | Muscle Shoals, Ala. | **** |