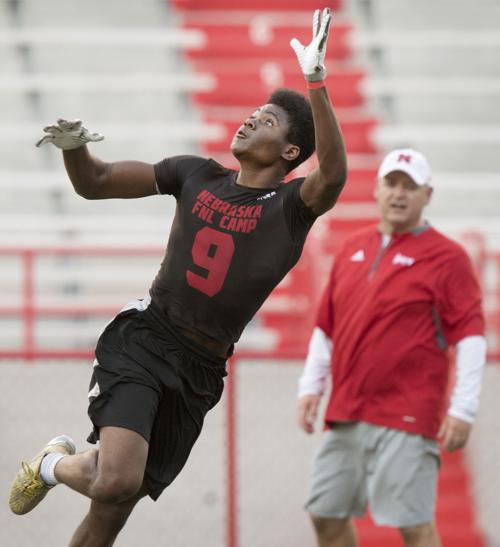 The 2019 recruiting cycle is not yet over, but Nebraska is making its first big on-campus push for 2020 and beyond.
The Huskers are hosting a large junior day gathering and are expected to have many priority-type prospects on campus this weekend for the first of what is expected to be multiple gatherings between now and the end of spring football.
Nebraska is expecting about 40 recruits on campus, most from the 2020 class, but some 2021s and even 2022s as well.
The first set of players to make the trip to Lincoln is notable, too, because it includes an intriguing mix of players widely considered to be top-of-the-board options, players who hail from areas in which Nebraska wants to be heavily involved and players who are still trying to earn offers from NU.
If the list begins with players who are already familiar with Lincoln and the NU football program, then look no further than in-state four-star wide receiver Zavier Betts (Bellevue West) and four-star offensive lineman Turner Corcoran (Lawrence, Kansas). Both have been to campus multiple times in the past and are slated to be back again this weekend.
Corcoran has made the trip a half-dozen times and represents for the 2020 Husker class what players like Ty Robinson and Wandale Robinson did to the 2019 group: a high-priority target that's shown mutual interest throughout but also will be heavily pursued by other big-name schools.
Betts will be joined by at least one other in-state prospect in Kearney running back Miko Maessner, while Corcoran will make the trip with teammate Malik Barry. Neither of those players holds an offer from NU currently, but both have been on campus several times.
One of the other hallmarks of the first group is the number of players from the St. Louis area alone. That's a city the Huskers have struggled to effectively recruit for years despite the reasonable proximity and depth of talent.
At least thow2020 prospects from powerhouse Trinity Catholic will be visiting in four-star athlete Teriyon "Mookie" Cooper and four-star running back Reggie Love, while four-star defensive lineman Kevon Billingsley planned to but tweeted Friday that he could not make it.
This will not just be a regional crowd, though. There are confirmed players making the trip from California, such as offensive lineman Jeffrey Presi (San Juan Capistrano), and Florida, such as defensive lineman Cooper Davis (Viera), too.
You have free articles remaining.
Davis does not have an NU offer but said Husker recruiting staffers Sean Dillon and Ryan Callaghan have been in touch and that he knows the staff from its Central Florida days because his high school is only 45 minutes away from the Knights' campus.
The group of younger players includes three teammates from the same school in the St. Louis area in St. Charles Lutheran 2021 defenders Travion Ford and Gabriel Rubio, and 2022 running back Arlen Harris Jr. All three have been to campus before and all three already hold offers from NU.
There are also some key prospects who will not be on campus because of obligations to other sports. For instance, NU's lone 2020 verbal commit, Logan Smothers, has track and cannot make the trip. Neither can 2020 in-state wide receiver Xavier Watts (Omaha Burke) and 2021 in-state offensive lineman Teddy Prochazka because of basketball, and 2020 defensive lineman Nash Hutmacher (Chamberlain, South Dakota) because of wrestling.
Frost, Chinander in Iowa: While the big group of players will flock to Lincoln this weekend, head coach Scott Frost and defensive coordinator Erik Chinander spent some quality time late in the week making the rounds in Iowa.
The Huskers already have three offers out in the state for 2020 and Chinander, an Iowa native, has deep ties to the state.
NU offered offensive lineman Josh Volk (Cedar Rapids) a scholarship and has already offered offensive lineman Tyler Miller (Jefferson) and outside linebacker Blaise Gunnerson (Carroll). It will be interesting to see if any of those three are on campus for this weekend's junior day, too.