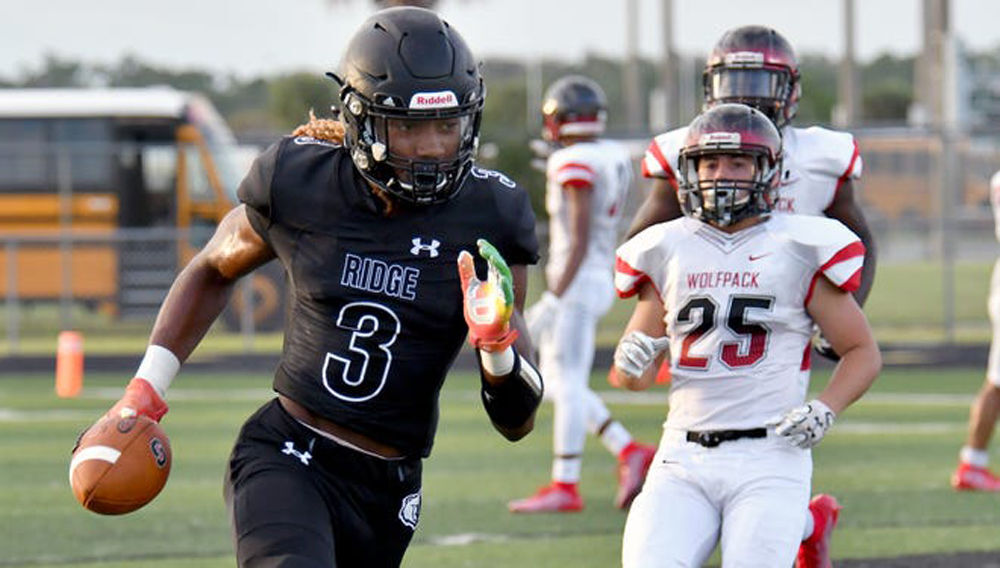 Nebraska lost a verbal pledge Sunday afternoon and then picked one up Sunday evening, making for an active day on the recruiting trail.
The Huskers added three-star athlete Kamonte Grimes out of Naples, Florida, a longtime target who could play either wide receiver or defensive back in Lincoln, but is expected to get a long look on offense. 
"(I would) like to thank my amazing family, (Palmetto Ridge head coach Adam) Fisher, (Palmetto Ridge defensive coordinator P.J.) Gibbs, the whole Palmetto Ridge staff and all of my teammates and everyone that has supported me on this journey," Grimes wrote on Twitter in announcing his decision. "I just wanna say it's been an amazing experience throughout the whole recruiting process and most importantly I want to thank all of the schools and coaches who took their time to recruit me." 
Gibbs told the Journal Star on Sunday evening that Grimes these days goes about 6-foot-3 and 220 pounds. He had a final five that included the Huskers, Michigan, Maryland, Miami and Kentucky before he called up NU head coach Scott Frost on Sunday evening and said he wanted to be a Cornhusker. 
As a junior, Grimes hauled in 28 passes for 578 receiving yards (20.6 per catch) and five touchdowns. As a sophomore, Grimes had 21 catches for 223 and added 130 rushing yards and also 241 passing yards. 
"From a football perspective, he's obviously a physical specimen at 6-3 and almost 220, matchup problem on the outside for the teams that we play," Gibbs told the Journal Star. "Phenomenal football IQ. He plays multiple positions for us offensively and defensively." 
Grimes is a consensus three-star prospect. According to the 247Sports Composite ranking, he's the No. 515 recruit nationally and among the top 80 players in Florida. 
That's just the start of the conversation when it comes to Grimes, though. 
"Can't say enough good things about the kid as a person," Gibbs said. "He's got a 4.0 GPA and wants to be a pediatric surgeon. He's just a great kid, comes from a great family and we're really, really excited for him." 
Grimes on Friday was invited to the prestigious All-American Bowl. 
Nebraska first offered Grimes on March 27 and he's been recruited since then by head coach Scott Frost, offensive coordinator Matt Lubick and others. 
"I think he'll fight right in to what Coach Frost and (running backs coach Ryan) Held and those guys want to do on offense," Gibbs said. "From the perspective of, I don't think there's going to be a real big learning curve for him because of his intelligence. He's the kind of kid where you tell it to him once and it's done. You don't have to worry about it. 
"For us, from a defensive perspective, he played three different positions for us last year and I didn't have to worry about him at all. Offensively he played quarterback, inside and outside receiver." 
If Grimes ends up on offense, he joins a group of long, rangy skill players that the Huskers have added so far in the 2021 class. NU's two other receivers in the group, Sean Hardy III from Georgia and Latrell Neville from Texas, are both listed at 6-3 and running back Gabe Ervin is listed at 6-1 and 200 pounds. 
The Huskers also continue to recruit a group of tight ends highlighted by the 6-5, 225-pound four-star Thomas Fidone (Council Bluffs, Iowa) who is set to make his college choice public on Aug. 26 and in-state target A.J. Rollins of Creighton Prep. There is growing momentum, too, behind the idea that the Huskers could end up offering a scholarship to 6-5, 220-pound Norris High standout James Carnie. 
Earlier Sunday, the Huskers lost Will Schweitzer, an outside linebacker from Los Gatos, California, who announced his decommitment via Twitter.
"I'd like to say this has nothing to do with the university, the coaching staff or Huskernation," his tweet said. "I am honored coach (Scott) Frost, coach (Erik) Chinander and coach (Mike) Dawson chose me to play for them. They have been the best mentors anyone could ask for in the recruiting process. Thank you coaches from the bottom of my heart."
The 6-foot-4, 220-pound Schweitzer verbally committed to Nebraska on June 11, picking the Huskers and defensive coordinator Chinander over a host of options including in-state California, Michigan State, TCU, Utah and several others. Holding more than 20 total offers, Schweitzer is one of the most sought-after prospects in the Bay Area for the 2021 cycle.
Schweitzer projects as an outside linebacker in Chinander's 3-4 defense, but he plays in the middle for Los Gatos High School.
"He just plays really fast," Los Gatos coach Mark Krail told the Journal Star in June. "One of the things that jumps out on film when you talk to college coaches is the speed at which he plays. Obviously, every level you go up, that's probably the No. 1 variable that changes the most. That's what he really has going for him."
Nebraska's class of 2021, ranked 43rd by Rivals.com, now has 13 known verbal commitments.
| Name | Position | Hometown (School) | Stars |
| --- | --- | --- | --- |
| Koby Bretz | DB | Omaha (Westside) | *** |
| Marques Buford | DB | Oakdale, Conn. (St. Thomas More) | *** |
| James Carnie | TE | Norris | *** |
| Gabe Ervin | RB | Buford, Ga. | *** |
| Thomas Fidone | TE | Council Bluffs, Iowa (Lewis Central) | **** |
| Mikai Gbayor | LB | Irvington, New Jersey | *** |
| Kamonte Grimes | WR | Naples, Fa. (Palmetto Ridge) | *** |
| Heinrich Haarberg | QB | Kearney (Catholic) | *** |
| Shawn Hardy II | WR | Kingsland, Ga. (Camden County) | *** |
| Henry Lutovsky | OL | Mt. Pleasant, Iowa | *** |
| Randolph Kpai | ILB | Sioux Falls, S.D. (Washington) | **** |
| Seth Malcom | ILB | Tabor, Iowa (Fremont-Mills) | *** |
| Latrell Neville | WR | Missouri City, Texas (Hightower) | **** |
| Patrick Payton | OLB | Miami, Fla. (Northwestern) | *** |
| Teddy Prochazka | OT | Elkhorn (South) | **** |
| A.J. Rollins | TE | Creighton Prep | *** |
| Lardarius Webb Jr. | CB | Jackson, Miss. (Jackson Academy) | *** |
| Malik Williams | DB | Buford, Ga. | *** |
| Branson Yager | OT | Grantsville, Utah | *** |
Be the first to know
Get local news delivered to your inbox!