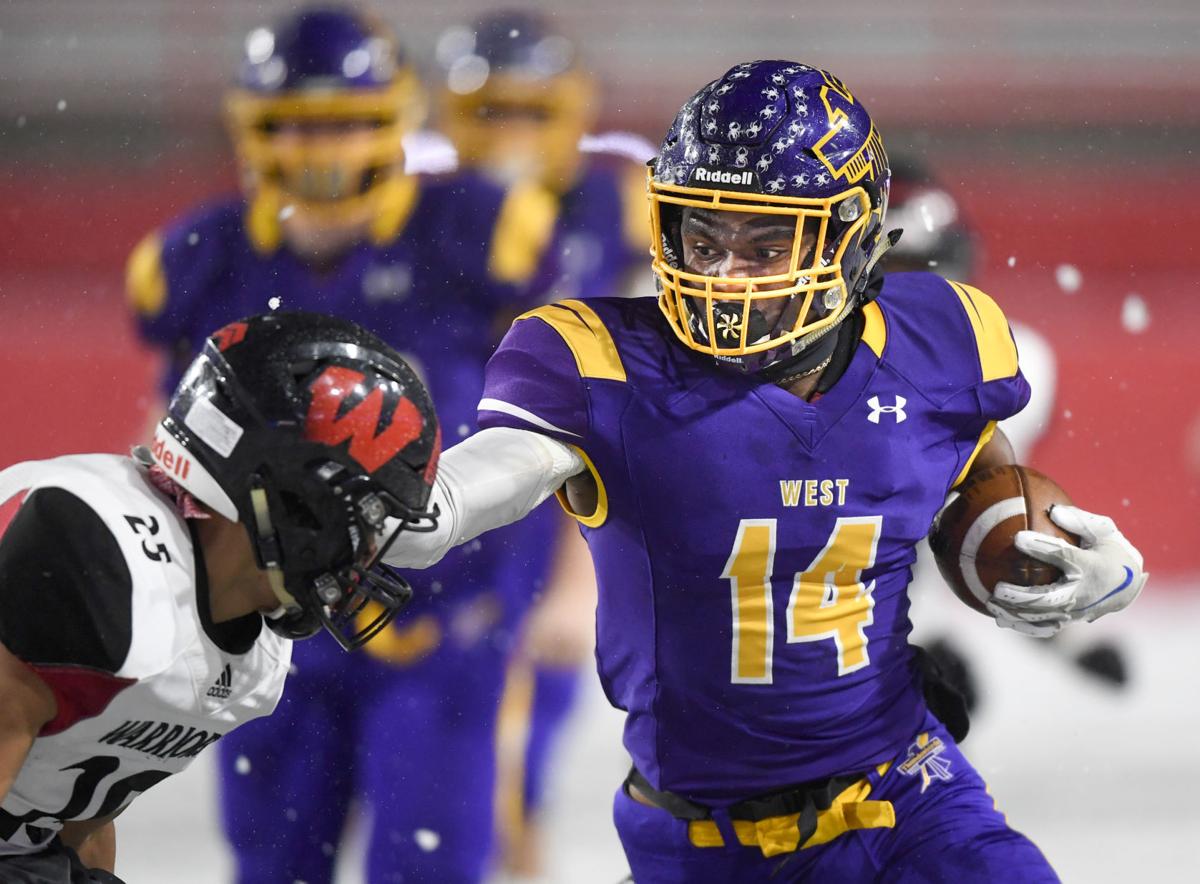 Zavier Betts is in the clear academically, according to his high school coach.
Betts, the talented wide receiver from Bellevue West and 2020 Nebraska football signee, achieved the necessary grade on a Friday test, clearing him to qualify at Nebraska under the COVID-19-related changes the NCAA made to academic standards this spring.
"I'm just ecstatic for Zavier," Bellevue West coach Michael Huffman said. 
Driving for 6 covers Nebraska's quarterback room, the Huskers' current recruiting status and Brandon Reilly walking away from football. 
Betts finished the job Friday morning, but Huffman said the closing stretch has taken place over the past three weeks or so. 
"He put in a lot of work to make today a reality," said Huffman, who said the communication between him, Bellevue West's academics people and NU's academic personnel often has been multiple times daily in recent weeks. 
Betts was a consensus four-star prospect and considered a top-60 recruit nationally by Rivals. At 6-foot-2 and 200 pounds, he is not only a talented player but he fits a positional type that Nebraska did not have on the roster in 2019.
All along, though, Betts, Huffman and NU were clear about the fact that he had work to do in order to qualify right out of high school. In fact, the plan initially was to have him wait until the spring to sign before head coach Scott Frost called at the end of December's early signing period and gave the green light to ink then.
That was a sign of confidence from the staff. Then, the coronavirus pandemic closed schools, forced students to work from home, and in many cases, scuttled standardized testing opportunities, all of which led the NCAA to tweak what high schoolers needed to do in order to qualify.
"I said back (in December), Nebraska made a genius move in signing him because that showed how much they wanted him," Huffman said. "Understand, there's been daily contact here, and I'm talking about from the highest levels at Nebraska, the big dog and the academic people, encouraging him, supporting him. 'We believe in you.' 
"And that's what got it over the edge. ... Being a Husker and having his future (coaches and advisors) believe in him like that? Kids need that. I'm pumped."
Huffman said he talked briefly with Betts on Friday after the test score was finalized. 
"I haven't heard that much excitement in his voice in a long time," Huffman said. "Think about how much your life changes: You get the grade you need, you go to Lincoln. If he doesn't, 'Oh, jeez, am I going to (Iowa Western Community College), am I going to Butler (Kansas) Community College?' What am I doing?' 
"Now we don't have to worry about it."  
Betts is part of a five-man scholarship wide receiver class in 2020 for Nebraska, which also includes midyear enrollee Alante Brown and fellow expected summer enrollees Omar Manning, Marcus Fleming and Will Nixon along with walk-on Ty Hahn. 
Photos: Zavier Betts signing in December
Be the first to know
Get local news delivered to your inbox!