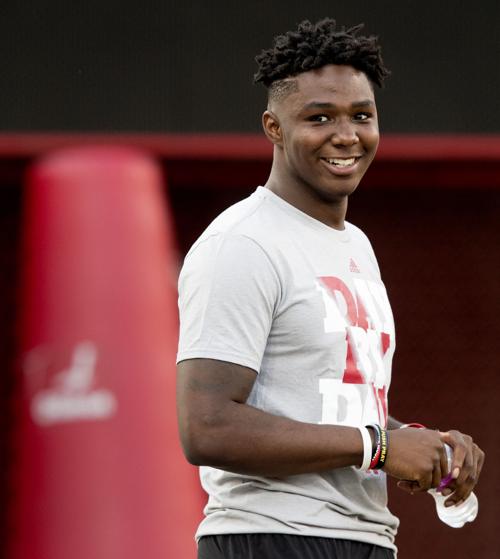 Sevion Morrison (Tulsa, Oklahoma) had quite a night on Friday.
The Nebraska running back recruit rushed for 253 yards on 35 carries in Edison's 27-6 win against Claremore. Morrison scored on runs of 10, 8 and 2 yards. Morrison's 8-yard touchdown came on a direct snap out of the wildcat formation.
Morrison announced via Twitter on Sunday that he would be attending Saturday's Nebraska-Ohio State game.
Also coming to Lincoln is a big-time recruit out of Iowa. TJ Bollers (Tiffin, Iowa), ranked the top recruit in Iowa for 2021, announced Sunday he will be attending Saturday's game.
The 6-foot-3, 240-pound four-star defensive end scooped up a fumble and rumbled in for a 10-yard touchdown in Clear Creek Amana's 47-7 win against Marion.
Others of note:
Husker offensive line recruit Alex Conn (Derby, Kansas) helped pave the way for 431 total yards in Derby's 63-7 victory against Newton.
Nebraska quarterback recruit Logan Smothers (Muscle Shoals, Alabama) threw for two touchdowns in his team's 62-0 thumping of Columbia.
You have free articles remaining.
Husker wide receiver recruit Zavier Betts (Bellevue West) hauled in two more touchdown passes in the Thunderbirds' 36-13 win against Elkhorn South.
NU wideout recruit Will Nixon (Waco, Texas) rushed 18 times for 72 yards and two touchdowns, and caught six passes for 29 yards in Midway's 24-21 win against Ellison.
Nebraska cornerback recruit Henry Gray (Miami, Florida) announced his commitment to Nebraska. A few hours later, he helped lead Miami Central to a 44-14 win against Edison.
NU running back recruit Marvin Scott (Port Orange, Florida) rumbled for a 40-yard touchdown run in Spruce Creek's 21-3 win against New Smyrna Beach.
Husker defensive back recruit Tamon Lynum (Orlando, Florida) had a pair of tackles in Evans' 22-6 victory against Oviedo.
NU linebacker prospect Caleb McCullough (Oxnard, California) had 10 tackles and two quarterback hurries in Pacifica's 38-7 win against Santa Barbara.