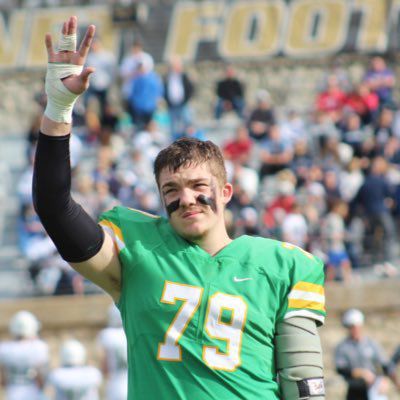 Alex Conn and his Derby teammates will be playing for a Kansas state championship.
Conn, a Nebraska offensive line recruit, helped pave the way for 486 total yards, including 384 on the ground, in Derby's 63-35 rout of Topeka in the 6A state semifinals Friday.
Derby (12-0) will play Olathe North in Saturday's championship game in Emporia, Kansas.
Derby, which has won four state titles in six years, is ranked No. 1 in the state.
You have free articles remaining.
Others of note
Husker wide receiver/running back recruit Will Nixon (Waco, Texas) rushed 23 times for 152 yards and two touchdowns in Midway's 38-27 win against McKinney in the second round of the 6A Division II playoffs. Nixon scored on runs of 65 and 5 yards.
Husker cornerback recruit Ronald Delancy (Miami) picked off a pass in Northwestern's 23-20 win against American Heritage in a battle of the top two teams in Florida's largest classification. The win moves the Bulls into the Class 5A state semifinals.
The next meaningful throw Logan Smothers (Muscle Shoals, Alabama) makes will come in a Husker uniform. Muscle Shoals saw its season come to an end in a 26-14 loss to Pinson Valley in the Class 6A quarterfinals. Smothers, who was hurt in the second round, played in the first half, but he wasn't able to continue in the second half.
Another Husker recruit, Sevion Morrison (Tulsa, Oklahoma), was unable to help his team in the playoffs because of injury. Morrison and Edison were rolling against Bishop McGuinness on Friday. Morrison scored on a 71-yard reception and later a 71-yard run. Morrison left the game after he re-injured his hamstring, according to the Tulsa World. McGuinness rallied for a 42-41 win in the Class 5A quarterfinals.
Husker defensive line recruit Marquis Black (McDonough, Georgia) helped lead Eagles Landing Christian to a 62-57 win against Prince Avenue in the quarterfinals of the Georgia Private playoffs.