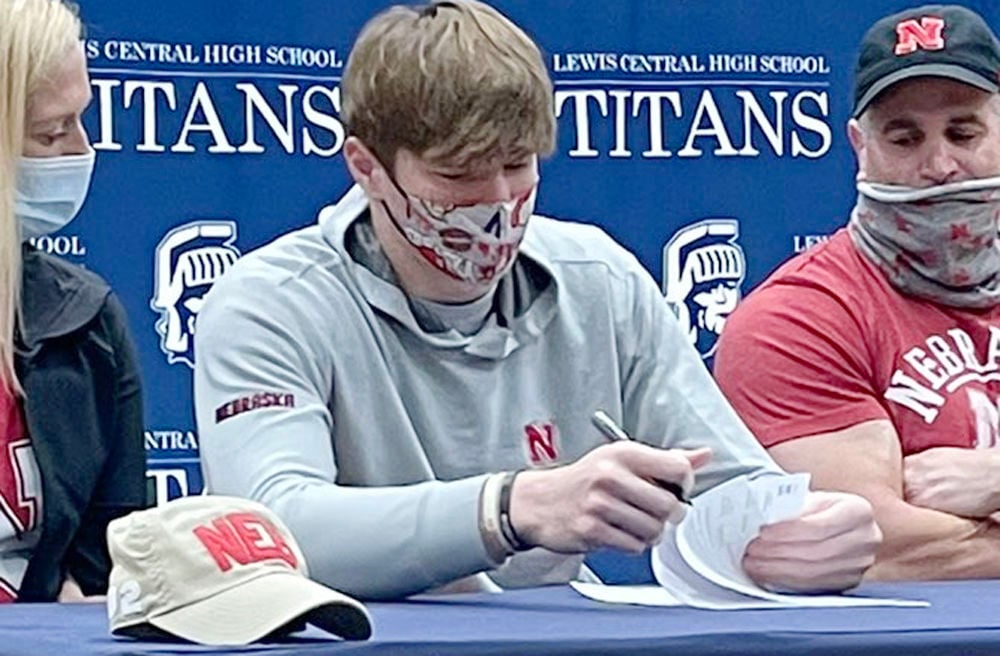 The way Wednesday morning went in the Nebraska football offices, it would have been easy to mistake 2020 for a smooth ride.
The fax machine — or however national letters of intent come in these days — whirred into action early and delivered all the letters it was supposed to.
By 10 a.m., the only question was whether the Huskers would add to the group they started the day planning to sign by the time coach Scott Frost took the podium in the late afternoon. That didn't happen, but NU's class could still grow before the early signing window closes Friday.
The morning of calm seas and congratulatory phone calls stood as a testament to the organized manner in which NU's recruiting staff and coaches navigated months of uncertainty and, even more than that, a testament to the way the Huskers' 2021 group stayed together and handled with aplomb an extended stretch of turbulence in the recruiting process through the coronavirus pandemic.
"I'm really impressed with the work our staff did, considering the fact that we couldn't go on the road recruiting, we couldn't get kids to come in here," Frost said. "I think we signed a really good class, a lot of pieces that fit together with what we have. And I think it's going to be the key to getting us over the top. We just have to continue to add talent and I feel like this group did that."
Some of the players in the class — particularly the five from Nebraska, three from Iowa and one from South Dakota — were able to see the campus and visit on gamedays. Besides that, though, guys like defensive lineman Ru'Quan Buckley (Grand Rapids, Michigan), who attended a junior day in January before the pandemic kicked up in early March, are more the exception than the rule this year.
"I still feel like I know them all really well, but there are several I've never been in the same room with and I've never seen in person," Frost said. "It's been probably more phone calls, more FaceTimes, more chats, those type of things, than maybe other years. For sure more than other years.
"You get to know somebody, but without home visits and official visits and unofficial visits, there's a few that I've never met before. Looking forward to working with this group, though."
Instead of jetting around the country in May and hosting camps and barbecues in June, gameday visits through the fall and jumping back into planes for a frenetic closing stretch, NU coaches and staffers did what a lot of Americans have done for months on end now.
They spent a lot of time on Zoom.
"Got to give a lot of credit to the recruiting staff, (Sean) Dillon and (Ryan) Callaghan and (Trent) Mossbrucker. Also, a lot of credit to (director of football creative and engagement) Orah Garst, who does a lot of our social media stuff, a lot of the videos that people watch. Helped us out with some of the virtual visits and those types of things.
"I think there is a use for some of that going forward, but ideally we still get a lot more kids to Lincoln. I think that gives us our best chance when kids come see it for themselves."
Still, it turned out to be a productive class for Nebraska, long on players at a few positions of need, including tight end and a trio of receivers who all go 6-foot-2 or better, and more size on both front lines.
Of course, there were hiccups along the way. Nebraska had good shots at three pure, rangy outside linebackers — Patrick Payton (Miami), Will Schweitzer (Los Gatos, California) and Christian Burkhalter (Spanish Fort, Alabama) — and had the first two verbally committed for a time, but saw them end up at Florida State, Notre Dame and UCLA, respectively. Even so, Frost thinks any of his four linebacker signees could end up playing inside or outside.
That's the way it goes in every recruiting class. Sometimes things go just the way you want them to — hello, Thomas Fidone — and sometimes, they develop slower than you'd like. A trio of in-state guys can attest to that. Quarterback Heinrich Haarberg, defensive back Koby Bretz and tight end James Carnie all had their recruitment stunted when the pandemic forced the NCAA to slam the breaks on the recruiting calendar. They all ended up where they wanted to get to eventually. This class more than others before has already had its patience tested. Maybe that will come in handy down the way.
The proof is always in the pudding in recruiting, and the pudding doesn't get finished for two, three, sometimes four years down the way. The truism is that every coaching staff likes its recruiting class on National Signing Day, so the positive vibe out of Stadium Drive isn't a big shock.
For the 2021 recruiting class, though, it's certainly well earned.