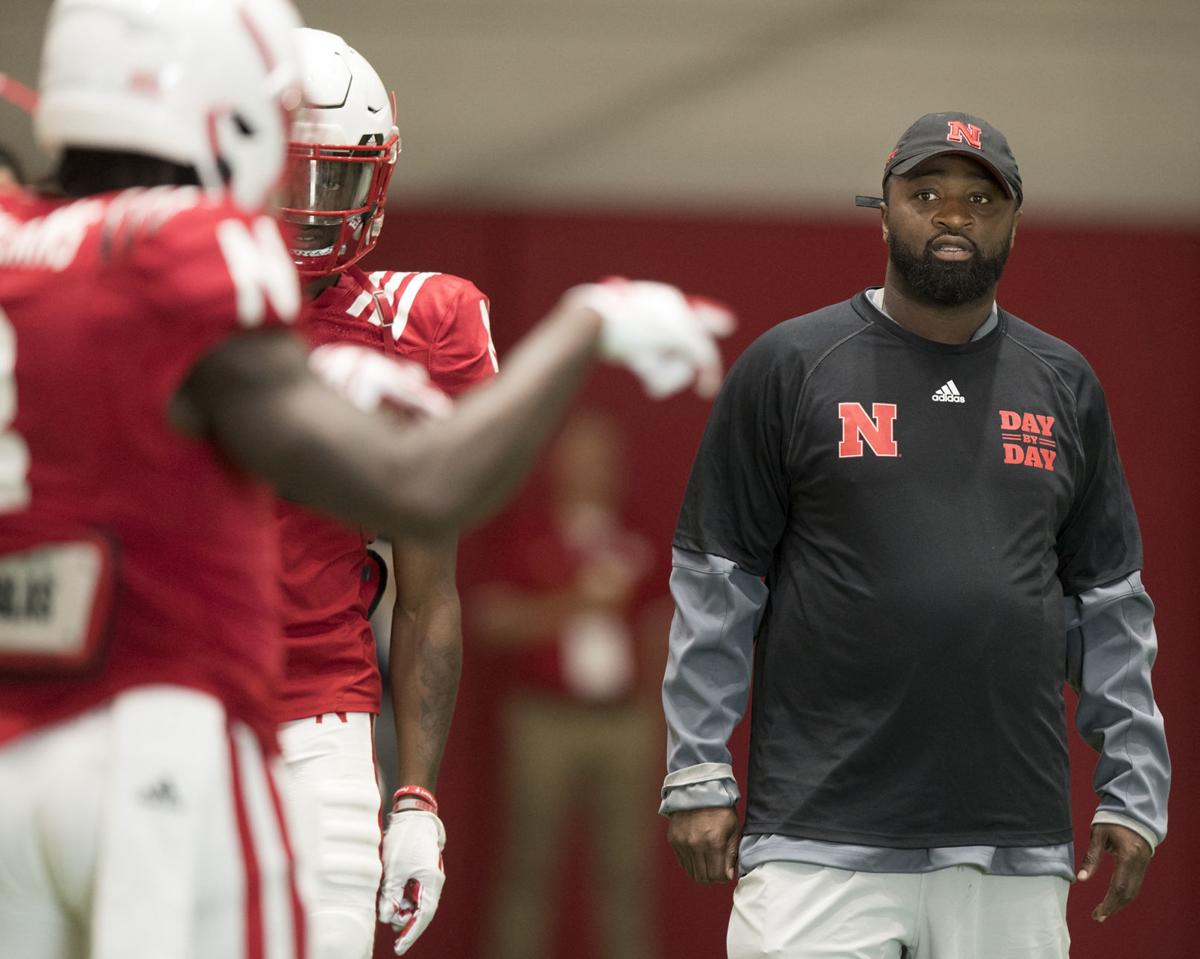 Of the 13 players verbally committed to Nebraska's 2020 recruiting class, four hail from Florida. 
So far, the Huskers have turned around their fortunes in the Sunshine State one year after signing zero players from the state in the 2019 class. And if NU has its way, those numbers are only going up from here.
In what has turned into a major recruiting weekend around Nebraska's home game Saturday against Wisconsin, the Huskers are slated to host at least eight official visitors -- six are originally from Florida, a state where NU's staff retains deep connections.
Not surprisingly, the group includes several players at positions of need for the Huskers, including three talented wide receivers.
The Journal Star has confirmed that Nebraska is expecting eight official visitors and the list breaks down like this: 
At wide receiver, NU is set to host Bryan Robinson (West Palm Beach), Marcus Fleming (Miami) — a current Miami verbal pledge — and junior college wide receiver Xavier Hutchinson (Jacksonville), a Florida native who currently plays at Blinn College and is verbally committed to Iowa State.
Hutchinson earned first-team all-conference honors in the Southwest Junior College Football Conference as a receiver and was joined on the list by fellow NU recruiting target Omar Manning (Kilgore College).
Head football coach Scott Frost talks about Wan'Dale Robinson's status for Saturday during a news conference on Nov. 14, 2019.
The Huskers are also hosting offensive lineman Zane Herring (Madison), who is currently verbally committed to Florida State, defensive back Kendall Dennis (Lakeland) and defensive back Jaiden Francois (Homestead).
The big crop of Florida prospects follows a bye week in which NU was out on the recruiting trail clearly making progress in convincing players to visit.
Secondary coach Travis Fisher, for example, rarely takes to social media, but on Sunday tweeted, "Big couple of days in Florida recruiting!!! Huskers we will get some of the best to Lincoln TRUST!!! And I don't talk much on Twitter."
You have free articles remaining.
Robinson (6-2, 185) is considered the No. 94 player overall in the country by Rivals and No. 162 overall by the 247Sports Composite ranking. Fleming and Francois are also consensus four-star prospects and Dennis is a four-star per 247Sports.
In addition to the six Floridians visiting, NU will have at least one of its Florida verbal pledges, defensive back Tamon Lynum (Orlando) on campus for an unofficial visit.
The Huskers are also expecting official visits from consensus four-star defensive back Darion Green-Warren (Harbor City, California) and Independence (Kan.) Community College linebacker Jamoi Hodge.
Green-Warren was originally supposed to visit with his cousin, four-star wide receiver Lavon Bunkley-Shelton, but Bunkley-Shelton told the Journal Star he's not visiting this weekend after all.
Another California four-star, defensive lineman DeShawn Lynch (Folsom), originally told the Journal Star he planned to visit this weekend but hasn't responded to messages recently and doesn't appear to be coming this weekend.
Hodge (6-2, 225) is one of several junior college defenders the Huskers have offered recently and is the first official visitor of the bunch.
He is listed as an outside linebacker for Independence, but could project to either at his next stop.
"They like that I can cover one-on-one and I can play outside the box and inside the box and like that I'm fast and athletic," Hodge told the Journal Star this week.
Hodge is being recruited by both running backs coach Ryan Held and inside linebackers coach Barrett Ruud and has another check in his favor: He's a full academic qualifier, meaning he'll likely be on a new campus in January and will have four years to play three instead of the typical 2-for-2 or 3-for-2 situations most juco players face.
Nebraska can take up to 26 players for the 2020 cycle including high schoolers and all transfers, meaning they have plenty of room remaining in the class and have several major needs, including receiver and linebacker.
Among the list of what will likely be a big group of unofficial visitors: junior college kicker/punter Taiten Winkel (Butler C.C.), 2021 linebacker Christopher Paul Jr. (Cordele, Georgia) and 2021 wide receiver Jaylin Noel (Kansas City).
2020 Husker football recruits
| Name | Pos. | Ht. | Wt. | Hometown (School) | Stars |
| --- | --- | --- | --- | --- | --- |
| Junior Aho | OLB | 6-3 | 255 | Nice, France (New Mexico Military Academy) | *** |
| Zavier Betts | WR | 6-2 | 190 | Omaha (Bellevue West) | **** |
| Marquis Black | DL | 6-4 | 280 | McDonough, Ga. (Eagle's Landing) | *** |
| Alex Conn | OT | 6-6 | 280 | Derby, Kansas | *** |
| Turner Corcoran | OT | 6-6 | 280 | Lawrence, Kan. (Free State) | **** |
| Ronald Delancy III | DB | 5-11 | 190 | Miami (Northwestern) | *** |
| Henry Gray | DB | 6-0 | 175 | Miami (Central) | **** |
| Blaise Gunnerson | OLB | 6-5 | 250 | Carroll, Iowa (Kuemper) | **** |
| Nash Hutmacher | DT | 6-5 | 305 | Chamberlain, South Dakota | *** |
| Tamon Lynum | DB | 6-2 | 170 | Orlando, Fla. (Evans) | *** |
| Sevion Morrison | RB | 6-0 | 200 | Tulsa, Oklahoma (Edison) | **** |
| William Nixon | WR | 5-11 | 185 | Waco, Texas (Midway) | *** |
| Marvin Scott III | RB | 5-9 | 205 | Port Orange, Fla. (Spruce Creek) | *** |
| Logan Smothers | QB | 6-2 | 180 | Muscle Shoals, Ala. | **** |