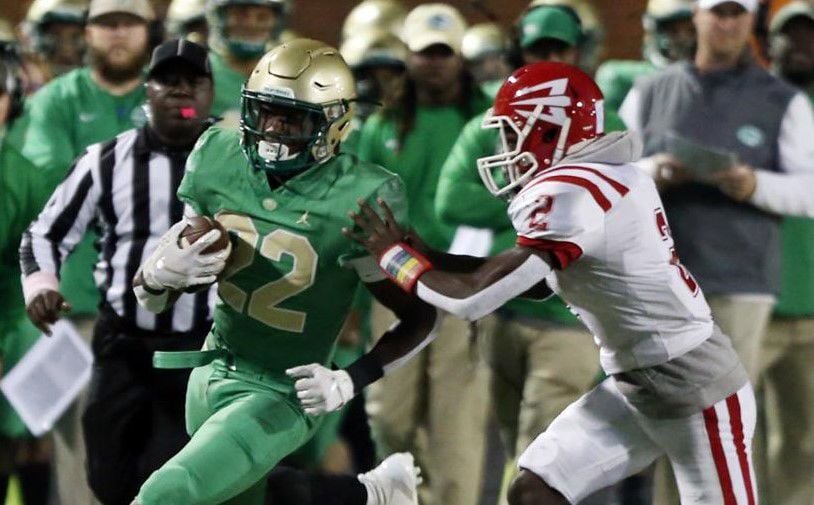 Ryan Held has a running back for 2021. 
Three-star Buford, Georgia, native Gabe Ervin verbally committed to the Huskers on Tuesday, picking NU over schools such as Georgia, Michigan State, Duke, Arizona State and others. 
Ervin is the first running back in the Huskers' 2021 class and joins a steadily growing stable of offensive skill players that now includes quarterback Heinrich Haarberg (Kearney) and a fellow Georgia native in 6-foot-3 wide receiver Shawn Hardy II (Kingsland, Georgia). 
"What separated Nebraska from all other schools is how I feel at Nebraska," Ervin said while announcing his commitment on a live social media video with Rivals. "I feel like I'm prepared for it. ... I feel like Nebraska is a perfect fit for me." 
Ervin was recruited primarily by Held and tight ends coach Sean Beckton, who typically leads NU's efforts in Georgia. 
"I want to thank Coach Held and Coach Beckton for really believing in my style of play, and also giving lots of love to my family," Ervin wrote on Twitter in announcing his decision. "I feel like this school will make me the best version of myself on and off the field and also make me become a better person." 
Coaches cannot comment directly about recruits until the recruit has signed a National Letter of Intent, but it was pretty clear where Held stood on the matter. 
He tweeted, "Boom! I can't tell you how fired up I am right now!" except instead of two total exclamation marks he used 11. 
And with good reason, too. 
Ervin, listed at 6-foot and 200 pounds, was a standout junior on a powerhouse Buford team that won the AAAAAA state championship last fall. Ervin rushed 180 times for 1,212 yards (6.7 per carry) and 12 touchdowns while splitting carries with two other Division I running backs.  
"We've always had some really good tailbacks and he's the next one in line, but he brings some things to the table that our past few great tailbacks didn't," Buford head coach Bryant Appling told the Journal Star. "His length and his ball skills and his power, but he also has speed. He has no problem running you over, but he has the speed to run away from you." 
Ervin is considered a three-star prospect by both Rivals and 247Sports. Appling said he's also been a standout in the 200 meters and 400 meters on the track since he was little. 
"He's definitely got that track kind of speed when it comes to anything 4 yards and above. He has a chance to run away from people, and it surprises people because they don't think he can do that because he's so long and tall," Appling said. 
Ervin's addition bumps Nebraska's 2021 recruiting class up to 10 members after it dropped to nine late last week when inside linebacker Christopher Paul Jr., also from Georgia, decided to back off his pledge and reopen his recruitment. 
Seven of the 10 members of NU's 2021 class have verbally committed since the NCAA implemented an emergency dead period and ended all in-person recruiting efforts in mid-March due to the coronavirus pandemic. The Huskers added offensive lineman Branson Yager in late April and then three more prospects over the month of May. Ervin is the third verbal pledge of June so far for NU. 
"Gabe is a quiet leader," Appling said. "He's not going to be too much in your face or loud about it, but he goes about his work and he has quiet leadership. He works hard, does what he's supposed to do and he's a great teammate. Our kids follow him and respect his opinion." 
| Name | Position | Hometown (School) | Stars |
| --- | --- | --- | --- |
| Marques Buford | DB | Oakdale, Conn. (St. Thomas More) | *** |
| Koby Bretz | DB | Omaha (Westside) | *** |
| James Carnie | TE | Norris | *** |
| Gabe Ervin | RB | Buford, Ga. | *** |
| Thomas Fidone | TE | Council Bluffs, Iowa (Lewis Central) | **** |
| Mikai Gbayor | LB | Irvington, New Jersey | *** |
| Kamonte Grimes | WR | Naples, Fa. (Palmetto Ridge) | *** |
| Heinrich Haarberg | QB | Kearney (Catholic) | *** |
| Shawn Hardy II | WR | Kingsland, Ga. (Camden County) | *** |
| Wynden Ho'ohuli | OLB | Mililani, Hawaii. | **** |
| Randolph Kpai | ILB | Sioux Falls, S.D. (Washington) | **** |
| Chris Kolarevic | LB | Traverse City, Mich. (Northern Iowa) | |
| Henry Lutovsky | OL | Mt. Pleasant, Iowa | *** |
| Seth Malcom | ILB | Tabor, Iowa (Fremont-Mills) | *** |
| Latrell Neville | WR | Missouri City, Texas (Hightower) | **** |
| Teddy Prochazka | OT | Elkhorn (South) | **** |
| A.J. Rollins | TE | Creighton Prep | *** |
| Markese Stepp | RB | Indianapolis (Cathedral) | |
| Samori Toure | WR | Portland (Oregon Westview) | ** |
| Jailen Weaver | DE | Antioch, Calif. | *** |
| Malik Williams | DB | Buford, Ga. | *** |
| Branson Yager | OT | Grantsville, Utah | *** |