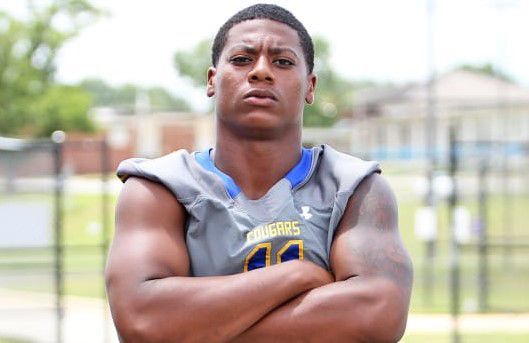 College football may be in a recruiting dead period, but even amidst a global pandemic, it never really stops. 
Case in point? Nebraska picked up a verbal commitment from 2021 Georgia linebacker Christopher Paul Jr. on Friday morning. 
"As I made my decision to commit to Nebraska, it was a no-brainer to me, and I'll tell you why," Paul told the Journal Star on Friday. "I built so much relationship with all of the coaching staff, from the offensive side to the defensive side, and they would just call and check up on me. Just the small things like that. 
"That goes a long way with people and it goes a long way with me. This recruit thing is all about the relationship that you make with coaches, and I have an amazing bond with all of the (NU coaches) and I couldn't help but pull the trigger." 
Paul, listed at 6-foot-1 and 230 pounds, and has been a longtime target in the class. He likely projects as an inside linebacker and is the type of athletic player that NU has been successfully stockpiling for assistant coach Barrett Ruud's group over the past three recruiting cycles. 
The Crisp County High School standout has twice been named an all-state defender at the AAA level in Georgia. He is rated a three-star prospect by both 247Sports and Rivals. 
According to MaxPreps, Paul racked up 157 tackles in 14 games for Crisp County, including 10 for loss and 4½ sacks, as the school advanced to the state title game and finished runner-up. 
"I'm a physical-type linebacker, but I also bring to the table a motor," Paul said. "I have a good motor. So in addition to me being physical and have a good instinctive skill about me, I also bring that motor. I can make tackles all down the field if I need to." 
Paul is the fourth known member of the Huskers' 2021 class, joining fellow linebacker Randolph Kpai (Sioux Falls, South Dakota) and offensive linemen Teddy Prochazka (Elkhorn South) and Henry Lutovsky (Mount Pleasant, Iowa). 
Paul was on campus in November for Nebraska's home game against Wisconsin and planned on returning to campus in mid-June for his official visit before the coronavirus pandemic threw a wrench in the NCAA's calendar. Even so, Paul said the recent stoppage in on- and off-campus recruiting activity didn't weigh much in his decision to verbally pledge now. 
Parker Gabriel and Steven M. Sipple practiced social distancing while linking on Facebook Live to talk all things Huskers.
"Actually, it didn't because either way I was going to like Nebraska the same," he said. "I had assured myself that I was going to commit to Nebraska anyway, and so it really didn't have any effect on me." 
He said he talks with Ruud and defensive coordinator Erik Chinander on a near-daily basis. 
"It's basically just a check in on each other, see how everything's going," added Paul, who's planning on being an early enrollee, which would mean arriving on NU's campus in January 2021. "Just continuing to build that strong bond that we already have. …
"When I was first getting recruited, I was like every young dude and thinking that, 'Oh, getting a bunch of offers is cool,' and all that," Paul said. "But as the recruitment process went on, I started thinking to myself that it's not all about the offers. It's about the relationships that you build with coaches and how you fit on their campus." 
Paul, it turns out, found the perfect fit in Lincoln. 
"Nebraska's football environment is something I've never seen before," he said. "Selling out 300-some consecutive games and not only were the players all in, the fans were all in. That's what made it so special." 
2021 Husker football recruits
| Name | Position | Hometown (School) | Stars |
| --- | --- | --- | --- |
| Marques Buford | DB | Oakdale, Conn. (St. Thomas More) | *** |
| Koby Bretz | DB | Omaha (Westside) | *** |
| James Carnie | TE | Norris | *** |
| Gabe Ervin | RB | Buford, Ga. | *** |
| Thomas Fidone | TE | Council Bluffs, Iowa (Lewis Central) | **** |
| Mikai Gbayor | LB | Irvington, New Jersey | *** |
| Kamonte Grimes | WR | Naples, Fa. (Palmetto Ridge) | *** |
| Heinrich Haarberg | QB | Kearney (Catholic) | *** |
| Shawn Hardy II | WR | Kingsland, Ga. (Camden County) | *** |
| Randolph Kpai | ILB | Sioux Falls, S.D. (Washington) | **** |
| Chris Kolarevic | LB | Traverse City, Mich. (Northern Iowa) | |
| Henry Lutovsky | OL | Mt. Pleasant, Iowa | *** |
| Seth Malcom | ILB | Tabor, Iowa (Fremont-Mills) | *** |
| Latrell Neville | WR | Missouri City, Texas (Hightower) | **** |
| Patrick Payton | OLB | Miami, Fla. (Northwestern) | *** |
| Teddy Prochazka | OT | Elkhorn (South) | **** |
| A.J. Rollins | TE | Creighton Prep | *** |
| Jailen Weaver | DE | Antioch, Calif. | *** |
| Malik Williams | DB | Buford, Ga. | *** |
| Branson Yager | OT | Grantsville, Utah | *** |
Be the first to know
Get local news delivered to your inbox!