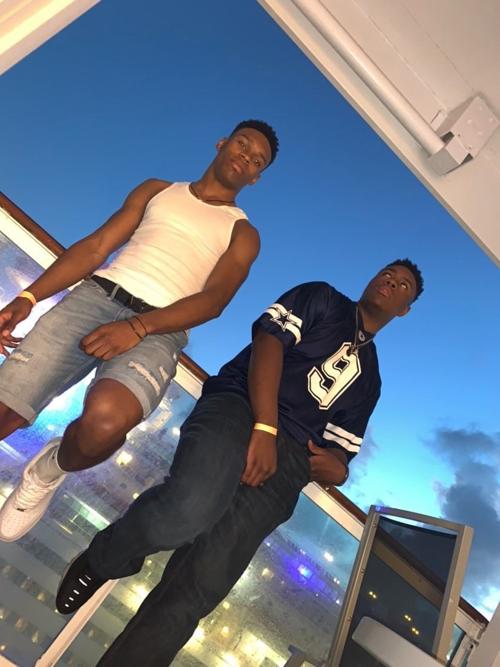 Omaha Burke sophomore Devon Jackson, like so many people around the country and the world in recent weeks, almost had exciting travel plans foiled by the coronavirus pandemic.
Just before the spread of the virus became the dominant storyline in the United States, though, he and his family sneaked in a cruise from Miami down to the Bahamas and back over the Omaha Public Schools' spring break earlier this month.
Family, for Devon Jackson, includes not only his parents but also Deshawn Woods.
"We're pretty much like brothers," Jackson told the Journal Star. "We're around each other all the time. … He's family. We're all very close."
The pair went to grade school and middle school together before splitting up for high school — Jackson to Burke and Woods to Omaha Central — but they keep in touch constantly, even when they're not sailing the Caribbean.
Within days of returning from the cruise, the friends found themselves connected again. This time, by 247Sports, who pegged both of them as four-star prospects in the class of 2022. Jackson is ranked the No. 25 player overall in the nation and the top-ranked outside linebacker, while Woods checks in at No. 202 overall as an offensive lineman.
"He's a Day One (friend)," Woods told the Journal Star. "I've known Devon since we were like 10 or 11."
He knows about Jackson's work ethic, too.
"Devon is a grinder. He works while others are asleep," Woods said. "He knows the difference between work and play. Knows how to turn on the switch when needs be."
Burke head coach Paul Limongi saw just that last summer, ahead of Jackson's sophomore season, when they knew he had the skillset and talent to help, but weren't sure exactly when it would translate into consistent, varsity-level play.
"He just got better as the summer went on and really became kind of a force at outside linebacker," Limongi said. "He started playing for us a lot and against (Lincoln Southeast), he was making plays. I mean big plays — coming off the edge, getting some sacks, getting some hurries, making big hits. … That first game really kind of lit his fire."
He blocked a field goal on the last play of the game, too, and his impact just kept growing. Jackson became a playmaker so quickly, in fact, that the Bulldog staff perhaps didn't fully appreciate just the kind of player they had on their hands until Nebraska asked about him.
"About midyear, our defensive coordinator Ben Ryan made a little highlight tape of him and we were like, 'Holy crap, he really does make a lot of plays,'" Limongi said. "He just kind of took off from there."
A day later, Jackson was invited to Memorial Stadium for a gameday visit. On Oct. 5, when the Huskers hosted Northwestern, he earned a scholarship offer.
"That was a cool experience because I know it can take quite a while for some kids to get offers," Jackson said. "I thought I could get Division I offers, but I didn't know when and I didn't know where. I just worked hard for it."
Soon after followed Illinois, where his dad played football and mom ran track. Others have followed suit, and now with such a lofty ranking, more are nearly sure to start sniffing around. Woods, meanwhile, picked up an Iowa State offer in November and then went on a run that saw the Huskers, Iowa, Missouri and Kansas State offer in a matter of weeks from late January through the middle of February.
"He's a real humble guy and he always wants to work hard no matter what," Jackson said. "It doesn't matter if it's snowing, he will find a way to get his work in."
Both players have half of their high school career still remaining and already several college options on the table. Both obviously have a lot more development in front of them, but just as obvious are the bright futures. Both felt honored to be considered in lofty company by 247Sports, even if neither was particularly interested in talking about it meaning much else.
Maybe the parallel tracks and thought processes shouldn't come as a surprise, given the fact that these two have been connected by much more than recruiting status for much of their young lives already.
"I think we push each other to be the greatest we can be," Jackson said.
Be the first to know
Get local news delivered to your inbox!