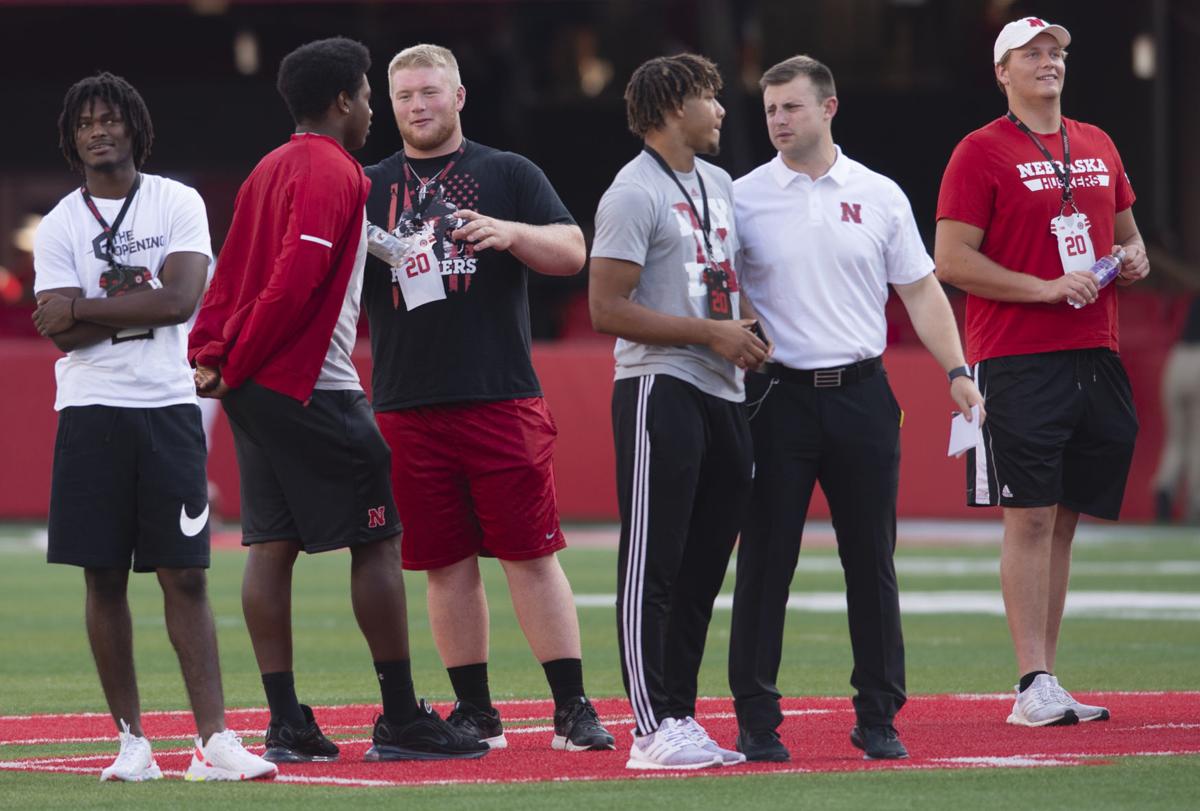 Nebraska's big recruiting weekend against Northern Illinois is already paying off.
The Huskers landed a verbal commitment from four-star defensive back Henry Gray (Miami) on Thursday evening, the first of what NU thinks could be several of the weekend's six official visitors to choose to play college football in Lincoln.
Gray, the Miami Central standout, is an intriguing prospect. He is considered a four-star prospect by Rivals and the 247Sports Composite rankings and a three-star by 247Sports. Rivals pegs Gray as the No. 210 player overall in the country and the No. 20 cornerback, while the 247Sports Composite rankings have him at No. 201 and No. 12, respectively.
"This is only the beginning of my football career and I am very excited about what the future holds for me on and off the field," Gray said in announcing his pledge on Twitter. 
Gray's Miami Central team had a Thursday night game and he was not available for interviews. 
Gray is a versatile defensive back and has played both corner and safety in his high school career. NU secondary coach Travis Fisher puts a premium on versatility, making Gray seemingly a good fit from a physical standpoint. 
Gray originally gave his verbal pledge to Miami but decommitted in late December and in recent months was most strongly connected with Florida. According to reports from recruiting outlets, Gray was slated to take an official visit with the Gators this weekend but canceled the trip this week after visiting Nebraska. 
Gray played for Miramar High before transferring to Miami Central, where he played his junior year and is currently playing his senior season. 
"Henry is a special player," Miami Central head coach Roland Smith told CanesInSight.com last summer. "He is not only a good football player, but a good student, and a good student of the game, too. He's a kid that's always trying to learn and always trying to be a sponge. We are very excited to see what he will be able to bring to the table in our program. We are very excited to work with Henry for two years to get him developed and ready for when he leaves us to be a very successful football player and young man when he leaves our program."
You have free articles remaining.
At various times during the spring, Gray was also connected to both Ohio State and Penn State, where he took unofficial visits.
He picked the Huskers, though, and now NU has 11 players in its 2020 class. Gray is the second defensive back from Florida in the class and the third player from the state overall, joining cornerback Tamon Lynum (Orlando), who visited and committed back in June. Running back Marvin Scott III (Port Orange) visited in June and committed last month.
That trio already stands as a strong rebound from the 2019 class, when the Huskers were shut out of the Sunshine State. It figured to be only a matter of time before NU returned to landing players from the area, and a pair of defensive backs are not surprising considering Fisher's strong reputation in the state both from his playing days at Central Florida and the NFL and from his coaching tenure.
In addition, the first player in Nebraska's 2021 class is defensive lineman RJ Sorensen of Fort Lauderdale, Florida.
Gray joined five other players on official visits for the Huskers' win against Northern Illinois, and all of them are expected to play the defensive side of the ball in college.
That will likely be a theme for the remainder of Nebraska's 2020 class, which is expected to eventually number in the low-to-mid 20s.
Gray's addition makes four defensive players – he joins Lynum, defensive lineman Nash Hutmacher (Chamberlain, South Dakota) and pass-rusher Blaise Gunnerson (Carroll, Iowa) – compared to seven offensive players.
With the addition of Gray, NU's 2020 class jumped to No. 38 in the country according to 247Sports.com and to No. 42 per Rivals.
| Name | Pos. | Ht. | Wt. | Hometown (School) | Stars |
| --- | --- | --- | --- | --- | --- |
| Zavier Betts | WR | 6-2 | 190 | Omaha (Bellevue West) | **** |
| Marquis Black | DL | 6-4 | 280 | McDonough, Ga. (Eagle's Landing) | *** |
| Alante Brown | WR | 6-0 | 190 | Chicago (Simeon) | **** |
| Jimari Butler | OLB | 6-5 | 215 | Mobile, Ala. (Murphy) | *** |
| Alex Conn | OT | 6-6 | 280 | Derby, Kansas | *** |
| Niko Cooper | OLB | 6-5 | 220 | Memphis, Tenn. (Hutchinson C.C.) | *** |
| Turner Corcoran | OT | 6-6 | 280 | Lawrence, Kan. (Free State) | **** |
| Ronald Delancy III | DB | 5-11 | 190 | Miami (Northwestern) | *** |
| Marcus Fleming | WR | 5-10 | 160 | Miami, Fla. (Northwestern) | **** |
| Jaiden Francois | CB | 6-0 | 185 | Homestead, Fla. | **** |
| Henry Gray | DB | 6-0 | 175 | Miami (Central) | **** |
| Keyshawn Greene | LB | 6-3 | 205 | Crawfordville, Fla. (Wakulla) | **** |
| Blaise Gunnerson | OLB | 6-5 | 250 | Carroll, Iowa (Kuemper) | **** |
| Nash Hutmacher | DT | 6-5 | 305 | Chamberlain, South Dakota | *** |
| Tamon Lynum | DB | 6-2 | 170 | Orlando, Fla. (Evans) | *** |
| Omar Manning | WR | 6-4 | 225 | Lancaster, Texas (Kilgore College) | **** |
| Eteva Mauga-Clements | ILB | 6-2 | 210 | Pleasant Hill, Calif. (Diablo Vall. College) | *** |
| Sevion Morrison | RB | 6-0 | 200 | Tulsa, Oklahoma (Edison) | **** |
| William Nixon | WR | 5-11 | 185 | Waco, Texas (Midway) | *** |
| Pheldarius Payne | DE | 6-3 | 270 | Suffolk, Va. (Lackawanna CC) | *** |
| Jordon Riley | DE | 6-5 | 300 | Durhan, N.C. (Garden City C.C.) | *** |
| Marvin Scott III | RB | 5-9 | 205 | Port Orange, Fla. (Spruce Creek) | *** |
| Logan Smothers | QB | 6-2 | 180 | Muscle Shoals, Ala. | **** |