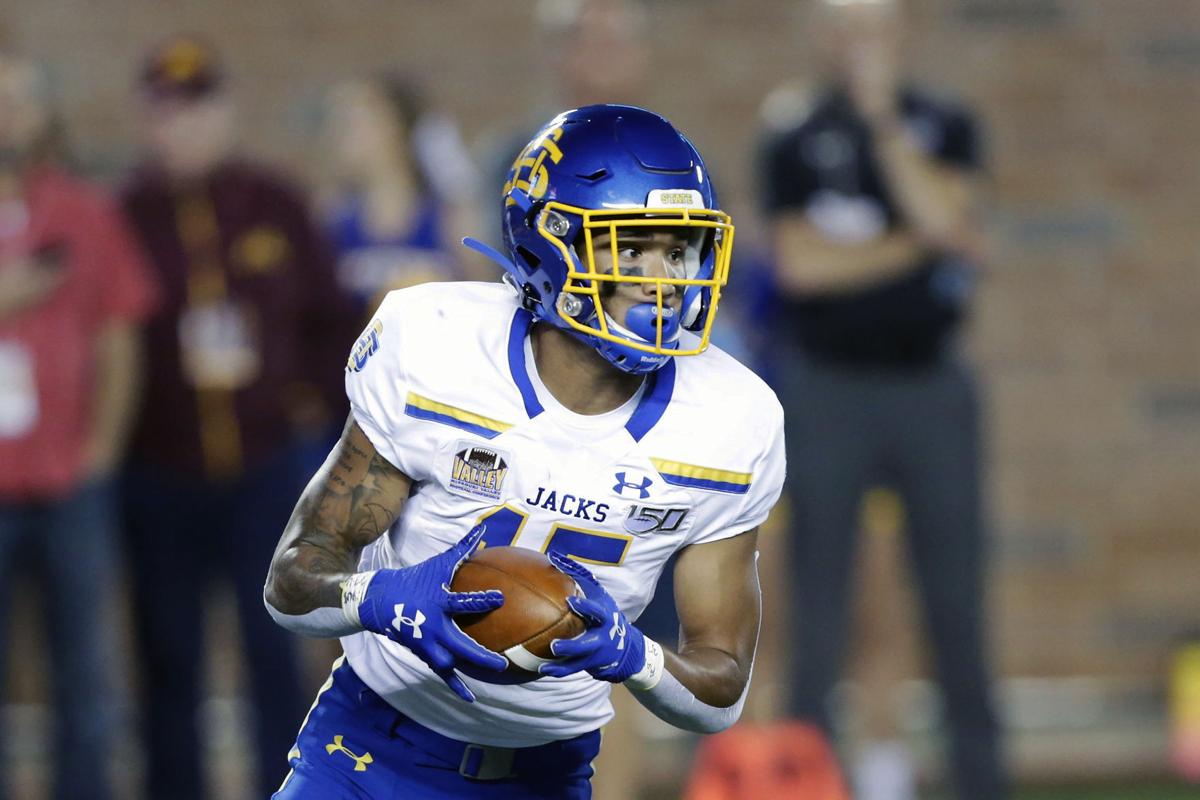 There are unique recruiting and eligibility situations around the country because of the coronavirus pandemic, and then there's Cade Johnson.
The South Dakota State star and Omaha native entered his name into the NCAA's transfer portal earlier this month in order to ensure he has flexible options, but beyond that, there's a sea of unknowns.
The Football Championship Subdivision All-America wide receiver has made at least one decision, though: He's not going to transfer to a Power Five conference school that is playing this fall.
Among other challenges (like picking up an offense in less than a month), that would have required an NCAA waiver because Johnson hasn't graduated from SDSU yet, though he's on track to do so in December.
"I talked to a lot of really good Power Fives that are still scheduled to play this fall, but me and my family just decided that, if I'm playing Power Five, I'm going to wait until I graduate so that I have time to learn the system and I'm not going in there two weeks before the team plays," Johnson said.
Everything else, from declaring for the 2021 NFL Draft to returning to South Dakota State for a potential spring season to transferring to an FBS school for the fall of 2021 is on the table.
"It's just, like, a world of unknowns," Johnson told the Journal Star on Wednesday. "I'll forever be grateful to be an SDSU Jackrabbit, and it's just been a crazy time. I don't even know if I'm ever going to play college football again. It's basically just a waiting game to see if scouts say I need more film or if I'm good to go."
Johnson, a 5-foot-11 receiver and return ace, has piled up gaudy numbers for the Jackrabbits. In the past two seasons, Johnson has logged a total of 149 catches for more than 2,500 yards. In 2018, he had 1,332 yards and 17 touchdowns, following that up last fall with 1,222 yards and eight scores. He also has two career kick return touchdowns and a 26.7-yard average on 56 career chances.
The most straightforward path, Johnson said, is if he gets strong feedback from the NFL about his draft prospects right now. Invitations to the Senior Bowl and/or the NFL Draft Combine could help reinforce that stance. If those happen, he could forgo playing college football at all over the next year.
But Johnson is well aware that sometimes questions about small-school players linger.
"Just being FCS, there's already a knock on me and if I declare this year, there's going to be a knock on me regardless," Johnson said. "Players typically just don't do that from FCS and leave early and I definitely wanted to finish my senior year playing, but now it's just different circumstances."
Johnson said he wouldn't totally close the door on playing a second-semester season at SDSU, but really is focused on either the draft or FBS schools at this point. And he's got no shortage of attention at the Power Five level. Johnson said he's heard from somewhere between 30 and 40 schools since he put his name in the portal.
He hasn't tweeted out his offers, opting instead to keep them between he and his family. Suffice it to say, though, some of college football's heavy hitters know all about the former Bellevue West star. Johnson, whose younger brother Keagan is a 2021 verbal commit to Iowa and whose father, Clester, is former Husker wingback, says he can't help but feel an affinity for the Big Ten.
"There's always a knock that you come from a smaller school, but if I was to go somewhere like Nebraska, Minnesota, Iowa, Ohio State, any of those schools and produce there, I'd give myself a better opportunity," Johnson said.
Johnson, then, could graduate in December, enroll at a Power Five school in January and then track toward being a "normal" graduate transfer who plays in the fall of 2021. That's possible because the NCAA extended a blanket waiver for an extra year of eligibility, meaning Johnson could effectively have a sixth season of college football and then turn his attention to the 2022 NFL Draft.
"As of now, it's been really unique, but the good thing for it is that I think I'm in a really good position," Johnson said. "The ball is in my court for me to make a decision and go with whatever decision I make."
Johnson was in Brookings, South Dakota, on Wednesday working through classwork and spending time with his roommates. Essentially, he's biding his time until the landscape comes into focus. If some clarity presents itself, he could commit to a college or declare for the NFL Draft in the coming days or weeks. If not, though, his goal would be to commit to a school before graduating in December.
This is all enough to test even the strongest sense of patience, but Johnson is trying his best to take it in stride.
"I'm just kind of keeping my family in and my close inner circle and listening to what everyone has to say and not ruling stuff out and being open," Johnson said. "Just kind of keeping my head up and not getting discouraged."
Be the first to know
Get local news delivered to your inbox!