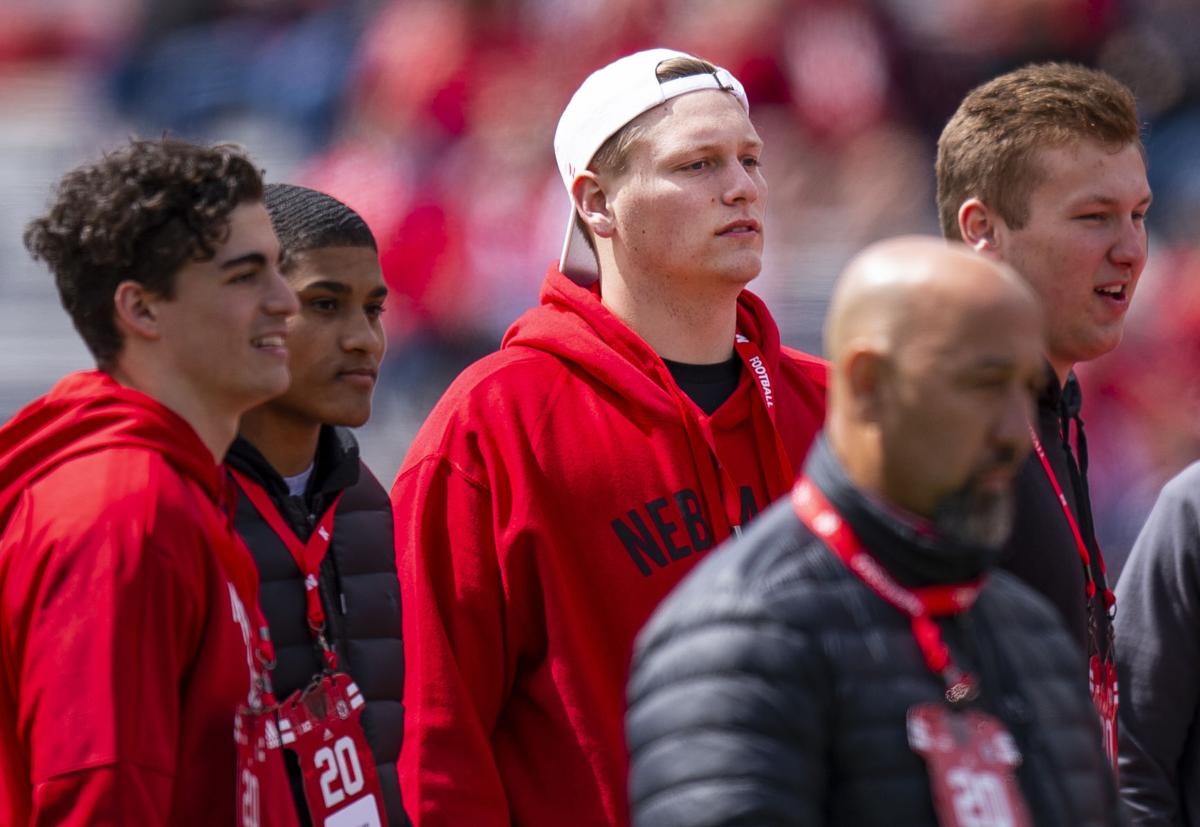 On a Friday night in the middle of November, Blaise Gunnerson made his way to Lincoln in order to help peer recruit class of 2020 prospects to join him and others as future Nebraska Cornhuskers.
The outside linebacker from Carroll, Iowa, had a tough senior season at Kuemper Catholic High, not only because his team went 3-6 but also because he battled a genetic hip injury that eventually required his second surgery in as many offseasons once the campaign was over.
But on this weekend, his task as a Husker verbal commit was to help recruit a big group of visitors in town for Nebraska's game against Wisconsin at Memorial Stadium on Nov. 16.
In the meantime, he was Snapchatting with one of his 2020 classmates and friends, quarterback Logan Smothers. The Muscle Shoals, Alabama, signal-caller had a playoff game that night and, like they are on a daily basis, Gunnerson and Smothers were in communication.
That night, though, Smothers caught Gunnerson off-guard.
"He sends me a picture from the hospital and he had the mask on and everything, and I was like, 'What the hell happened to you?'" Gunnerson told the Journal Star recently.
What had happened is Smothers, a dynamic dual-threat quarterback, had been held up and, at the end of the play, a defender put a crushing hit right through Smothers' midsection. The result: Four cracked ribs, a hip pointer and a partially collapsed lung.
He spent one night in the hospital and didn't make it back to school until Thursday, but when he did, he padded up and tried to practice. Friday night, one week after the injury, he gutted through a half against Pinson Valley, the defending state champions, before he just couldn't go anymore. The Trojans' season ended in a 26-14 loss, their first and only of the season.
Smothers put up eye-popping numbers the entire year, throwing for 2,204 yards (76% completions) and 28 touchdowns to go along with 893 rushing yards and 13 more scores. For his high school career, he totaled more than 10,400 total yards and 100 total touchdowns.
His future teammates know about that. The way he handled the injury means just as much or more.
"That's crazy, first of all," Gunnerson said. "Second of all, that's someone I want to follow and that's a leader I want to look up to. I want to be looking to be a leader myself on the defensive side of the ball, but I think for the offensive line and stuff like that, them looking at the quarterback and knowing that he's got injuries that he's playing through, I think that's going to motivate this team in the future."
Gunnerson knows a thing or two about playing hurt, too. He had overgrown hip bones and, as he describes it, moving around caused his labrum to tear. He had one surgery to shave down the hip on one side after his junior season and another shortly after his senior year wrapped up this fall.
"This one's actually looking a lot better than the last one, healing up a lot faster because I was in surgery for a shorter amount of time," said Gunnerson, who's listed at 6-foot-5 and 255 pounds, and hasn't had a healthy high school season since he was a sophomore. "I'm experiencing a lot less pain and stuff, and I'm just hoping to be fully good and ready for spring ball."
Even so, he struggled just to get ready for Friday nights.
"I barely practiced during the week," he said. "I really just played Fridays. I was grinding through, man. Once this thing gets healed up, I'll be in the clear, so that's encouraging."
Gunnerson, Smothers and four-star tackle Turner Corcoran form the backbone of Nebraska's 2020 recruiting class, the first wave of which will sign their national letters of intent on Wednesday, making their college destination official.
They all play critical positions, they're all highly regarded and they have all helped pull the rest of the class together.
Gunnerson, for example, says he might not have ended up at Nebraska at all were it not for Corcoran, a top-50 prospect from Lawrence, Kansas.
"There was like a week span where I was going to just say, 'OK, I'm going to decide this week between Iowa State and Nebraska,'" said Gunnerson, who verbally pledged to NU on July 2. "He sent me like about a page long of text about why he wants me to come join him. I read that over and over when I was deciding, and I just knew this was going to be my home. He's a really good dude. He's almost overly nice, but he's obviously not that way on the football field. But he's a great dude, and I've got to know him really well."
Both speak eloquently about the other members of the class and about the strong conclusion to the early signing period they expect.
"It's hard to say with everything going on in the recruiting world right now, all kinds of coaches leaving and stuff, but I really feel like we're in a good spot with a few of the guys that are waiting to commit right around signing day or later in the year," Corcoran said. "There might be a few changes — not really changes, but there might be a few guys that haven't been noticed and come on to the scene late — but we're excited about this class.
"I'm really looking forward to this group of guys that we've got coming in," Corcoran said. "We're a bunch of hard-working kids, and we're looking to turn this program around with the other kids already up there."
Gunnerson, Corcoran and Smothers are all among the Huskers' crop of early enrollees, a group that's also expected to include Florida defensive backs Henry Gray and Tamon Lynum, junior college inside linebacker Eteva Mauga-Clements and potentially others depending on how the coming days come together.
"I think we've got some good leaders in this class," Gunnerson said. "We have a really good group of guys who really bonded together and get along well. The more I meet them, the more I kind of get to know them, and it's a good group guys who I think is ready to come in here ready to work.
"It's just another year of (head coach Scott) Frost guys coming into the program."
2020 Husker football recruits
| Name | Pos. | Ht. | Wt. | Hometown (School) | Stars |
| --- | --- | --- | --- | --- | --- |
| Zavier Betts | WR | 6-2 | 190 | Omaha (Bellevue West) | **** |
| Marquis Black | DL | 6-4 | 280 | McDonough, Ga. (Eagle's Landing) | *** |
| Alante Brown | WR | 6-0 | 190 | Chicago (Simeon) | **** |
| Jimari Butler | OLB | 6-5 | 215 | Mobile, Ala. (Murphy) | *** |
| Alex Conn | OT | 6-6 | 280 | Derby, Kansas | *** |
| Niko Cooper | OLB | 6-5 | 220 | Memphis, Tenn. (Hutchinson C.C.) | *** |
| Turner Corcoran | OT | 6-6 | 280 | Lawrence, Kan. (Free State) | **** |
| Ronald Delancy III | DB | 5-11 | 190 | Miami (Northwestern) | *** |
| Marcus Fleming | WR | 5-10 | 160 | Miami, Fla. (Northwestern) | **** |
| Jaiden Francois | CB | 6-0 | 185 | Homestead, Fla. | **** |
| Henry Gray | DB | 6-0 | 175 | Miami (Central) | **** |
| Keyshawn Greene | LB | 6-3 | 205 | Crawfordville, Fla. (Wakulla) | **** |
| Blaise Gunnerson | OLB | 6-5 | 250 | Carroll, Iowa (Kuemper) | **** |
| Nash Hutmacher | DT | 6-5 | 305 | Chamberlain, South Dakota | *** |
| Tamon Lynum | DB | 6-2 | 170 | Orlando, Fla. (Evans) | *** |
| Omar Manning | WR | 6-4 | 225 | Lancaster, Texas (Kilgore College) | **** |
| Eteva Mauga-Clements | ILB | 6-2 | 210 | Pleasant Hill, Calif. (Diablo Vall. College) | *** |
| Sevion Morrison | RB | 6-0 | 200 | Tulsa, Oklahoma (Edison) | **** |
| William Nixon | WR | 5-11 | 185 | Waco, Texas (Midway) | *** |
| Pheldarius Payne | DE | 6-3 | 270 | Suffolk, Va. (Lackawanna CC) | *** |
| Jordon Riley | DE | 6-5 | 300 | Durhan, N.C. (Garden City C.C.) | *** |
| Marvin Scott III | RB | 5-9 | 205 | Port Orange, Fla. (Spruce Creek) | *** |
| Logan Smothers | QB | 6-2 | 180 | Muscle Shoals, Ala. | **** |