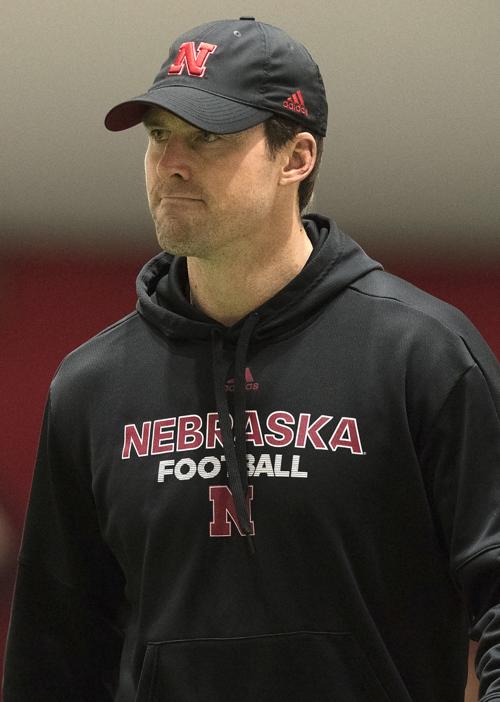 Let's take a drive in one of those tricked-out recruiting golf carts Nebraska accidentally left sitting unoccupied with the keys in the ignition.
1. The biggest recruiting weekend of the year so far for Nebraska is on tap. Much more on that as we go. Before Friday arrives, though, the Huskers are hosting touted linebacker Devyn Curtis (Brentwood, Tennessee) on an unofficial visit Wednesday.
Curtis recently listed NU among his top six schools along with home-state Vanderbilt, Virginia and three more SEC schools in Kentucky, South Carolina and Mississippi State. Such is the challenge of recruiting high-profile kids from Tennessee or anywhere in the Southeast.
Just take it from Curtis' coach at Brentwood Academy, Cody White.
"We do get the Big Ten schools, but (Nebraska head coach Scott Frost and staff) were the first time that Nebraska's recruited here," White said. "I think what people have to fight from the Big Ten here is that these kids, they're so engrained with the SEC mantra and if they're good enough, which Devyn is, it's hard to pull them out of that."
But Curtis isn't the typical "SEC or bust" prospect, according to his coach. White said he's been impressed with the way Curtis has taken an analytical approach to his recruitment and, simultaneously, the way inside linebackers coach (and former Tennessee Titan) Barrett Ruud and head coach Scott Frost have recruited Curtis.
"Ruud's done a really good job with him, and Coach Frost's been here at least once, might have been here twice," White said. "I think he likes the feel of it and what those guys are about, and I think he understands that it's a long-term staff that cares about the place and, this day and age, that's not a given."
The Huskers are familiar with the area, as they landed linebacker Jackson Hannah from a Brentwood Academy rival, Montgomery Bell Academy, last year. The teams play every season and always seem to meet in the playoffs, including the past three state title games. That familiarity certainly doesn't hurt, because White said most of the players on those two teams know each other.
Oh, and Curtis is a pretty darn good player, too.
"He was the MVP of the state championship game his sophomore year as a linebacker, which was pretty good because he was playing beside a kid (Jackson Sirmon) who's now at Washington," White said. "He could probably play inside or outside, multi-sport guy, so once he gets to where he's a football-only guy, he's going to fill out good and probably be (a) 235-pound guy that can run."
Curtis is listed as a three-star prospect by 247Sports and a four-star by Rivals. White said he thinks his pupil is down to about four schools he's really considering among the six and that a decision could come within the first month of BA's season or before.
2. After White visits, attention turns to a major recruiting weekend that will take place around Friday Night Lights No. 2 and a cookout.
Lists change, so let's leave some room for fluidity, but currently the Journal Star has confirmed official visit plans with six 2020 prospects, some of which were reported earlier by recruiting services. The Huskers will also reportedly have 2020 verbal commits Turner Corcoran (Lawrence, Kansas) and Zavier Betts (Bellevue West) on campus, along with 2020 tackle prospect Alex Conn (Derby, Kansas) and 2021 players like quarterback Peter Costelli (Mission Viejo, California) in town on unofficials.
3. Let's start the officials with the receivers.
In addition to Betts, the Huskers are hosting two other big, athletic receivers on official visits. They are Omar Manning out of Kilgore (Texas) Junior College and Florida high schooler by way of Canada Ajou Ajou (Clearwater Academy International).
You have free articles remaining.
Ajou (6-4, 200) is one of the fastest-rising prospects in the country for the 2020 class. Originally from Brooks, Alberta, Ajou has picked up offers from Clemson, Oregon, Miami, Auburn, Ole Miss, Iowa and others since the beginning of May.
Needless to say, it's a pretty good win for the Huskers to get him on campus for one of his five official visits.
NU doesn't have a receiver with a frame like either Manning or Ajou on its roster currently, though Betts is 6-2 and 200. It's not surprising, then, to see a focus on bigger players in this cycle. Can Nebraska do some damage here?
4. There are also two linebackers with visits set up in Malik Reed (Chandler, Arizona) and Choe Bryant-Strother (Waycross, Georgia). Both are inside types but have versatility.
Reed is listed at 6-2 and 220 and is ranked a three-star prospect on the 247Sports Composite. He visited Wisconsin last week and has also visited UCLA in May.
Bryant-Strother plays at Greater Atlanta Christian School and is also a three-star by the 247Sports Composite. He's piled up an impressive offer list and late last month announced a top 10 of NU, Michigan, Miami, Georgia Tech, Texas A&M, UCLA, Tennessee, Brigham Young, Ole Miss and North Carolina.
5. For the second straight week, Nebraska is hosting a running back on an official visit. This weekend, it's Sevion Morrison (Tulsa, Oklahoma). Morrison has been on NU's radar screen for a long time and put up whopping numbers as a junior.
Last week NU had Marvin Scott III (Spruce Creek, Florida) on campus for an official visit. The two have different builds; Scott is more compact at 5-9 and 200 pounds, and Morrison is a longer, leaner back.
6. The sixth known visitor currently is defensive back Tamon Lynum (Orlando, Florida). Lynum has good size, listed at 6-2 and 165 pounds, though so far his recruitment hasn't taken off to the level that the other prospects listed here have.
Lynum, who plays for Evans High, used official visits to Kansas and East Carolina so far this month, so NU will be his third of five potential.
Orlando is an area that Travis Fisher, Frost and company know well, of course, given their history at Central Florida.
Remember the golden rule in recruiting: Stuff changes fast. Certainly, though, Nebraska is attempting to go big on its final salvo before the July dead period hits and official visits have to wait for fall weekends.