Javin Wright heard all the stories.
His father, Toby, was a standout safety at Nebraska, so as Javin's college recruitment heated up, naturally dad couldn't help reliving the glory days.
At the same time, head coach Scott Frost was busy infusing a big dose of nostalgia into a wayward college football powerhouse. When NU offered Wright a scholarship, father told son all about what he'd see when he visited Lincoln for a game. 
"He told me everything about the place," Javin Wright recalled.
Now, son is following in father's footsteps as Javin, a native of Chandler, Arizona, made his verbal commitment to the Huskers public on Wednesday morning.
"Before I got there on my visit, I had an idea of what it was it going to be like," Wright explained. "He told me it had been sold out since 1962 and when I went there, at first I thought that was just a cool stat or whatever.
"But I felt that when I went to Nebraska. His facts came to life when I was there."
Now Javin's going to spend his college career in Lincoln after choosing the Huskers over finalist UCLA and a host of other schools.
"I didn't commit right away on the spot because I needed to see UCLA's vibe compared to Nebraska," Wright said of his Sept. 8 official visit to Nebraska. "UCLA got up there, but it didn't really match Nebraska's vibe. The fans are positive, the coaches are positive, you feel like the program's going up. Everything was just good about it and that set me over."
Wright played cornerback in high school, but his coach at Hamilton High, Michael Zdebski, told the Journal Star this week he thinks the 6-foot-3, 195-pounder could play a number of positions in college.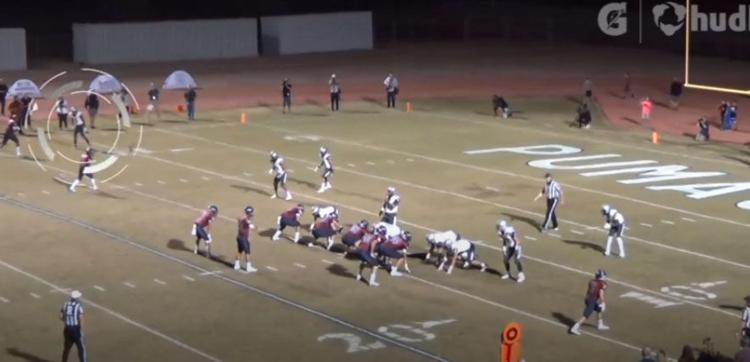 "I think that with his size he's going to be a safety or even more into an outside linebacker position," Zdebski said Tuesday. "I think that's how they view it because he's so big and so long and being out there as a corner, plus he's a physical kid.
"He'll come down and lay the wood on you."
Wright said he thinks he has the feet, speed and skills to stick at corner in college, but is willing to play anywhere.
Toby, for what it's worth, played safety and earned second-team All-Big Eight honors in 1993 thanks to a 79-tackle, three-interception campaign for the Huskers. He went on to be a second-round draft pick of the Los Angeles Rams in 1994 and played five years in the NFL.
Javin had offers from around the country and recently whittled a final four of NU, Washington, Arizona State and UCLA down to just the Huskers and Bruins. After seeing the Troy game here, he visited UCLA on Oct. 20.
"My motto was, whoever showed me the most love, I loved them," Wright said.
Now, Wright is busy trying to get healthy after an early season knee injury ended his prep career prematurely this fall.
"Rehab is going good, I've been on the grind for a while," he said. "I'm at 80 percent with my knee right now. I'm icing it, heating it, running on it, trying to get it back to 100 percent."
Wright is set to sign his national letter of intent in December, but said he plans to graduate in the spring and enroll after that rather than enrolling early.
Wright is the 20th known verbal commitment for Nebraska's 2019 class and continues what is shaping up to be a critical recruiting stretch for NU. He is the third prospect to join the fold in six days after four-star receiver Darien Chase (Vancouver, Washington) pledged last Thursday and four-star offensive tackle Bryce Benhart (Lakeville, Minnesota) made his commitment public Sunday night.
On Thursday, four-star all-purpose back Wandale Robinson (Frankfurt, Kentucky) is set to choose between the Huskers, Alabama, Ohio State, Purdue and Kentucky, and could make it a clean sweep of the week for NU.
The Husker class bumped up two spots to No. 18 in the country (No. 3 in the Big Ten) according to Rivals with Wright's pledge and stayed at No. 22 (No. 4) according to 247Sports. 
As the cycle progresses, Nebraska will also try to do further damage in Arizona. In addition to Wright, the Husker staff is heavily recruiting four-star defensive back Noa Pola-Gates (Gilbert), who officially visited Oct. 20, and four-star defensive end Ty Robinson (Gilbert), who is expected to officially visit campus in November.
| Name | Pos. | Ht. | Wt. | Hometown (School) | Stars |
| --- | --- | --- | --- | --- | --- |
| Matthew Anderson | OT | 6-7 | 250 | Leesville, La. | *** |
| Brant Banks | DL | 6-8 | 285 | Houston (Westbury Christian) | *** |
| Bryce Benhart | OT | 6-9 | 305 | Lakeville, Minn. (North) | **** |
| Desmond Bland | OL | 6-4 | 300 | Flossmoor, Ill. (Arizona Western C.C.) | **** |
| Darien Chase | WR | 6-1 | 175 | Vancouver, Wash. (Union) | **** |
| Myles Farmer | DB | 6-3 | 180 | Atlanta (Westlake) | *** |
| Jimmy Fritzsche | OL | 6-7 | 250 | Greenville, S.C. | *** |
| Jamin Graham | OLB | 6-6 | 240 | Attalla, Ala. (Etowah) | *** |
| Jackson Hannah | ILB | 6-3 | 220 | Nashville, Tenn. (Montgomery Bell) | **** |
| Nick Henrich | ILB | 6-4 | 210 | Omaha (Burke) | **** |
| Chris Hickman | TE | 6-5 | 220 | Omaha (Burke) | *** |
| Rahmir Johnson | RB | 5-10 | 170 | Oradell, N.J. (Bergen Catholic) | **** |
| Michael Lynn | OT | 6-7 | 300 | Englewood, Colo. (Cherry Creek) | *** |
| Luke McCaffrey | QB | 6-3 | 185 | Littleton, Colo. (Valor Christian) | *** |
| Dedrick Mills | RB | 5-10 | 227 | Waycross, Ga. (Garden City C.C.) | *** |
| Jamie Nance | WR | 6-0 | 170 | Blanchard, Okla. | *** |
| Garrett Nelson | OLB | 6-3 | 235 | Scottsbluff | *** |
| Mosai Newsom | DE | 6-5 | 260 | Waverly, Iowa (Waverly-Shell Rock) | *** |
| Quinton Newsome | DB | 6-2 | 180 | Suwanee, Ga. (North Gwinnett) | *** |
| Ethan Piper | DL | 6-4 | 275 | Norfolk (Catholic) | *** |
| Ty Robinson | DE | 6-6 | 285 | Gilbert, Ariz. (Higley) | **** |
| Wandale Robinson | RB | 5-9 | 180 | Frankfurt, Ky. (Western Hills) | **** |
| Garrett Snodgrass | ATH | 6-3 | 225 | York | *** |
| Ronald Thompkins | RB | 6-0 | 203 | Loganville, Ga. (Grayson) | *** |
| Javin Wright | DB | 6-3 | 195 | Chandler, Ariz. (Hamilton) | *** |