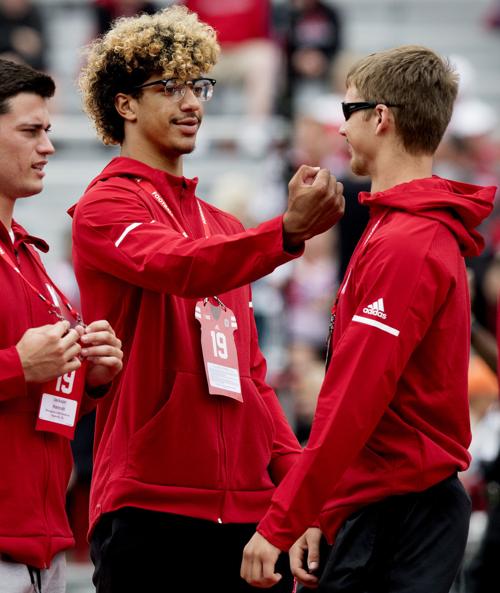 Several 2019 prospects committed to Nebraska were on hand for the Huskers' game against Colorado on Saturday.
The Huskers were hoping to leave a big impression on an uncommitted prospect high on their board.
Omaha Burke senior Chris Hickman made his official visit to Lincoln this weekend. The 6-foot-6, 205-pound tight end is ranked as the third-best prospect in the state by Rivals.com and the 32nd best tight end in the 2019 class.
Iowa, Oregon, Ole Miss, Wisconsin and LSU are among the schools with offers to Hickman, who spent a lot time during Saturday's pregame warmups standing at midfield with Burke teammate Nick Henrich, quarterback recruit Luke McCaffrey and offensive line recruit Michael Lynn.
Most of Nebraska of Nebraska's committed recruits were in Lincoln this weekend, including Henrich, McCaffrey and Lynn.
York's Garrett Snodgrass, Norfolk Catholic's Ethan Piper, Scottsbluff's Garrett Nelson and Jamie Nance of Blanchard, Oklahoma, and Jackson Hannah of Nashville, Tennessee, were on the guest list.
So, too, was Lincoln Southeast senior punter Grant Detlefsen, who committed to the Huskers as a walk-on Thursday night.
Nebraska coach Scott Frost came over to greet some of the Huskers' 2019 commitments during pregame warmups.
Other official visitors included Arizona defensive back prospect Javin Wright, the son of former hard-hitting Husker safety Toby Wright. Toby was seen on the field prior to the game catching up with some Husker staff members. Javin Wright is a 6-3, 195-pound safety with several Power Five offers.
Another uncommitted visitor in for Saturday's game was highly touted wide receiver Marcus Washington (St. Louis). Jamel Starks, a three-star athlete from Decatur, Georgia, also soaked in the scene.