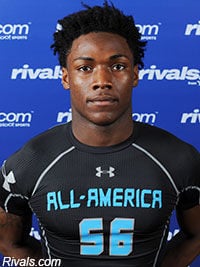 First-year Husker assistant coach Charlton Warren continues to exhibit his recruiting ties in his home state of Georgia, with Nebraska dipping into the Peach State to gain a commitment Friday from wide receiver Nekyle Lundie.
At 6-foot-2 and 215 pounds, Nebraska's 12th commitment comes from Stephenson High School in Stone Mountain, having just transferred there a couple of weeks ago after playing previously at rival Tucker High.
"He's a heck of a athlete," said Stephenson recruiting coordinator Corey Johnson. "He played against us last year, beat us, caught a touchdown with 10 seconds on the clock, (35) yards. Yep. Beat us on a Hail Mary last year."
"We know he can play," said Stephenson's head coach, Ron Gartrell. "From the little bit I've seen, he's a very gifted athlete, runs well."
And apparently breaks hearts on jump balls in the game's final seconds.
Some folks have noticed. His reported scholarship offer list has some big names on it, with Georgia Tech, Auburn, Missouri, Indiana and Georgia State among the interested parties.
Though he'll play both safety and wide receiver at his new high school, where he transferred because his father moved, Johnson said Warren and Husker wide receivers coach Rich Fisher were recruiting him for the offensive side of the ball.
Warren is no stranger at Stephenson High School, which annually produces double-digit Division I recruits. "Oh, yeah, he's not new around here," said Johnson, who has known Warren since he was at the Air Force Academy.
Lundie is the second Georgia recruit in the Huskers' 2015 class. NU also has a commitment from safety Aaron Williams of Atlanta.
And something that might impress Fisher the most about Lundie? "One of his best assets is his blocking," Johnson said.
All that said, as the new guy, Lundie will have to battle for his spot at receiver. Three of the school's receivers have committed — to South Carolina, Kansas State and Georgia State.
But Johnson has a feeling Lundie's talent is going to make him very useful this season.
"By him being able to play multiple positions, he'll help us out even more," he said. "He's a great ballplayer, but also a really good kid. I think he's going to fit in with us."