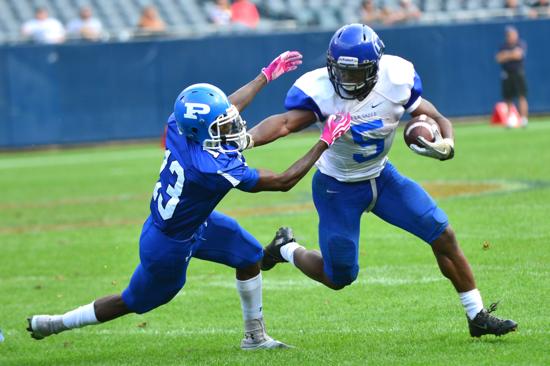 Mikale Wilbon had built a strong relationship with the coaches at Vanderbilt, where he gave his commitment toward the end of his junior year of high school.
That commitment held firm for months, until coach James Franklin left in December to become the head coach at Penn State. That's when Wilbon did some soul searching.
"I just thought if they leave, then I should leave, too, because,  since I had a relationship, I didn't want to go to a place where I didn't have a relationship with nobody," said Wilbon, a running back from De Le Salle Institute in Chicago. "That's why I had to re-open my recruitment and go somewhere else."
That somewhere else was Nebraska.
"I see it as an opportunity," said Wilbon, who committed Jan. 25 and signed his letter of intent Wednesday. "I fit well in that offense. The recruiting class that's coming in is really great, especially the O-line."
He's one of two running backs in the class, which also includes four offensive linemen. Wilbon said he also considered Missouri, Penn State and Syracuse after re-opening his recruiting process, but was sold on Nebraska running backs coach Ron Brown and head coach Bo Pelini.
"Coach Ron Brown, he's been there for many years, so he's got experience, and he's got championship rings under his belt, so I can't wait to be coached by him," Wilbon said. "And Coach Bo, he's a great, phenomenal coach, in the NCAA and the NFL, so he knows how to win, too."