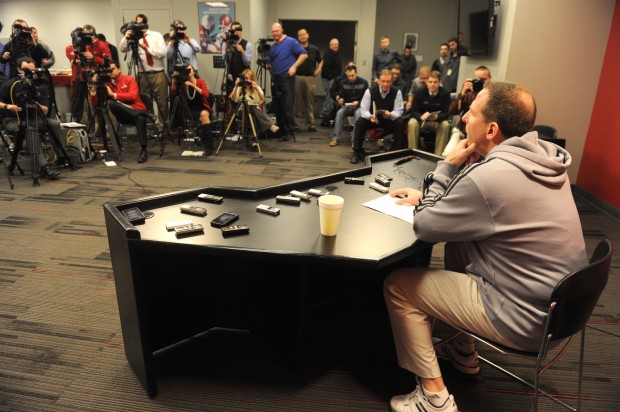 It'll wear you down. It's not a question of if, but when.
"You don't know where you're at," Tim Beck explained. "You forget what rental car you're in."
Nebraska's offensive coordinator was talking about recruiting in January. The mind can mess with a coach on the road during that uphill trek to Signing Day.
Boarding calls and rental cars and the living rooms of strangers. The payoff?
It arrived for Husker coaches Wednesday when a class of 26 recruits was announced, a class that covers 13 states, two countries and ranks anywhere from 11th to 23rd nationally.
Here's the thing about those 26 recruits: A dozen of them came aboard after NU's New Year's Day bowl game in Orlando.
It was a wild stretch run that also included three decommitments and Husker recruits pursued by SEC schools and big, bad Urban Meyer in one case.
Defensive coordinator John Papuchis admits that sometimes it felt like "I was playing a lot more defense than offense," as coaches tried to hold on to commitments Nebraska had while looking for additions.
They lost a few. They gained a whole lot more.
The roller-coaster ride coaches face the final month of recruiting is difficult to explain, Beck says.
"Because it is incredibly emotional. The hardest part is there are standards set at Nebraska, and there's a culture, and it's been created for years here. The style of people that live in this state — hard-working, humble, team-first people. And Bo's that way, and we're that way as a staff.
"We don't have bells and whistles that flash. We don't run out through smoke. We don't change our uniform every week. We don't have any gimmicks. We're not used-car salesmen. And in today's world of recruiting, it's gimmicks. And kids listen to gimmicks. And we have to weed our way through those guys, because those guys typically don't last. They last about as long as a gimmick does until they find a new one. … So we have to find the kids that are the true football players. And the guys that are the true football players look at all of it."
Some take a longer time to look than others, of course.
Given the frenetic final five weeks for Husker recruiting, it was fitting that there was some craziness the final day.
Tre'vell Dixon (Baldwin, La.) had committed to Nebraska for a second time Jan. 20, only for reports to surface Tuesday that he likely would sign with Arizona State. His high school coach even thought so.
Then Dixon went home. Prayed. Woke up. Grabbed a Husker T-shirt to put on and went to school.
"He probably, to a certain extent, was getting pulled in a number of directions and wasn't quite sure," Husker head coach Bo Pelini said. "I think he knew all along this was the best place for him. But a kid who grew up in small-town Louisiana, that's a big step. And I give him a lot of credit for being able to sign his name and go outside the box and know that he's going to get on a plane and go a long way from home to play football."
Dixon's surprise move Wednesday put a positive spin on a class some will argue is the best in Pelini's tenure.
But recruiting classes, everyone knows, are not ultimately judged on Signing Day. A verdict won't be rendered for this new group of Huskers for a few years.
There might be those critical that the Huskers couldn't land a junior college defensive tackle despite several attempts.
And Nebraska lost three recruits in January — offensive lineman Dan Samuelson, wide receiver Dominic Walker and four-star safety recruit Marcus McWilson.
But in the final five weeks, the Huskers also picked up Terrell Newby, Ernest Suttles, Dimarya Mixon, Kevin Maurice, Drake Martinez, Chongo Kondolo, Boaz Joseph, Dwayne Johnson, Matt Finnin, Maliek Collins, Cethan Carter and Dixon (twice).
Four of those — Suttles, Mixon, Maurice and Collins — are much-needed additions to the defensive line. Three — Finnin, Kondolo and Johnson — were critical gains for the offensive line. And one — Newby — is the top-rated running back in California.
"When you go after good guys, it's going to take time and effort," Beck said. "That's what it took — time and effort."
While some schools practically fill up their classes before the season begins, Pelini said that will never happen at Nebraska.
Fill up your class too soon and you miss the chance to evaluate prospects their senior seasons.
"I don't want it to happen here, because I think you learn a lot about players during their senior year," Pelini said. "And I think a lot of the best players maybe didn't play their best football until their senior year. Rather than speed up the recruiting process, I wish we could slow it down some, because I think there would be less mistakes made."
He pointed to Suttles and Maurice as examples of players who might have been missed if coaches had not studied film of their senior seasons.
Some of the recruits were discovered when coaches hit the road after an embarrassing 70-31 loss to Wisconsin in the Big Ten Championship Game.
Tough days, those. But as good as any to try to find some answers.
"The one thing I can control in December and January is to recruit a little bit better," Papuchis said. "Now it's time to put that coaching hat back on and coach a little bit better. If we do that, we'll keep getting a little closer to where we want to be."