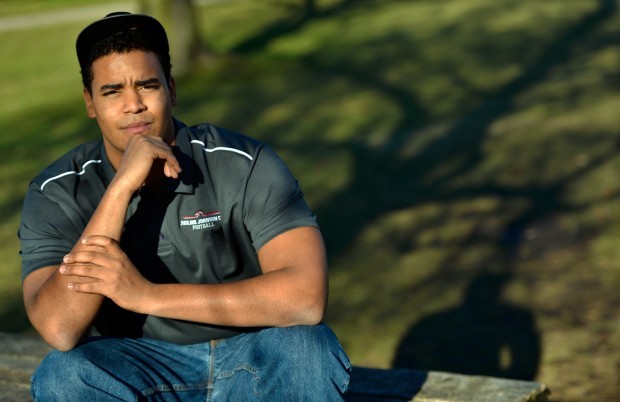 David Knevel grew up doing what good Canadian lads are supposed to do. He played hockey.
In Canada, that is as much responsibility as it is choice.
But by ninth grade he stood 6-foot-6 and weighed 220 pounds. Football cleats suddenly had more benefit than skates.
Those cleats are taking him places.
Because here Knevel stands now — 6-foot-9, 305 pounds, according to his coach — ready to play football at Nebraska.
The big offensive lineman from Brantford, Ontario, made that known on Tuesday, picking Nebraska over Alabama in an enormous recruiting score for the Huskers.
Not only does the pledge give NU 16 commitments, it gives the Huskers a commitment from a player who plans to enroll in January, making him eligible for spring ball.
Knevel would be the first player from a Canadian high school to sign with Nebraska since defensive tackle Patrick Kabongo did so in 1999.
It was not an easy decision for Knevel, who visited the Nebraska, Alabama, Wisconsin and Purdue campuses before deciding.
For the longest time, his high school coach Ken Chisholm couldn't get a read on where the big man was leaning.
"Each time he came back saying, 'That place was just fantastic,'" Chisholm said. "We just kept hearing that over and over and over again. I was a little worried he wasn't going to be able to make his decision.
"But when it got right down to it, though, David talked about the people there (in Nebraska). They just felt really warm. Sort of that notion that, 'if I'm a long way from home, there's support here." He felt that about Nebraska more than any place else."
Knevel has been described as a raw talent by some, but his size and footwork were reasons coaches like Bo Pelini and Nick Saban were so hot after a player from north of the border.
The lineman's size makes sense when you realize his mother is 6-2.
"He's got very little body fat on him," Chisholm said. "So at 305, 6-9, there's just this beautiful physique. It's not your prototypical offensive lineman's belly … I think when they start hitting the weights down there, he'll be comfortable, and I mean that, at 345. And he has very agile, quick feet. I think that stood out to most people. Not just the size of this kid but the way the feet move."
By age 16, Knevel was the equivalent of an all-state player at Pauline Johnson Collegiate.
By June of last year, after shining at an Under Armour combine in Tampa, Fla., he was already the focus of a recruiting article by ESPN.com.
"There's no question that he's one of the best I have seen all (combine) season," said one of the combine's offensive line coaches, George Hegamin, in that article. "David is athletic enough to cover up just how raw he is. Right now he has no idea what he's doing. He just gets in front of people with his athleticism. I think this kid has a chance to be a really good one."
By this past August, having just turned 18, he was competing on Team Canada's Under-18 team, which beat the United States.
Big-time programs recruited him even harder.
It was just last week when Knevel told his coach Nebraska was the choice.
A fine decision, Chisholm felt. The coach had secretly hoped it'd be Nebraska. He'd grown up a Husker fan.
His fandom figures to be even greater now.
"You're going to find out this is a very interesting young man, a real top kid," Chisholm said. "He's as clean-cut as they get, but he's a ferocious competitor and quite nasty when he wants to be."
2013 Husker football commits

| | | | | |
| --- | --- | --- | --- | --- |
| Player | Pos | Ht | Wt | Hometown (school) |
| Josh Banderas | LB | 6-2 | 220 | Lincoln (Southwest) |
| Nathan Gerry | ATH | 6-2 | 206 | Sioux Falls, S.D. (Washington) |
| Kevin Gladney | WR | 6-1 | 182 | Akron, Ohio (Firestone Senior) |
| Randy Gregory | DE | 6-6 | 230 | Yuma, Ariz. (Arizona Western CC) |
| Zach Hannon | OL | 6-5 | 295 | Kansas City, Mo. (Rockhurst) |
| Greg Hart | TE | 6-5 | 225 | Dayton, Ohio (Archbishop Alter) |
| David Knevel | OL | 6-9 | 305 | Brantford, Ontario (Pauline Johnson Collegiate) |
| Courtney Love | LB | 6-1 | 225 | Youngstown, Ohio (Cardinal Mooney) |
| Marcus McWilson | WR | 6-0 | 195 | Youngstown, Ohio (Cardinal Mooney) |
| Gabriel Miller | OL | 6-0 | 235 | Mishawaka, Ind. (Penn) |
| A.J. Natter | DE | 6-6 | 240 | Milton, Wis. |
| Marcus Newby | LB | 6-1 | 210 | North Potomac, Md. (Quince Orchard) |
| Dan Samuelson | OL | 6-5 | 275 | Plymouth, Ind. |
| Johnny Stanton | QB | 6-2 | 220 | Rancho Santa Margarita, Calif. (SM Catholic) |
| Adam Taylor | RB | 6-2 | 200 | Katy, Texas |
|   |   |   |   |   |