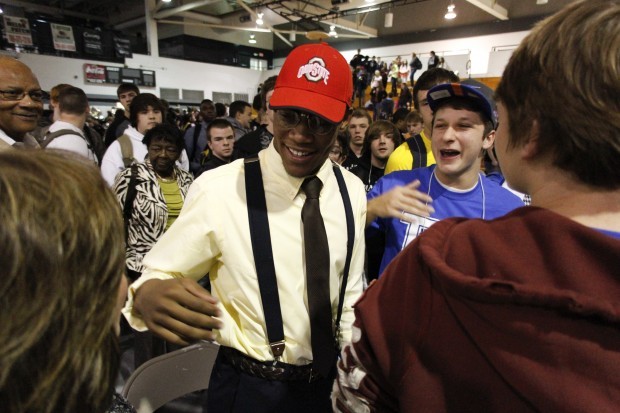 Ohio State
2012: 12-0, 8-0 Big Ten
Rankings: Rivals, No. 2; Scout, No. 1
Our take: Urban Meyer seems to have recruited another top-tier class that is ready to go undefeated again and compete for a national championship. After focusing on linemen last year, Ohio State picked up some of the best skill-position players in the country, including a Signing Day decision from receiver and Nebraska target James Clark.
Key signees: DB Von Bell, Georgia; LB Mike Mitchell, Texas; WR Jalin Marshall, Ohio; QB J.T. Barrett, Texas.
---
Michigan
2012: 8-5, 6-2 Big Ten
Rankings: Rivals, No. 6; Scout, No. 2
Our take: Despite no Signing Day surprises, Brady Hoke's team put together a strong recruiting class, emphasizing the defensive side of the ball. The offense was bolstered by the signing of top running back Derrick Green, who may compete for immediate playing time, as current running back Vincent Smith is likely still recovering from that hit by South Carolina's Jadeveon Clowney in the Outback Bowl.
Key signees: RB Derrick Green, Virginia; DE Taco Carlton, Ohio; DB Ross Douglas, Ohio.
---
Michigan State
2012: 7-6, 3-5 Big Ten
Rankings: Rivals, No. 39; Scout, No. 44
Our take: After a rough 2012 season, Michigan State's Mark Dantonio went back to basics and hopes strong offensive and defensive line commitments will build a strong foundation. Dual-threat quarterback Damion Terry could add some much-needed firepower to an offense that ranked 100th in the country in points per game.
Key signees: LB Shane Jones, Ohio; QB Damion Terry, Pennsylvania; LB Jon Reschke, Michigan; DT Noah Jones, Florida.
---
Penn State
2012: 8-4, 6-2 Big Ten
Rankings: Rivals, No. 43; Scout, No. 45
Our take: Despite the scholarship sanctions levied against Penn State by the NCAA, coach Bill O'Brien built a strong recruiting class highlighted by the top quarterback prospect in the country, Christian Hackenberg. The rest of the class, however, is strongly defense. Nittany Lions fans will be anxious to see if Brandon Bell will be the next big product out of "linebacker U."
Key signees: QB Christian Hackenberg, Virgina; TE Adam Breneman, Pennsylvania; DE Garrett Sickles, New Jersey; LB Brandon Bell, New Jersey.
---
Indiana
2012: 4-8, 2-6 Big Ten
Rankings: Rivals, No. 42; Scout, No. 51
Our take: With a nation-leading 19 returning starters, Indiana recruited for defense and added five new defensive linemen. Indiana got its top defensive line and defensive back recruits from Indianapolis. The Hoosiers got a pleasant surprise when their top offensive recruit, running back Daryl Chestnut from Miami, committed and signed.
Key signees: DB Antonio Allen, Indiana; DE David Kenney, Indiana; DT Darius Latham, Indiana; RB Daryl Chestnut, Florida.
---
Illinois
2012: 2-10, 0-8 Big Ten
Rankings: Rivals, No. 46; Scout, No. 42
Our take: A rough first season for coach Tim Beckman didn't get much easier. Last year's stagnant offense returns essentially intact, but adds athlete Caleb Day, who will likely join the team as a receiver. Myriad juco recruits will compete for immediate playing time on a defense that returns only three starters.
Key signees: QB Aaron Bailey, Illinois; ATH Caleb Day, Ohio; DT Abens Cjuste, California; DB Dillan Cazley, Illinois.
---
Iowa
2012: 4-8, 2-6 Big Ten
Rankings: Rivals, No. 52; Scout, No. 52
Our take: A Signing Day surprise from running back Jonathan Parker will help fill out an injury-depleted backfield, but Iowa did little to address its needs on  offensive line. Most of the top signings from Kirk Ferentz's class come on defense, including Howells native Nathan Bazata, who will line up in the defensive trenches. Iowa invested in raw talent, signing only one juco player.
Key signees: DT Nathan Bazata, Nebraska; RB Jonathan Parker, Missouri; TE Ike Boettger, Iowa; LB John Kenny, Indiana.
---
Minnesota
2012: 6-7, 2-6 Big Ten
Rankings: Rivals, No. 61; Scout, No. 74
Our take: Jerry Kill's team signed only three juco recruits, giving the Gophers a strong foundation for the future. Returning only six defensive starters, Minnesota signed 11 defensive recruits, including five linebackers. Two of those, De'Vondre Campbell and Donovahn Jones, came from Kansas junior colleges and committed to the Gophers on either Signing Day eve or Signing Day itself.
Key signees: LB De'Vondre Campbell, Kansas; LB Rayfield Dixon, Florida; DE Hendrick Hope, Texas; WR Eric Carter, Florida.
---
Northwestern
2012: 10-3, 5-3 Big Ten
Rankings: Rivals, No. 52; Scout, No. 46
Our take: Pat Fitzgerald's scrappy team returns 15 starters, but the offense loses three linemen. Northwestern addressed the need with four offensive line signings, including 6-foot-7 Sam Coverdale. The Wildcats' top signee, Illinois product Matt Alviti, will likely be the heir to the quarterback throne after Kain Colter graduates.
Key signees: QB Matt Alviti, Illinois; DB Marcus McShepard, Ohio; DE Eric Joraskie, Pennsylvania; OL Sam Coverdale, Ohio.
---
Purdue
2012: 6-7, 3-5 Big Ten
Rankings: Rivals, No. 54; Scout, No. 58
Our take: The Boilermakers added four defensive backs to an already strong secondary, but mainly addressed their needs at the skill positions. Last year's theme of recruiting from the Southeast continued, as nearly half of the class came from Kentucky, Georgia or Florida. But Purdue stayed in state to get its  top signee, pocket passer Danny Etling.
Key signees: QB Danny Etling, Indiana; DB Leroy Clark, Florida; RB Dalyn Dawkins, Kentucky; RB Keyante Green, Georgia.
---
Wisconsin
2012: 8-6, 4-4 Big Ten
Rankings: Rivals, No. 56; Scout, No. 37
Our take: After coach Bret Bielema left for Arkansas, some of the recruits left and new coach Gary Andersen was forced to fight an uphill battle. Despite a few decommitments, the reigning Big Ten champion Badgers addressed their most glaring flaw by signing five defensive backs, including highly touted Minnesota prep product Keelon Brookins.
Key signees: DE Chikwe Obasih, Wisconsin; DB Keelon Brookins, Minnesota; RB Corey Clement, New Jersey; OL Jack Keeler, Illinois.