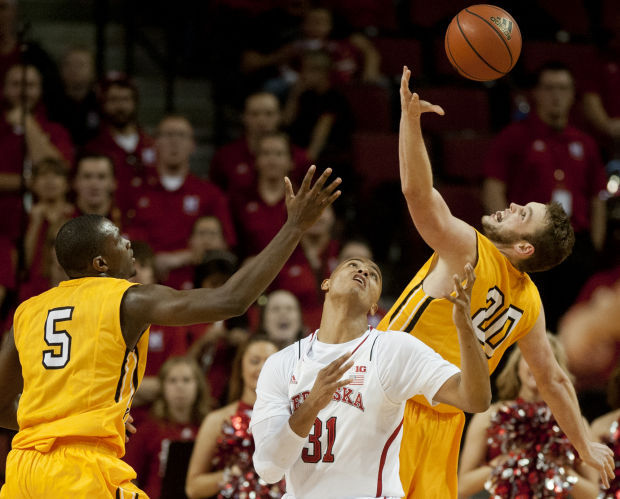 A reporter asked Tim Miles what he thought of his Nebraska basketball team's rebounding in its 80-61 victory against Northern Kentucky on Sunday.
"I thought it would've been a great idea," the Nebraska coach quipped.
Northern Kentucky, without a player listed taller than 6-foot-7, outrebounded Nebraska 36-33, with 15 offensive rebounds leading to eight second-chance points.
"That's something we got to get better at," Nebraska guard Terran Petteway said. "We gave up 15 offensive boards to those guys. That just can't happen. If we want to be the team we want to be this year, we got to get better at that aspect."
Miles said Nebraska's rebounding was "very disappointing," and that neither 6-10 Walter Pitchford nor 6-9 Moses Abraham were engaged physically the way they needed to be. The frontcourt duo combined for nine rebounds.
"It's not a skill. It's a decision. Blocking out's a decision," Miles said. "We practice it, don't get it wrong. But it's got to be a commitment and a mental decision to make, and you've go do it. That's the frustrating part, why we're not more committed to it."
* SMITH IMPRESSES: True freshman guard Tarin Smith scored six points in 16 minutes off the bench, but his highlight play was a slick pass to an open Petteway on the wing that resulted in a three-pointer.
Smith was driving the baseline and kicked the ball out to Petteway from underneath the basket.
"We kind of work on that (play), but it was still impressive on how he did it," Petteway said. "He's fitting in pretty good. He got a lot of minutes today, which is good. It's going to help him build his confidence for these games we got coming up. I'm excited to see him in the rotation a little bit more."
You have free articles remaining.
Miles, too, was impressed with the play of Smith, who was slowed in preseason practices because a bad bout with the flu.
"I thought Tarin did a nice job," Miles said. "I thought he created for others, I thought he was on the attack. He defended all right. He didn't gamble like he did in the exhibition game. He's gotten better in these last 10 days since we played last. We need that from him."
* COMPARING TEAMS: Only three days into the season, and already there's a coach who can offer a firsthand scouting report that compares two of the Big Ten Conference's better teams.
Northern Kentucky coach Dave Bezold's team played Friday at No. 3 Wisconsin, losing 62-31.
His report: Both really good teams, but really different.
"Wisconsin, they want to slow you down with defense. They're hypnotical," Bezold said. "You're playing and you think you're close, and you look up and you're down by 20 points. And they're skilled and really big.
"Nebraska, they get after you. They're quick off the ball, they come at you hard on both ends. They've got guys that are skilled and they don't quit. They hit us in bunches and when they got going, they're hard to deal with.
Is Bezold glad to be done with Big Ten teams?
"No. Actually, I'd play more," he said. "They were two great environments. Who wouldn't want to play in front of all these people in a place like this? Nebraska's really got it going here."