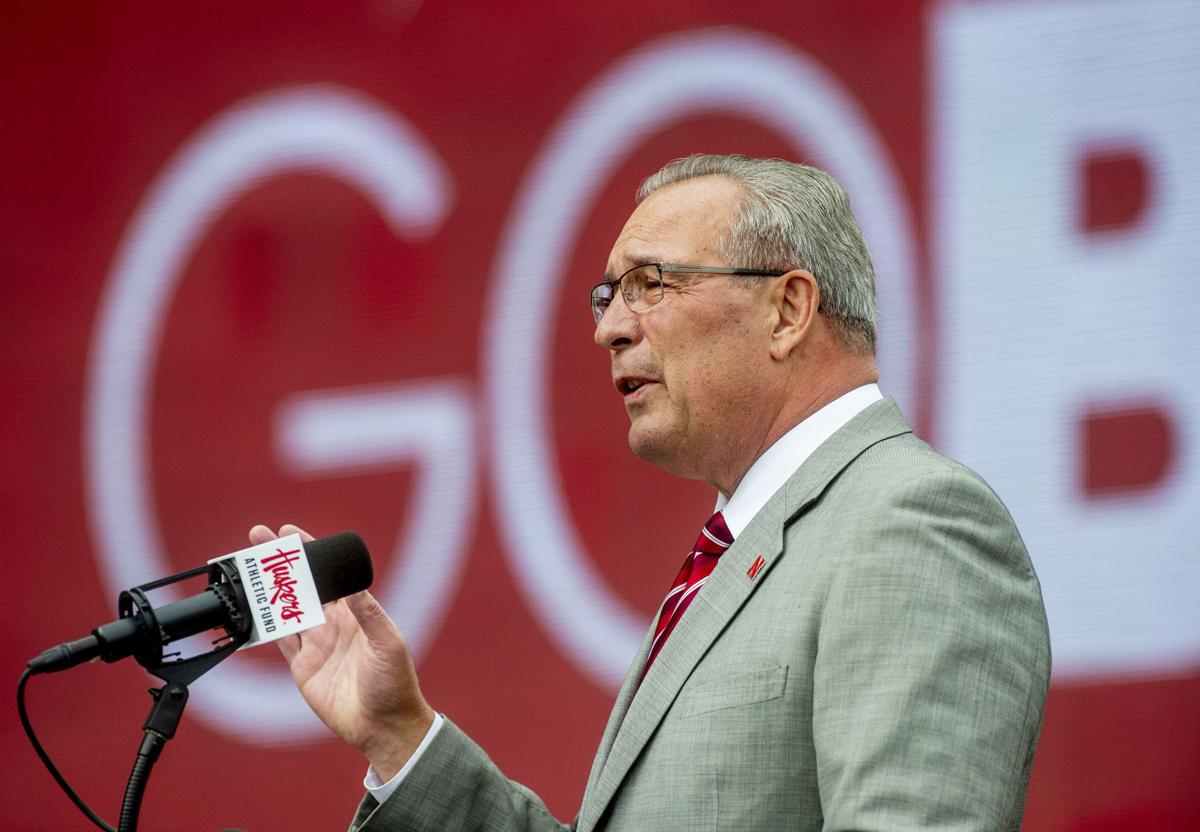 The effects of the coronavirus pandemic on Nebraska Athletics' budget is beginning to take shape. 
Athletic director Bill Moos announced in a Friday news release that his department is reducing expenses by approximately 10% for the 2021 fiscal year, which begins July 1. That percentage will likely mean a cut of well more than $10 million, based on the latest available data. 
The budget reduction is set to include a 10% cut to Nebraska athletic administration positions departmentwide and a freeze on increases to sports program budgets and on merit raises for all NU athletics employees. 
In addition, travel and recurring capital project expenditures will be limited, administrative budgets will be reduced by 10% and sports programs are "encouraged to build a more regional nonconference schedule, which will limit public exposures and allow for a reduction in travel costs." 
Recruiting-related travel will not be subject to the cuts, likely because it is largely funded by private donations. 
"In our deliberate planning for how to best address a decline in expected revenue, we attempted to institute measures that would minimize the impact on the student-athlete experience," Moos said in the release. "While many of these necessary changes are difficult, especially those impacting our employees, we hope that they will be the only ones necessary in the months ahead. I am confident that we will weather the storm and come out stronger on the other side.
"I want to acknowledge the work and commitment of those employees who will no longer be with us and thank them for their service to Nebraska. We wish them all of the best in their future endeavors." 
In fiscal 2019, the department's operating expenses came to more than $124 million, with about $54 million attributed to three categories named "support staff/administrative compensation, benefits and bonuses paid by the University and related entities" ($27.3 million); "direct overhead and administrative expenses" ($19.5 million); and "other administrative expenses" ($7.3 million). Fiscal 2020 wraps up at the end of the month, so those numbers have not yet been finalized. 
It is unclear exactly how many jobs will be affected. NU's athletic directory includes more than 425 people, but some are not full-time employees and many are coaches in NU's 24 varsity sports, which would not fall under administrative cuts. Moos has said in the past that he has about 350 full-time employees in the department. 
An athletic department spokesman confirmed to the Journal Star that conversations with the people affected by staff cuts had already taken place. The school does not plan on publicly disclosing which positions were affected, how much notice affected employees were given or other details around the cuts. School officials do not plan on commenting further on Friday. 
In April, Moos expressed confidence in NU's ability to handle what he knew at the time would be a turbulent period because of the pandemic's economic toll. Then, as now, it's not clear what the price tag will end up being. 
But not even a robust reserve fund, strong support from boosters and a picture of financial health that few Power Conference schools can match — NU is the only such institution with no debt obligations and normally operates well into the black — could hold off the measures announced Friday. 
Consider, too, that Nebraska's football program turned a nearly $60 million profit in fiscal 2019, and the athletic department gave more than $10 million of its operating profit to UNL for scholarships and other programs despite being less reliant than in recent years on Nebraska Foundation donations to cover operating expenses. 
Last month, Moos relayed a message he gave his staff about the effects of the pandemic. 
"When all of this is over, when the dust settles, we will be judged on how we navigated through this crisis far more than how many championships we win. That's how serious it is," he said. 
Ahead of the Friday announcement, on Thursday the head coaches of NU's two most prominent programs — football's Scott Frost and men's basketball's Fred Hoiberg — announced they planned to donate a yet-to-be-determined portion of their salaries back to the athletic department to use toward its operating budget in fiscal 2021. 
On the nonconference scheduling front, it is unclear how much the directive to take a more regional approach will affect football. While some sports build their schedules on a year-to-year basis, football has its nonconference schedules set well into the future. In fact, NU has just two openings between 2020 and 2027 and none before 2024. Each of those agreements has buyout language about what it would take to cancel games. Other sports, though, particularly baseball, spend a considerable amount of the nonconference schedule playing away from Lincoln.
Nebraska spent a little more than $8 million on team travel in fiscal 2019, led by football at more than $1.6 million, men's basketball (nearly $1.2 million) and women's basketball (nearly $800,000). Track and field plus cross country spent more than $900,000, while baseball spent more than $600,000. Keep in mind, though, that the dominant share of football travel and sizable portions of travel in other sports occur in conference play. 
Concerned about COVID-19?
Sign up now to get the most recent coronavirus headlines and other important local and national news sent to your email inbox daily.