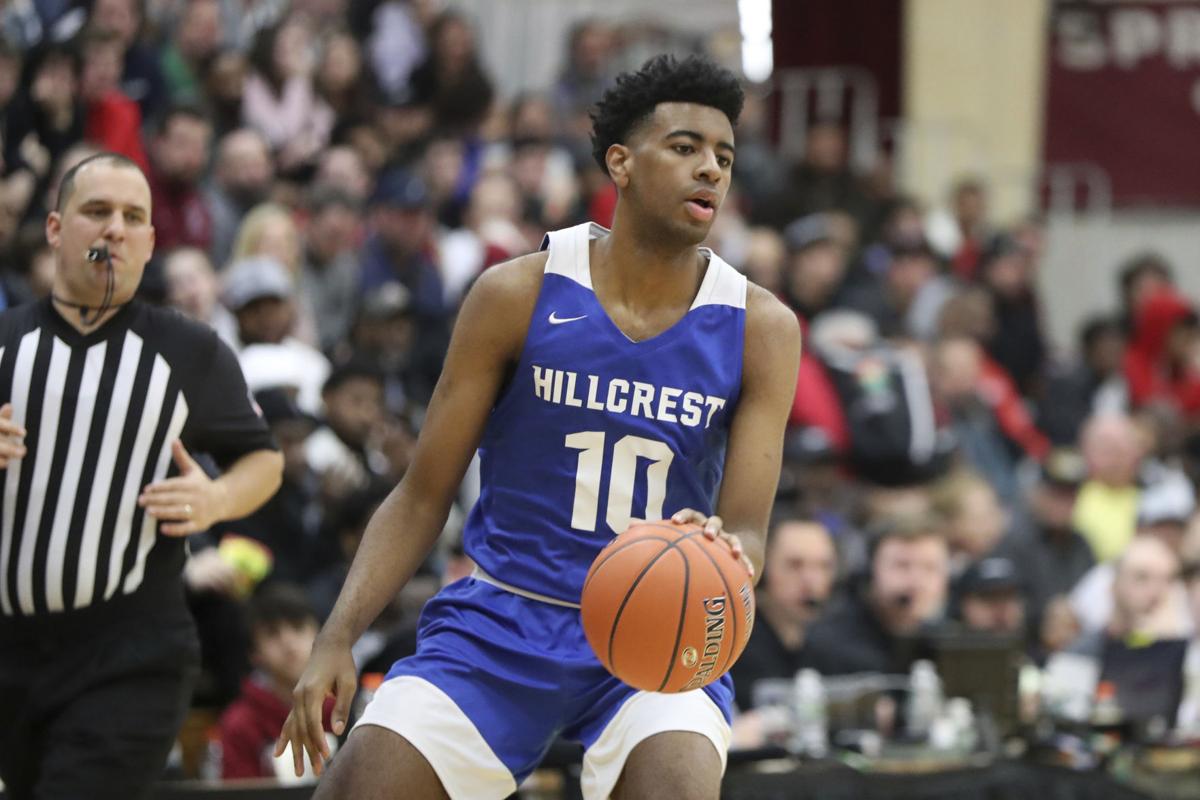 On Thursday of last week, Nebraska men's basketball coach Fred Hoiberg spoke on a Zoom call that coincided with the opening of the regular signing period and the Huskers getting signatures from wing C.J. Wilcher and forward Oleg Kojenets.
The additions left Nebraska with two open scholarships for the 2021-22 season, and about two months before the start of summer workouts to decide what it wanted to do with them.
"We're always looking for ways to improve our roster, and if we can go out and find somebody who would be a good addition, then we'll talk about it and see if we want to add another player," Hoiberg said. "We're always evaluating on how we can improve the roster not only for next year, but in the long term as well."
Sure enough, three days later the Huskers got a commitment from Keon Edwards. A 6-foot-8 guard/forward who was originally one of the top prospects in the 2021 recruiting class, Edwards reclassified to 2020 and joined DePaul in December before later entering the transfer portal and choosing NU.
Recruiting never stops, as the saying goes, whether there's a pandemic or a mostly full roster.
"As all programs do, the job of the staff and the coach is to do everything you can to improve your roster," Hoiberg said. "And we're looking at a lot of different things right now, and we'll see how it plays out and how things develop. But as we all do, we're just trying to do everything we can to try and put the most competitive team out there on the floor."
The search has been a difficult one for the Huskers, who put together almost an entire roster in about 30 days before going 7-25 in 2019-20, then tearing down and rebuilding again only to finish 7-20 in a coronavirus-interrupted season.
There will be more continuity in Year 3 of the Hoiberg era, with around 70% of Nebraska's production returning. But even after inking one of the top recruiting classes in the country back in November to go with the returning players, the Huskers are just as active now in looking for more pieces with a signing period that runs all the way to Aug. 1.
Nebraska won't just add a player to add a player, though. With Kobe Webster and Trevor Lakes not counting against next year's scholarship limit, and with the potential for Thorir Thorbjarnarson to return for another year and not count against the scholarship limit, there could come a point where NU decides to keep the extra scholarship in its back pocket for a future prospect.
"And that obviously will go through our mind as well, with how we're going to approach it," Hoiberg said. "But as of right now, with what we have with Kobe using his extra year, and then Trevor not counting as well, so technically we could have 15 on the roster, which is a lot. That's a lot of guys. So we'll see how it plays out, and if we keep one open and see where it goes, that is absolutely something we'll talk about."
Briefly
The Huskers recently added a fourth walk-on to their roster with the addition of New York native Jackson Cronin.
Cronin, a 6-2, 185-pound guard from Great Neck, New York, played for the NY Gauchos AAU program. His father, Steve, played collegiately at Tufts University, a NCAA Division III school in Massachusetts, in the late 1980s before playing professionally in Israel for two seasons.
Nebraska's other walk-ons are Jace Piatkowski, Sam Hoiberg and Chris McGraw.