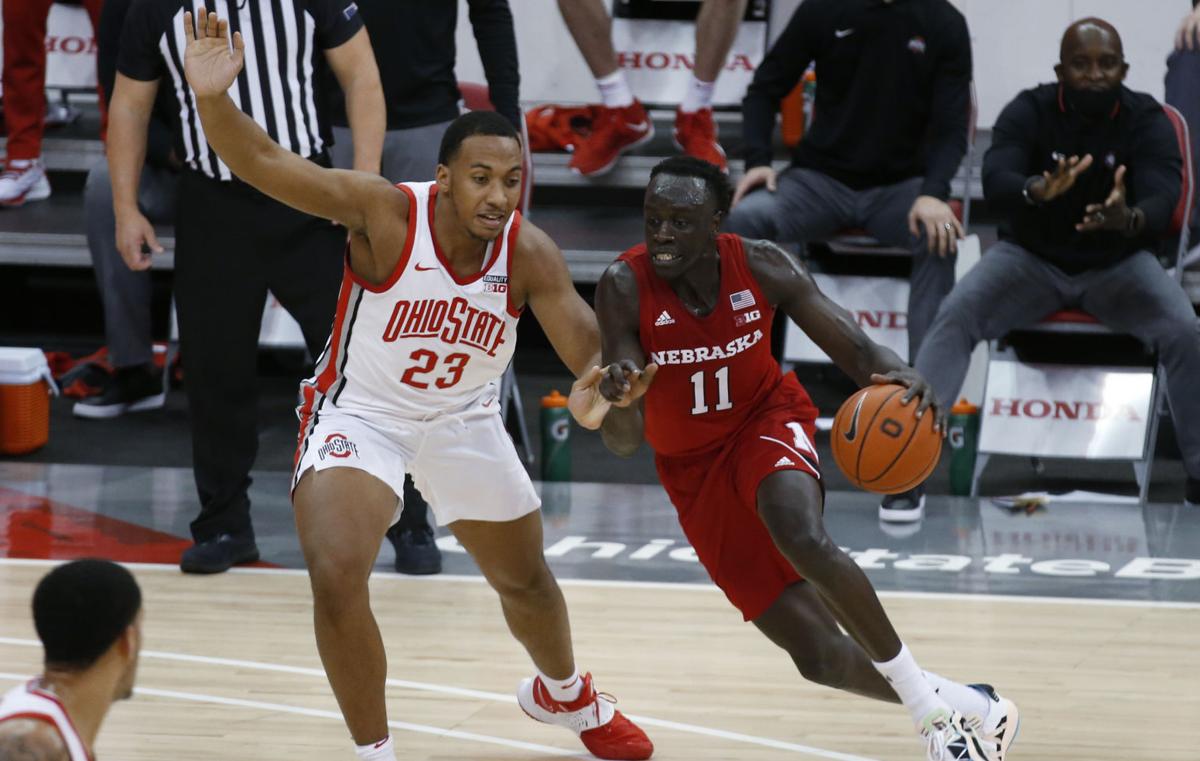 If you're a Nebraska men's basketball fan, you hope this was the season's low point. 
No. 25 Ohio State rolled to a 90-54 victory Wednesday night in Columbus, Ohio. 
Nebraska finished with 15 turnovers, and three assists. 
1. BTN studio analyst Jess Settles, a former Iowa standout, offered a scathing review of Nebraska's first-half performance on offense, and he nailed it. 
He said Husker players apparently don't trust each other.
He said it looks like they don't want to pass the ball because they're afraid they may not get it back.
That's just part of the problem.
Nebraska isn't a good three-point shooting team, and it lacks a strong inside game.
I keep pointing that out, and the Huskers keep proving me right.
Nebraska (4-6, 0-3 Big Ten) entered the game shooting only 32.4% from three-point territory on the season. The Huskers were only 5-for-33 (15.2% ) against the Buckeyes (8-2, 2-2).
Nebraska's offense was terrible in the first half. It was hard-to-watch terrible. Players launched contested threes early in the shot clock. There was a step-back three early in the clock and an out-of-control charge.
The Huskers hit only one of their last 18 field-goal attempts in the first half, and trailed 38-21 at the break.
The game was effectively over at that point. 
Bottom line, Hoiberg's offense took a big step back. 
2. Hoiberg needs to find answers offensively. Quickly. That has to be his foremost concern going forward. 
As a former Husker great told me Wednesday night, Hoiberg wants Nebraska to play a fast-paced style with a lot of three-point shooting, a la the 2018 Golden State Warriors. But Fred doesn't exactly have Kevin Durant and Stephen Curry on his roster.  
Hoiberg needs to find a way to better use Nebraska's length and versatility. 
He also (eventually) may need to find a true point guard. 
But that's a topic for another day.
3. Nebraska's awful start to the second half is a concern.  
Perhaps you thought Nebraska would gather itself at the halftime break. You maybe thought the Huskers could put together at least one big run to make the score respectable, or even get back within striking distance. 
Ohio State, coming off a road loss at Northwestern, went for the jugular and got it. I wanted to see more fight from Nebraska. I wanted to see more fight because NU's schedule obviously is wickedly difficult. Michigan State is next up Saturday night in Lincoln. Sparty is struggling at 6-3 and 0-3. Then Hoiberg's crew goes to Purdue, which beat Ohio State. Then there are games against Indiana and Illinois. You get the idea. 
There's really no time to lick your wounds in the Big Ten, which features nine ranked teams. 
If you're a Nebraska fan, you hope this was just a bad night for the Huskers, as opposed to a breaking point. Maybe they can shake it off. 
They actually had played pretty well in Friday's 80-69 loss to No. 19 Michigan. 
4. Please spare me all the talk about Nebraska's incoming recruiting class. My word, that gets old around here.  
I'll buy the hype about John Cook's volleyball recruits. Otherwise, I'm done with it. 
Late in Wednesday's game, BTN's excellent play-by-play man Chris Vosters lauded Nebraska's incoming recruiting class.
Yeah, I know, it's always about the Huskers' next big-time recruiting class in basketball and football.
It's been that way for years. 
And then nights like this happen.