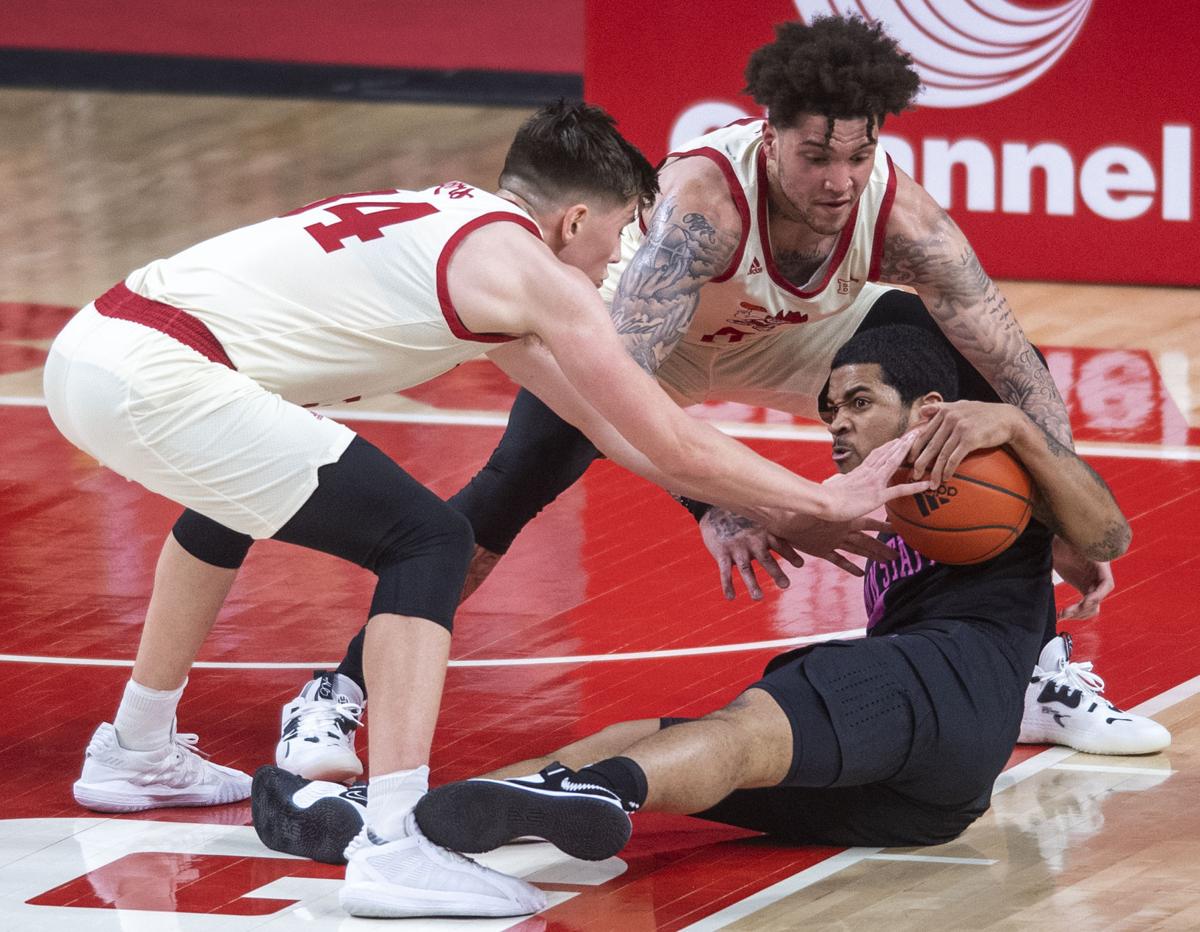 Teddy Allen's enormous game against Penn State, even in a loss, will go down as one of the best statistical performances in Nebraska basketball history.
It's also one of the best games by any power conference player in at least the past 11 seasons.
Allen became just the fourth power conference player since the 2010-11 season to have a game with at least 40 points, eight rebounds and six assists.
The other three on that list are some of the best to play the college game in recent years: Ben Simmons of LSU, and Buddy Hield and Trae Young of Oklahoma.
"When you score 41 and have six assists, that's a really hard thing to do in a college game," Nebraska coach Fred Hoiberg said. "He was really complete out there tonight, and it was fun to see him get it going like that."
Young was the last to accomplish the feat, doing so in January 2018 against TCU. Hield's is probably the most memorable: He had 46 points, eight rebounds and seven assists in Oklahoma's 109-106, triple-overtime loss to Kansas in January 2016.
If the statistics are expanded to include all games, Teddy Allen became the 11th player to accomplish the feat since 2010-11.
Of those 11, Allen is one of just three to put up those numbers in less than 40 minutes of playing time. The junior played 38 minutes Tuesday night. Only Ben Simmons needed fewer minutes, finishing with 43 points, 14 rebounds and seven assists in 37 minutes against North Florida.
Turnover bug bites again: Nebraska's 18 turnovers tied its second-most in a game this season, and they came after three consecutive contests in which the Huskers gave the ball away 11 times.
Hoiberg's goal is for NU to have 10 or fewer turnovers a game, but after trending in a positive direction, NU went backward Tuesday.
"You look at the percentages — they shot 40, we shoot 53, but they just had way too many extra possessions," Hoiberg said. "They scored 25 points off our turnovers, and that just puts your transition defense in a bind; in a really tough position. 
"Especially the careless ones that turn into pick sixes. And that's what I thought a lot of those were."
Banton's limited minutes: Starting point guard Dalano Banton played just 13 minutes Tuesday, and was on the bench for the game's final 15 minutes. It marked the second game in a row Banton has played fewer than 20 minutes, and he has totals of two points, seven rebounds and four assists and three turnovers over those two games.
"We've just got to do everything we can to get him going. He's an important part of this team; he's an important part of what we do," Hoiberg said. "We'll try to get him going in the next one. When he plays well, we're in the game. But I had other guys out there that I thought played good basketball tonight, and that's why there were on the floor."