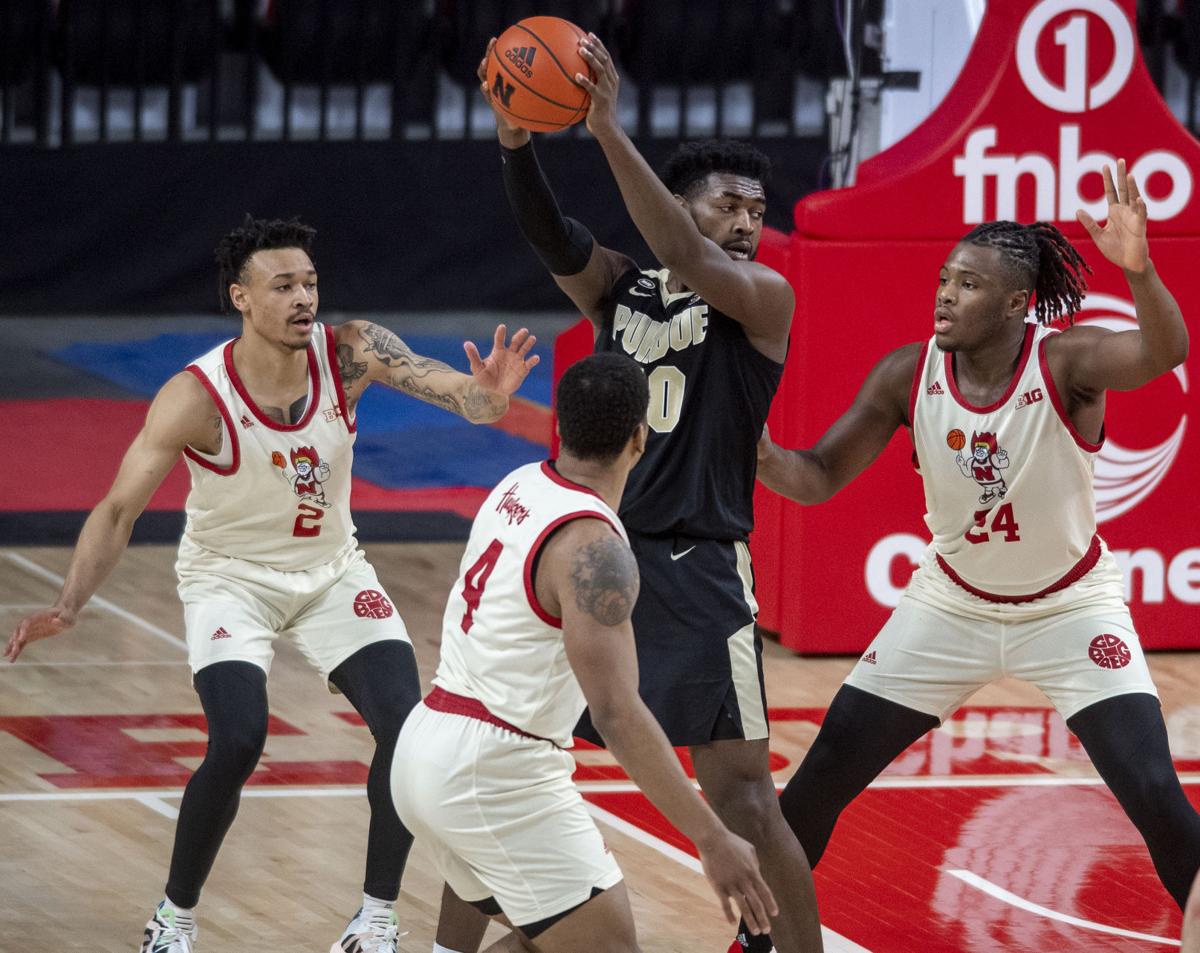 Sometimes you have to play the percentages.
Nebraska did that Saturday, sending constant double teams at Purdue big man Trevion Williams, who was coming off a 28-point outing against Michigan State.
If that meant the Huskers were going to be a little late getting out to shooters, then so be it. The Boilermakers hadn't made more than eight three-pointers in a game since Jan. 14. They were averaging less than five made threes in their eight games since making 11 against Indiana, and shooting 25% from behind the arc in that stretch.
Longtime Nebraska basketball fans can probably tell you what happened next.
Purdue made 10 threes Saturday, and while their percentage wasn't great, the Boilermakers hit enough threes at critical times in their 75-58 win over NU at Pinnacle Bank Arena.
Sasha Stefanovic drilled four of his eight three-point attempts after making just four total over his previous five games, with all of them coming in the second half.
Jaden Ivey, a 19% three-point shooter who hadn't made more than two threes in any game this season, made one on Purdue's first possession of the game and hit a second with four minutes in the first half to put the Boilermakers up nine.
"You look at the numbers, and you play the percentages a lot of times," NU coach Fred Hoiberg said. "And (Williams) was coming off one of the better performances from anybody I've seen in the league with 28 points against Michigan State, and scored it in so many different ways.
"They've been making five threes a game. And sometimes you base your game plan on what a team's recent trend has been."
The Huskers did an excellent job on Williams, throwing multiple defenders at the 6-foot-10 junior. He finished with eight points, just the second time in 18 games he didn't reach double figures, and his three rebounds tied a season low.
But Ivey's threes early and Stefanovic's late run gave Purdue the edge.
"We're going to live with a late contest on (Ivey's) shot. But give the kid credit, he stepped up and knocked them down," Hoiberg said. "And then Stefanovic. … We lost him unfortunately a few times on rotations. And I think a big part of that was lack of communication as we wore down."
Talkin' about practice: Nebraska will do something rare this season when Monday rolls around: The Huskers will hold a full practice before Tuesday's game against Penn State.
With the way NU's schedule sets up the rest of the way, Hoiberg said, it might be the last full practice the Huskers have before the end of the regular season.
"We're going to have some things to correct going into the Penn State game," Hoiberg said. "We have not had a true practice — I can't even remember the last time we had a good practice."
With two days off before the Purdue game, NU attempted to hold a full practice but had to slow things down after players limped off the court on three consecutive possessions.
After getting two more days off before playing the Nittany Lions, Nebraska will play every other day for four consecutive games, then have two days off before road games at Iowa and Northwestern to end the regular season.