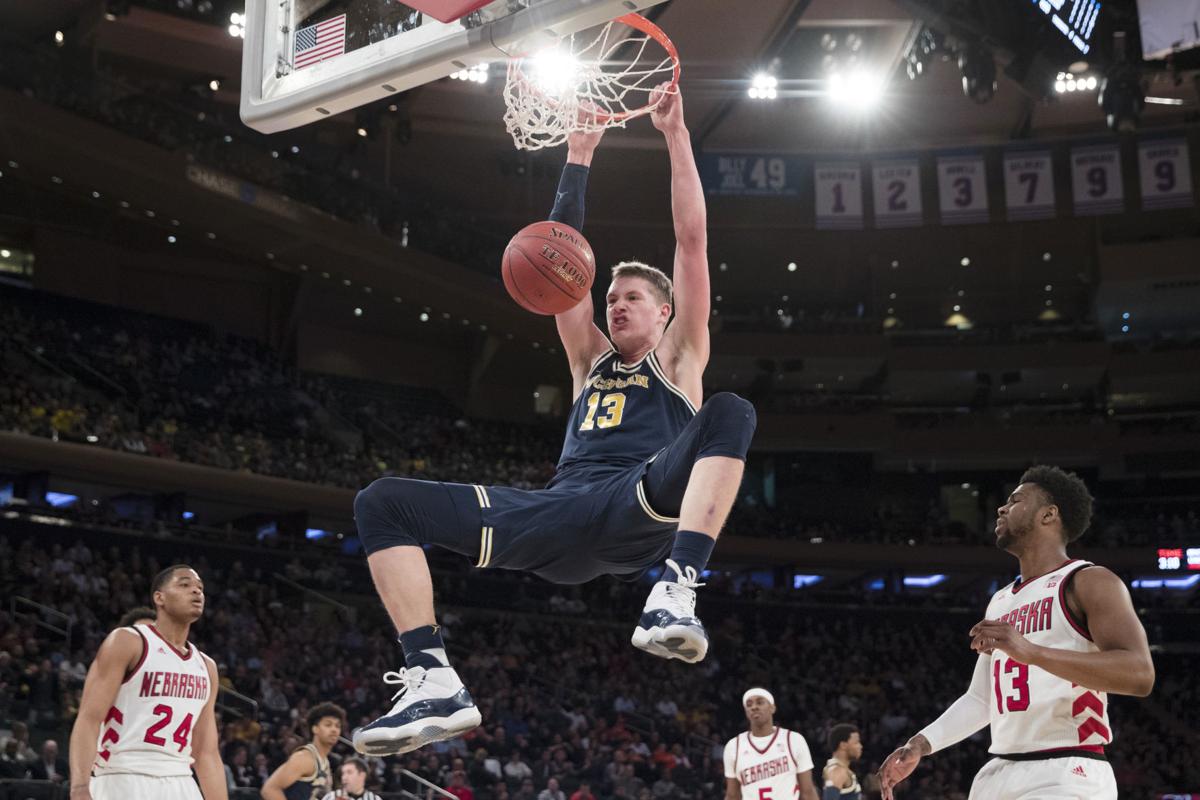 NEW YORK — The chant floated down from the seats high above the baseline next to Nebraska's bench.
It didn't last long. But it lasted long enough. And as the final seconds ticked away in Michigan's 77-58 dissection of the Cornhuskers on Friday at Madison Square Garden, the players in the white throwback jerseys — modeled after Nebraska's 1996 NIT championship team — surely heard it.
Nebraska's NCAA Tournament hopes aren't dead, and won't be until the bracket comes out March 11 and the Huskers don't see their name on it.
But with a chance to enhance its resume and add a statement win in March, Nebraska couldn't deliver.
"It was a moment to rise to the occasion," Nebraska coach Tim Miles said. "And we didn't do it."
Fumbling its way through perhaps its worst offensive stretch of basketball all season, Nebraska trailed for the game's final 34 minutes as the Wolverines all but established the final outcome by halftime.
The Huskers will now sit at home for what are likely to be nine very long days before Selection Sunday.
"It's tough, with the feeling of uncertainty — you don't really know what's going to happen. Obviously they tell you to think positive, but you never know. So it's going to be difficult," said senior guard Evan Taylor. "We only played one game and now we've got nine days until Selection Sunday. It's just going to be a really stressful process, I feel like."
After going up 9-5 in the game's opening minutes, the Huskers could do little to slow down a Michigan attack out for blood after getting drilled two and a half months ago in Lincoln.
Michigan, after going just 3-for-19 from three-point range against Iowa in Thursday's second round, and 4-for-18 in Nebraska's 72-52 win in mid-January, finished 11-for-23 beyond the arc Friday. It was only the third time this season a Husker opponent made double-digit threes in a game.
Mo Wagner, after scoring just two points in the teams' first meeting, had 20 points and 13 rebounds Friday. He scored Michigan's first eight points, jawing at the Huskers after every big Wolverines play.
Muhammad-Ali Abdur-Rahkman scored 21 points for the Wolverines. And Duncan Robinson came off the bench to add 16.
Nebraska's players said they weren't overwhelmed by the moment.
"I think that we missed a couple of easy shots and got some fouls. But I don't think it was any nerves," said junior guard Glynn Watson. "We came out and made a couple mistakes on defense and we started questioning ourselves, like, 'What do we need to do?' Because things were going downhill."
Isaiah Roby led Nebraska with 18 points, seven rebounds and five blocked shots, but couldn't replicate the defensive performance he put on in January in limiting Wagner. James Palmer scored 16 and Glynn Watson finished with 10.
But it was an almost unfathomable first-half dry spell that did the Huskers in.
Nebraska (22-10) suffered through field goal droughts of 7 minutes, 47 seconds and 5:47. Thomas Allen's putback at the 10:22 mark was the Huskers' only field goal in a span of 13:34.
When it ended, Nebraska had gone 1-for-20 from the field while getting outscored 28-6 as Michigan (25-7) built an 18-point lead.
The Huskers tried to rally, with a Palmer free throw cutting the deficit to 40-33 at the 14:02 mark of the second half.
Michigan then answered with a three from Abdur-Rahkman and scored seven straight after a Palmer layup to go up 50-35 with 11:03 left.
Any time Nebraska tried to make a dent, Michigan had the answer. Nebraska's only sustainable offense came on the 9-4 run start to the game and a 9-1 run to end the first half and send NU into the locker room down 10.
Nebraska will fly back to Lincoln on Saturday, a nasty late-winter storm forcing the Huskers to sit in their New York hotel with no game to get ready for.
"I think we're a good enough team. I'm not big on the numbers or whatever. I don't know how to calculate whether we're a good team or not," Roby said. "But we compete. Today was a bad day for us. We got hit by a good team on a good day for them and a bad day for us.
"I don't think this game is who we are. I think we're a good enough team to make it."