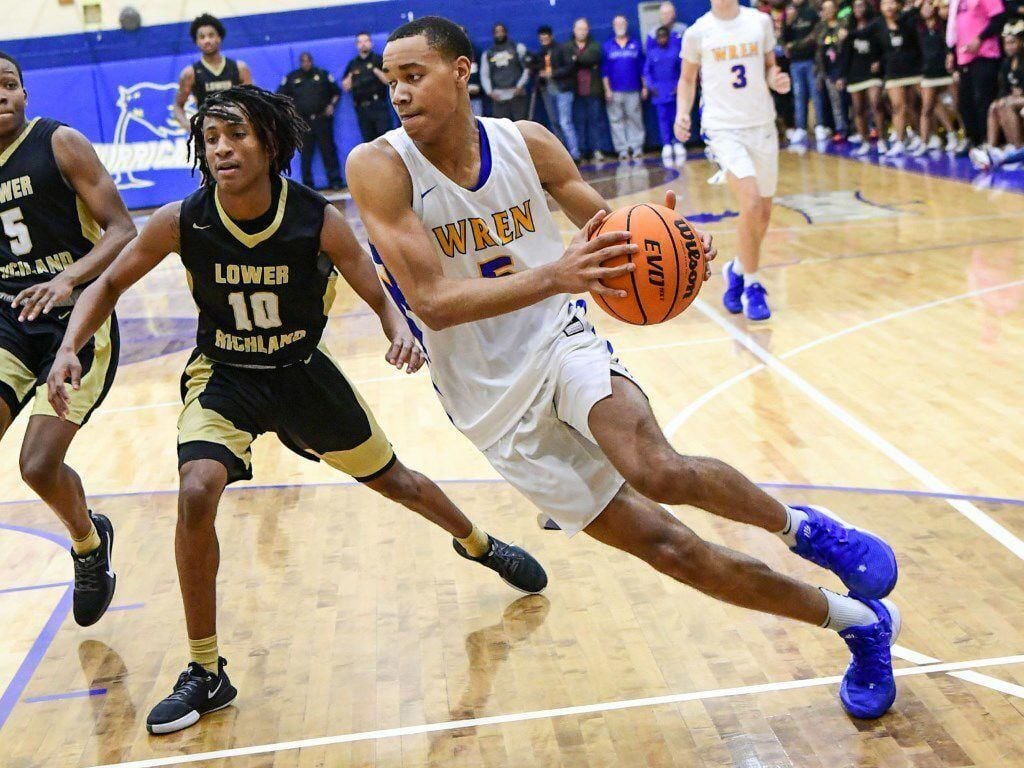 There is certainly a tangible quality to Nebraska men's basketball landing five-star, top-25 recruit Bryce McGowens to round out perhaps the best recruiting class in program history.
But the intangible benefits that come with the Huskers breaking through on such a high-level prospect could go far beyond the time McGowens spends in Lincoln.
"The most important thing, when you're trying to build, is create a name for yourself where kids are going to take you serious, where you're a destination where they feel like they can reach their goals," Nebraska assistant coach and recruiting ace Matt Abdelmassih said in the hours after McGowens signed with Nebraska.
"And it's not being negative — Nebraska doesn't have that household name nationally where you're going to attract kids. So that's why, to me, they made the commitment to bring (head coach) Fred Hoiberg here to change that.
"And this to me puts that stamp on it, that Nebraska is a name that can attract players of this caliber and will continue to attract players of this caliber."
Abdelmassih has made a career out of collecting talent, doing it first with Hoiberg at Iowa State and then again at his alma mater, St. John's. When Hoiberg was hired at Nebraska, the first call he made when putting together his staff was to his old friend from Ames, Iowa.
Those programs, though, had past successes they could lean on. The most historic thing about Husker hoops is the lack of history surrounding the program.
Whether that mattered to McGowens or not, Abdelmassih and Hoiberg put in the work to convince the 6-foot-6 high-flyer that he could be the one to change the program's fortunes.
"Going to a place like Nebraska where they haven't attracted guys like myself is something I take a lot of pride in because I want to be the first of many from this point forward," McGowens said Friday. "I'm bringing a different vibe to Nebraska and can't wait to make my mark by bringing a championship to Lincoln."
Abdelmassih was on the phone with McGowens on Oct. 8, the same day he announced his decommitment from Florida State. Three days prior, NU junior Trey McGowens, Bryce's older brother, got a waiver for immediate eligibility from the NCAA. The early signing period was a little more than a month away.
It was time to get to work.
"There wasn't a day we didn't touch base," Abdelmassih said.
Nebraska's coaching staff held at least seven Zoom calls with McGowens, going over style of play and how the guard would fit into the Huskers' system.
The coaches put together a development plan on how they could improve his game and get him to the next level, and of course, they talked about what Nebraska had to offer as a university.
And they did it all knowing they couldn't even think about trying to stretch the truth.
"You can't deny the fact that we certainly had the ace in the hole, because no matter what we said, Bryce can fact-check it with Trey immediately," Abdelmassih said. "So there was no manipulating the facts like a lot of schools try and do. We were straight up from start to finish, and I think that's what really paid off."
It all led to 11 a.m. Friday, when McGowens announced he was committing to Nebraska and sent a jolt through the Husker fan base.
"This moment is so much bigger than today. This was a gigantic step towards doing something and building something that's sustainable," Abdelmassih said. "This isn't a one-hit wonder. We expect that this is the norm while we're here at Nebraska."
If it does become the norm — if Nebraska begins regularly bringing in the kind of talent that forces others to pay attention and turns that talent into wins, the Huskers can point to those weeks in the fall of 2020 when it all turned and a day in November when it became real.
"I saw it firsthand when we did it at Iowa State, and (we) expect to do it bigger, if not better at Nebraska. And it's an awesome step in that direction," Abdelmassih said. "The kids deserve it, the fans deserve it, the state deserves it, and it's an awesome day for everyone involved in the program."
Meet the NU men's basketball team