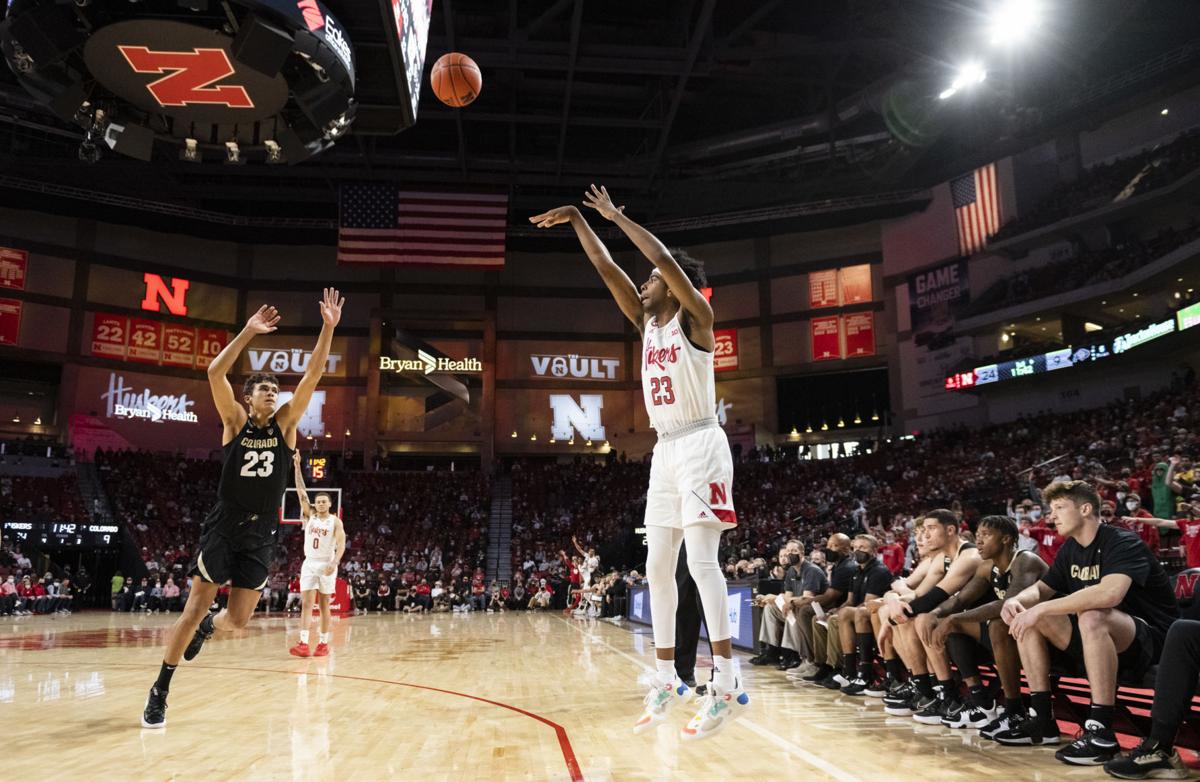 First, it was Eduardo Andre. Then it was Kobe Webster.
Now, Keon Edwards will get his shot for the Nebraska men's basketball team.
Edwards is likely to get the start Friday night against Idaho State in place of junior guard Trey McGowens, who underwent successful surgery on his broken right foot Wednesday.
It will be the first significant minutes of the 6-foot-7, 205-pounder's career after playing sparingly last season at DePaul and seeing a limited role in Nebraska's first three games this season.
"He's going to be asked to go in there and make a contribution," NU coach Fred Hoiberg said Thursday. "And that's what you want. It's what you play the game for, for opportunities like this. … We're not going to get everything Trey gives us from one person, it's going to have to be collective, but Keon's going to be a big part of that."
Able to play the 2 through the 4 in Nebraska's system, Edwards joined the Huskers in April after a short stint at DePaul.
Originally a top-25 prospect nationally in the 2021 recruiting class, Edwards reclassified to 2020, graduated high school early, and joined DePaul in December 2020 after his high school season was put in jeopardy because of the COVID-19 pandemic.
He played in just five games for a total of 39 minutes for the Blue Demons, but he also got an early taste of life as a college basketball player and came to Nebraska with four years of eligibility.
In three games with Nebraska, he's played a total of 13 minutes, going 0-for-2 from the field and grabbing three total rebounds.
But he also gives the Huskers a long, athletic, physical piece that can guard multiple positions and provide some help in the rebounding department against an Idaho State squad that will often send five players to crash the boards after a shot.
"He's got great size at the wing position, and he's got good length. He plays hard," Hoiberg said. "He's just a guy, because of his size, (who) can defend against some of the better wings."
While it remains to be seen if Edwards can make the same impact Andre (11 points, seven rebounds against Sam Houston State) or Webster (20 points against Creighton) made, he showed enough against the Bluejays to warrant the chance.
Playing the final five minutes of the half against CU, Edwards grabbed two rebounds, dished out an assist and got a steal. He also took an ill-advised, albeit wide-open, three-pointer late in the half when Nebraska had a chance to work for the last shot.
Nebraska outscored Creighton by seven points with Edwards on the floor as it rallied from an early 19-point deficit.
"I thought Keon gave us a good lift the other night when he was on the floor," Hoiberg said, "and just the flow of the game, I wanted to get him back in there, (but) it just didn't happen.
"So it'll be more consistent for him now, especially with him in the starting lineup."
McGowens is Nebraska's best on-ball defender, starting every game matched up on the opponent's best perimeter player and often guarding multiple positions in a single game.
Edwards won't be asked to do that. But a reasonable facsimile wouldn't hurt.
"Keon's got some of that ability as well. But again, going out there and being a starter for the first time, when you're averaging about five or six minutes per game, it's a completely different role," Hoiberg said. "But he's excited, he's ready for it, and we've got confidence in him."