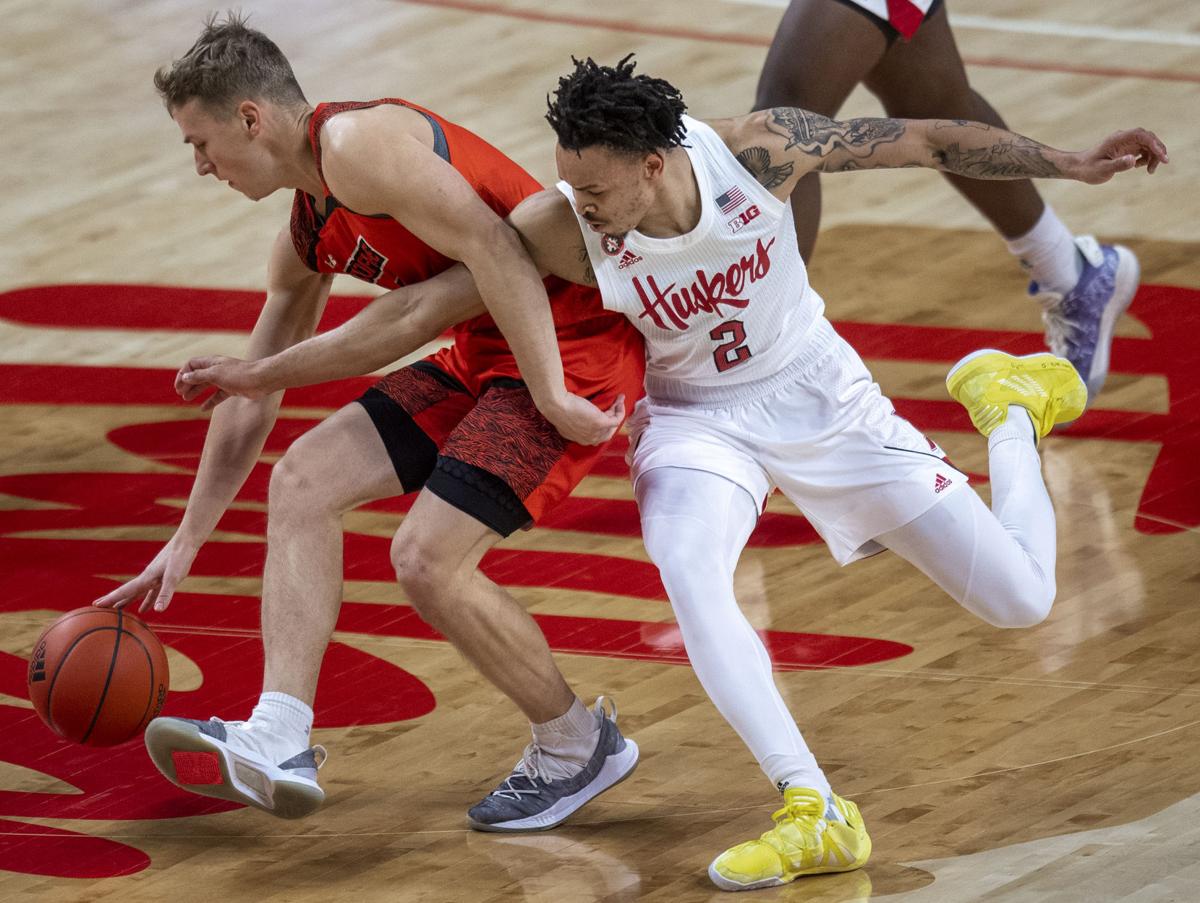 Doc Sadler had to be sitting on his couch and smiling.
The Nebraska men's basketball team won a game not with high-flying offense and a barrage of three-pointers, but with a gritty defensive effort that started at the opening tip and went into the final second Sunday against Penn State.
Sadler, the former NU head coach-turned-assistant, could only watch from home as he isn't traveling with the team in order to protect his health. 
But since the Huskers have returned to playing, the defense has been perfectly healthy. And that defense will be tested again as Nebraska gets set to play Maryland on back-to-back nights beginning at 6 p.m. Tuesday in College Park.
"They said, 'Let's continue to get it done defensively,' and that's the most encouraging thing," Nebraska coach Fred Hoiberg said after Sunday's win. "We didn't let our poor offensive execution in those last eight minutes affect the way we guarded them on the other end."
Hoiberg's arrival in Lincoln meant a switch to up-tempo, free-flowing, offensive-minded basketball — a stark change from the previous two decades.
But with the Huskers still searching for consistent answers on offense, NU has had no trouble turning back to an old friend to help them through.
Since coming out of its COVID-19 pause, Nebraska is holding opponents to 37% shooting, including 27% from three-point range, and allowing 68.8 points per game in Big Ten play.
Prior to the pause, those numbers were 47%, 34% and 81 points per game.
"We've been so much better on that end. It starts with pressure. That is one thing we really worked on when we came back was ball pressure — getting into the ball, making them feel us," Hoiberg said. "Teams were too comfortable against us, and the execution in this league is too good."
The emergence of a rim protector in 6-foot-10 freshman Eduardo Andre has helped. Sophomore Yvan Ouedraogo has used his physicality off the bench.
But Derrick Walker's insertion into the starting lineup has made as much of a difference as any other lineup tweak.
It was Walker who was in the middle of Nebraska's final two defensive stands Sunday, twice forcing loose balls that turned into steals. 
Walker's experience playing for a high-level program at Tennessee before transferring to Nebraska certainly helps. He understands the effort and execution needed perform at a high level, and his teammates have followed his lead.
He's a guy that's been coached, and can handle it," Hoiberg said. "He contributes in a lot of ways. He's still getting comfortable out there after taking almost two years off. ... But he just made such huge plays for us late in the game, and I'm happy for him. To have him sit out as long as he did, to make the game-winning plays there at the end, was huge."
Walker has been among NU's most vocal leaders since his arrival on campus, and now has the chance to back up his words with action.
"As a big you see everything, and I'm down there at the rim. So my job is to be there (to help)," Walker said. "But this is a team game, and my teammates relied on me just as much as I relied on them."
The Huskers will have to continue to rely on each other as they prepare to tackle a rare scenario.
Tuesday's and Wednesday's games against Maryland mark the first time NU has faced the same opponent on back-to-back days since playing Hawaii on Dec. 2 and 3 of 1976.
The last time the Huskers played a conference opponent on back-to-back days came almost exactly 100 years ago: against Iowa State March 4 and 5 of 1921.
It is a rare situation in an exceedingly rare year. But NU appears to have a defense that's up for the challenge.